"Buresh Blog": Winter outlook - Oct. 26th
by: Michael Buresh Updated:
Oct. 26, 2016 - As Rich Jones at News 1-0-4-5 WOKV calls it, you can find a "deep dive" on all things "Matthew" in a recent blog post -- here.
And while on the subject of the tropics.... interesting tidbit is that Oct. 24th marks 11 years since Cat. 3 "Wilma" hit South Florida. That's significant.......
Oct. 24th to be precise - Cat. 3 "Wilma" hammered South Florida as the once powerful Cat. 5 Caribbean hurricane turned then moved rapidly east/northeast from the Gulf of Mexico to the W. Atlantic. The name "Wilma" was ultimately retired & still to this day is the last "major" (Cat. 3/4 or 5) hurricane to make landfall -- see video from "Ultimate Chase" -- on U.S. soil - the longest such stretch in recorded history. President Obama will now be the first full two-term president since the mid 19th century to not have a major hurricane make a U.S. landfall. Before "Hermine" earlier this year, "Wilma" was the last hurricane of any intensity to make a direct hit on Florida which was also a record. "Wilma" set records for the lowest central pressure ever measured in a hurricane (882mb that included a record intensification from tropical storm to Cat. 5 hurricane in little more than 24 hours) + the smallest eye (2 miles across). Massive destruction of the power grid across South Florida has led to the installation of about 23% more concrete power poles which can better withstand high winds.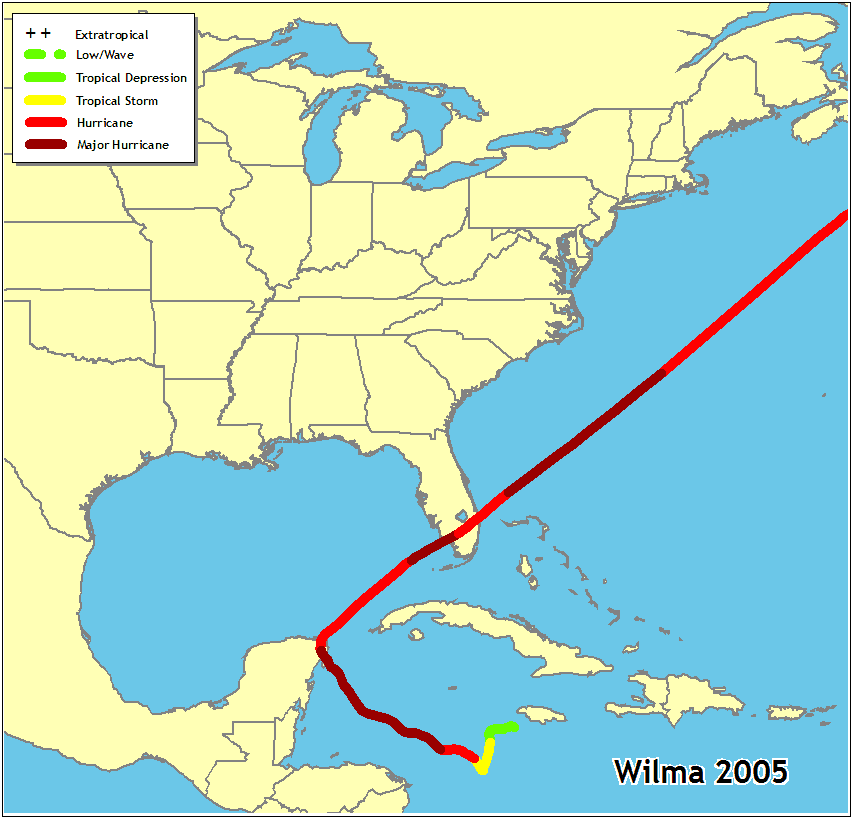 NASA satellite imagery after "Wilma" had made the turn to the northeast (strengthening from a Cat. 2 to 3) & after wrecking parts of the Yucatan Peninsula: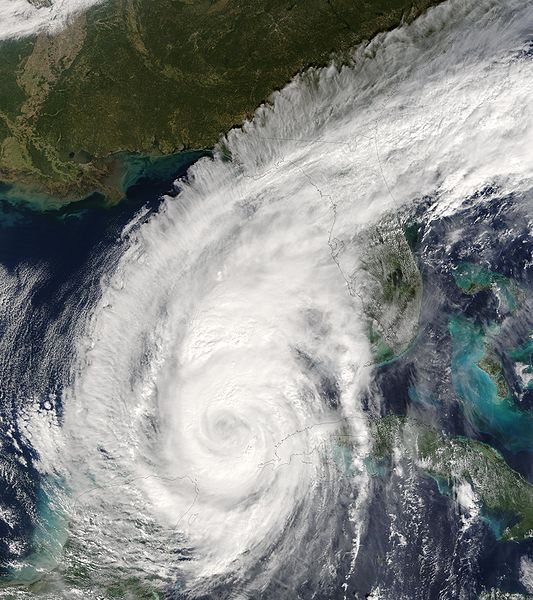 The tiny eye of violent "Wilma" over the Caribbean on its way to the Yucatan & Cancun:
NOAA has issued their winter forecast. The probabilities for Jacksonville/NE Fl./SE Ga. are for above avg. temps. & below avg. rainfall. The average winter has 15-20 freezes inland -- north & west Duval Co. with 20+ well inland over N. Central Fl. & interior Southeast Ga. The average number of freezes falls to 5-10 south of Jacksonville along & a bit either way of I-95... to 5 or less near the intracoastal & beaches. The average date for the first freeze for N & W Duval County is not until the first week to 10 days of Dec.
EARTH GAUGE (National Enviromental Education Foundation):
Putting Your Pumpkin to Good Use, Sarah Blount
This Halloween, don't send your pumpkins to the graveyard! In the United States, almost one third by weight of the available food supply went uneaten in 2010—that comes to 133 billion pounds of wasted food and $161.6 billion down the drain. One way to help reduce the amount of food sent to an early grave? Give your Halloween pumpkin a second life!
More than 1 billion pounds of pumpkins are produced each year in the United States, the majority of which are grown in only a handful of states—last year, farmers in California, Pennsylvania, Ohio, New York, Michigan, and Illinois produced more than 750 million pounds of pumpkins in those areas alone! That's a lot of squash, and most of it is being sold during the fall season, particularly around Halloween for jack-o-lanterns and other ornamental uses.
Decorative pumpkins and gourds around the holidays are a popular commodity, but if you're letting these squash collapse on your porch step, you're allowing food to be wasted. Pumpkin is a rich source of vitamin A and potassium, and has long held an important place in many global cuisines. If the typical 10-25 pound jack-o-lantern pumpkin doesn't exactly make your stomach rumble, consider another pumpkin varietal. The term "pumpkin" actually refers to members of four different species: Cucurbita moschata, Cucurbita mixta, Cucurbita pep, and Cucurbita maxima, giving you a wide range of options to choose from. The large orange globes normally used for jack-o-lanterns are typically bred for qualities other than taste, but by expanding your search to include smaller heirloom varieties (which are now carried in many grocery stores), you can find pumpkins that pull double-duty for both their unique aesthetic appeal and their flavorful flesh.
For inspiration on what to look for and how to cook it, check out this Washington Post article on the best ways to eat 10 varieties of pumpkin and winter squash, which includes varietals that are blue and others that have a warty-looking exterior—perfect for Halloween!
Sources:
Aegerter, Brenna, Richard Smith, Eric Natwick, Mark Gaskell, and Ellie Rilla. 2013. "Pumpkin Production in California." ANR 722. Richmond, CA: University of California Agriculture and Natural Resources. ISBN-13: 978-1-60107-850-6.
Buzby, Jean C., Hodan F. Wells, and Jeffrey Hyman. 2014. The Estimated Amount, Value, and Calories of Postharvest Food Losses at the Retail and Consumer Levels in the United States. EIB-121. US Department of Agriculture, Economic Research Service.
Naeve, Linda. 2015. "Pumpkins." Agricultural Marketing Resource Center. Accessed October 25, 2016.
PennState Extension. 2016. "Pumpkin Production." Penn State College of Agricultural Sciences. Accessed October 25.
USDA Economic Research Service. 2016 "Pumpkins: Background & Statstics." USDA. Accessed October 25.
"The Ghosts Haunting our Climate", Nick Bradford
DID YOU KNOW?
Globally, net emissions of greenhouse gases from human activities increased by 35% from 1990 to 2010.
In the US, greenhouse gas emissions from human activities increased by 7% from 1990 to 2014.
Similar to ghosts, greenhouse gases (GHGs) are invisible and are remnants of previous living things. In the US, the burning of fossil fuels—formed from prehistoric plants and animals—for electricity, heat, and transportation is the largest source of GHG emissions from human activities. These heat trapping gases are the most significant driver of an observed changing climate since the mid-20th century.
Carbon dioxide (CO2) accounts for most of the nation's GHG emissions, about 82% in 2013. Other principal GHGs include methane (CH4), nitrous oxide (N2O), fluorinated gases (HFCs, PFCs, SF6), and water vapor.
The concentrations of GHGs in the atmosphere have increased since the beginning of the industrial era, which is almost all due to human activities. Historical measures of these gases show that their current global atmospheric concentrations are unprecedented compared with the past 800,000 years, even after accounting for natural fluctuations. The largest source of GHG emissions in the US is electricity, followed by transportation.
LEARN MORE
WHAT YOU CAN DO
Sources