Leaders in Jacksonville Beach are addressing the shortage of lifeguards.
The City Council on Monday night approved pay raises in an effort to recruit more to keep families safe this summer. The City said before the raises, their lifeguards were some of the lowest paid in our area.
Before the raises, first year beach patrol guards made $10.64. City leaders say that was less than Neptune Beach, Atlantic Beach and St. Johns County. Now, first-year lifeguards will make $11.48.
Mayor Charlie Latham sent the following statement to Action News Jax after the raises were approved:
"We have a great Ocean Rescue team, and they deserve this pay increase.  They are very highly trained and perform a very important service for Jax Beach."
Mugshots: Jacksonville child sex sting
"With undertows and everything it's nice to know someone is watching over us," Ashley Fairburn said.
Right now, there's a shortage of lifeguards in Jacksonville Beach.
"Basically we just want to be able to fill the schedule. The schedule we have is … hasn't been filling up all spring," Capt. Rob Emahiser with the Jacksonville Beach Ocean Rescue said.
Emahiser said recruiting and keeping lifeguards has been an issue for several years.
"People are busier. College is harder ... people have to take a job that pays more elsewhere," Emahiser said.
That is why the City Council approved 8 and 5 percent pay raises, closing and even eliminating the pay gap for some positions compared to neighboring beach patrols.
"I think the lifeguards deserve more money. It's a dangerous job they do," neighbor Florence Smith said.
Right now in Jacksonville Beach, there are 64 lifeguards on staff. Ideally they want that number to be 87 so that this summer, all their lifeguard stands will be filled.
"It's definitely a safety issue. If I can't get enough lifeguards to work, then we don't have as many lifeguards on the beach, so that's greater gaps and distances between each chair," Emahiser said.
TRENDING: St. Johns County teacher among 21 arrested in online child sex sting
A larger distance means a longer response time, a concern that those at Jacksonville Beach hope will be solved by paying to get more eyes on the water.
"It takes a village to raise a child and so it's really good because sometimes having two children, your attention is on one," Fairburn said.
St. Johns County Beach Rescue said staffing lifeguards is a struggle for them as well with the biggest issue being they're not allowed to hire anyone under 18.
Here's a breakdown from the City of Jacksonville Beach showing some of beach patrol pay scales and the potential changes to Jacksonville Beach: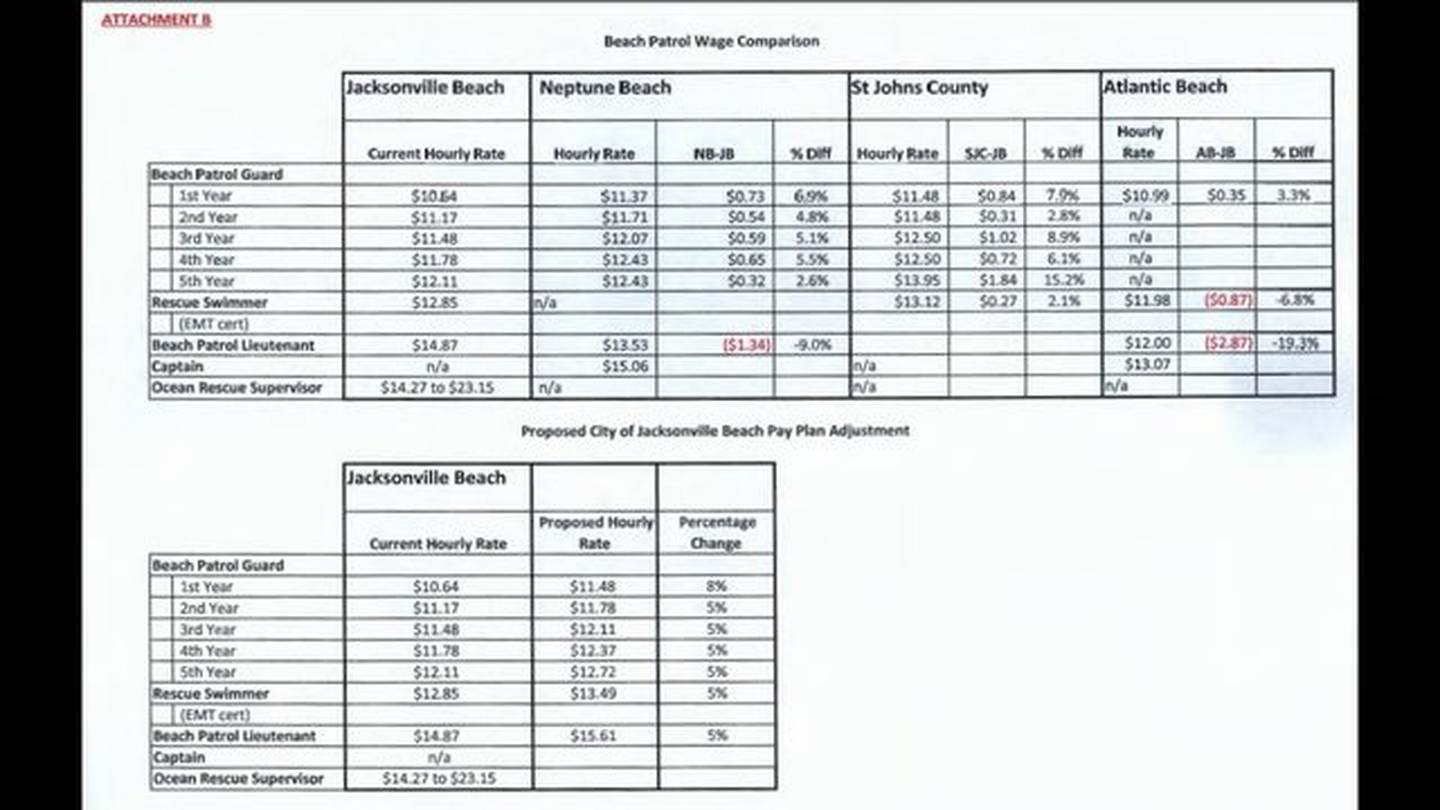 Cox Media Group