JACKSONVILLE, Fla. — UPDATE 11/13/2019:
Brianna Williams was arrested on Tuesday, Nov. 12.
On Wednesday, Nov. 13, a warrant for Brianna Williams details what led to charges against her in the disappearance of her daughter, Taylor Rose Williams.
She is facing two counts of child neglect.
A neighbor who lived near Taylor and Brianna Williams told detectives he saw Taylor alone and wandering the apartment complex multiple times.
The warrant says he first noticed Taylor alone on April 17, 2019.
What we have learned 11/11/2019: 
The Demopolis Police Department announced that human remains were found during the search for missing Jacksonville 5-year-old Taylor Williams. Identification is pending.
Brianna Williams remains uncooperative. She is now a person of interest in this case, Sheriff Mike Williams says.
Anyone who has seen Brianna and Taylor together between Jacksonville and Alabama in the last two weeks is asked to reach out to police.
They may have been driving in a black Honda Accord.
The FBI is assisting the Jacksonville Sheriff's Office in Jacksonville and Alabama.
Brianna Williams remains on the Navy base, not in custody or naval confinement.
The family and others who the Jacksonville Sheriff's Office is talking to have been cooperative, Sheriff Williams says.
38 JFRD personnel deployed to Alabama on Monday.
LATEST STORIES ON TAYLOR WILLIAMS CASE:
ORIGINAL STORY:
On Monday afternoon at a press conference, the Jacksonville Sheriff's Office officially declared Taylor Williams' mom a person of interest.
And as of today, Sheriff Williams said Brianna Williams still remains uncooperative — making it hard to pinpoint exactly where the child might be.
Action News Jax reporter Courtney Cole attended the press conference. That's where she learned Brianna Williams is currently at NAS Jax and not in custody.
Our Action News Jax law and safety expert, Dale Carson, told Cole that Brianna Williams is not in custody because she is not a threat at this point. Also, because her location on base is a place where she can be easily managed and monitored.
And when it comes to if she has an attorney, Sheriff Williams said he did not know.
"As our community has shown over the past few days, there's a lot of love for Taylor here. Even those who have never even met her — and we want you to know that we will do anything we can to bring her home," said Rachel Rojas with the FBI.
The FBI is one of at least 8 agencies now involved in investigating the disappearance Taylor Williams, 5.
JSO says her mother hasn't spoken to investigators since last Wednesday.
"So the questions is: Why is the child missing? Is the child deceased? Or is the child with somebody else? We don't know the answer to those questions," Carson told Cole.
Carson went on to tell her that not having those answers makes community involvement even more important.
"You need to keep your eye out for that young child, because again — she could be anywhere. That doesn't necessarily mean in Alabama or Georgia or Florida. It could be anywhere in the continental United States," said Carson.
This black, 2017, Honda Accord with tinted windows and black rims ... with a plate that reads "QNBRI" —  is now also a key piece in this investigation.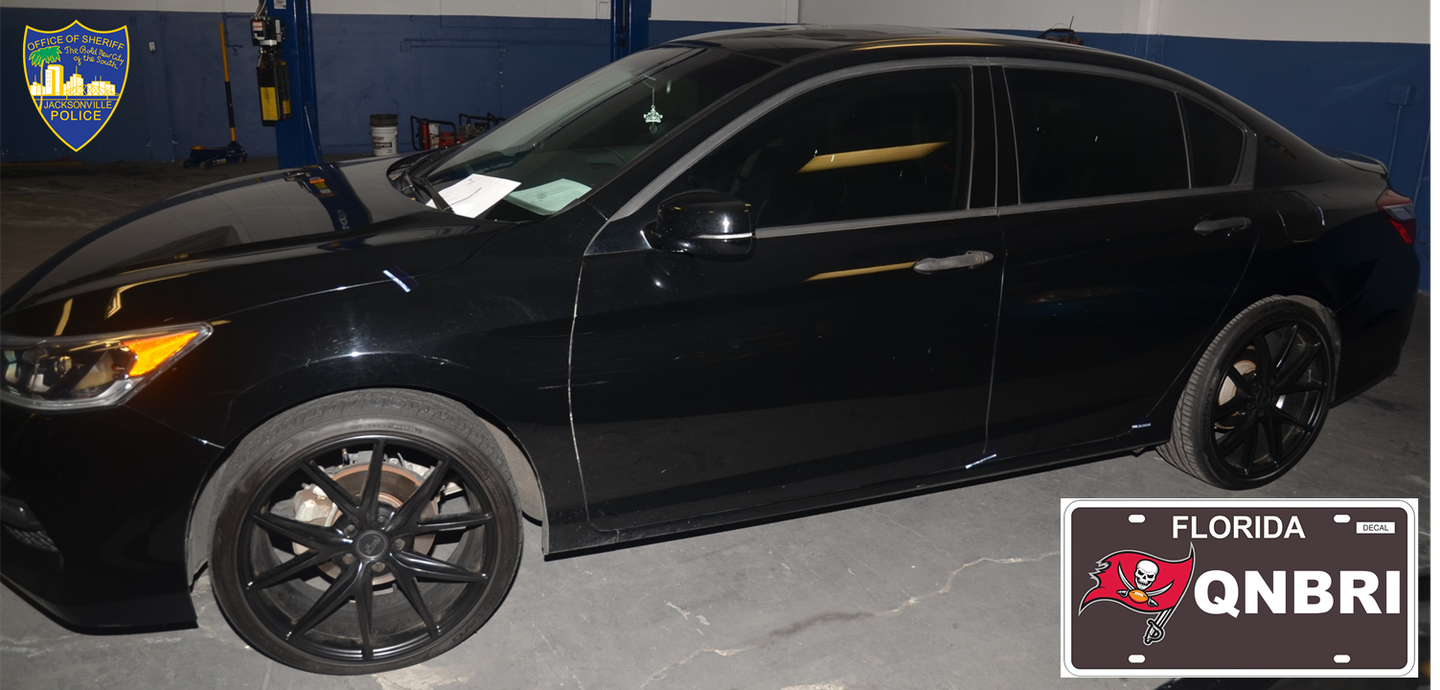 JSO wants to hear from anyone who saw the vehicle in the last two weeks between Florida and Alabama.
Here's how Carson said this vehicle could help move the investigation forward: "They will be examining that vehicle to determine if there's any evidence in there that would suggest harm came to the child. What would that be? Well we think blood, any kind of biologic fluid, anything that would indicate the child is no longer alive."
Carson said that since there's travel involved, there's another possibility we shouldn't rule out: "We don't know if she let someone else to take care of the child."
The Jacksonville Sheriff's Office says the family has been very cooperative, but that it still still needs the communities help.
Even though the search has extended outside of the Florida state line, Sheriff Williams says local efforts here are still important to the case, too.
At last check, First Coast Crimestoppers has received 26 tips.
Sheriff Williams says that locally they're still taking leads, still taking tips, and that they are prepared to follow-up with wherever the tips lead them.
Cole asked Sheriff Williams at the press conference: "Right now, as it stands, could mom be charged with some kind of crime or neglect — and do you know if she has an attorney?"
Sheriff Williams answered: "I don't know if she has an attorney, and we won't talk about any pending charges."
Anyone with information is urged to call Crimestoppers at 866-845-tips or call JSO at 904-630-0500.
STAY UPDATED: Download the Action News Jax app for live updates on breaking stories
Cox Media Group