5 January, 2023
Local Steals & Deals: Winter essentials with Gloves in a Bottle, inPowered Lights, and Firebelly Tea
Local Steals & Deals is your one-stop shop for real deals and real exclusives on amazing brands. Check out our hosts below sharing some of our best sellers. Available for a limited time only–while supplies last!
To access these great savings:
Use the links provided below.
All the offers below are only available while supplies last.
Must-have items for winter
Winter is here, and it can be a beautiful time of year. But with the cold and unpredictable weather, it's essential to be prepared. Stay cozy and comfortable with our picks from personal care to practical tools. We've got what you need to get you through.
Gloves in a Bottle
Deal: $17.99-$18.99
Retail: $26.95-$28.95
(While supplies last)
There's nothing worse than dry, chapped skin from harsh weather. We've got something that will help. Gloves in a Bottle is a hand-shielding lotion that restores moisture to dry or irritated skin. It allows the skin to heal from within for long-lasting hydration. You'll love the lightweight, non-greasy formula, and your hands will feel amazing. Shop deals on 2-packs of regular or SPF lotions!
Shop now
inPowered Lights - Lamp Angel
Deal: $52.99
Retail: $79.99
(While supplies last)
Don't let a winter storm take you by surprise! It's the time of year to be prepared for blizzards and power outages that can often happen during these cold months. inPowered Lights Lamp Angel offers emergency lighting during an outage. Autolight technology turns the lamp on when the power goes out, and the LED base has fun, color-changing lights. It also has a USB Port that charges phones and tablets with or without Electricity. Grab this deal and never lose light!
Shop now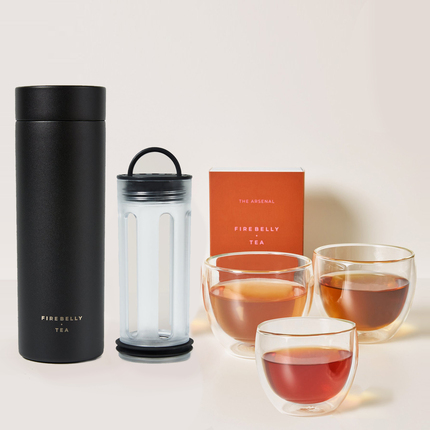 Firebelly Tea
Deal: $14.96-$41.93
Retail: $19.95-$59.90
(While supplies last)
Keeping up your immunity during the winter is essential to keep colds and the flu at bay. And there's nothing better than a hot cup of tea on a cold day. Tea has many health benefits, and Firebelly Tea has the perfect blend for any time of day. Plus, the ultimate travel mug keeps your tea hot or cold for hours. We've got a few deals to choose from. Shop now, and don't miss a sip!
Shop now