Jacksonville, Fl. — So the 2021 hurricane season is underway! "Talking the Tropics With Mike" is updated every day of season through Nov. 30th.
First Alert satellite of the tropical Atlantic, Caribbean & Gulf of Mexico:
After a record breaking season last year, '21 is forecast to be active too. Being prepared now can go a long way in helping you survive & recover should a storm directly impact your community & neighborhood - click * here *. Download the First Alert hurricane guide * here *. Two great hurricane programs with all kinds of info. & storm stories:
* The Ins & Outs of Hurricane Season"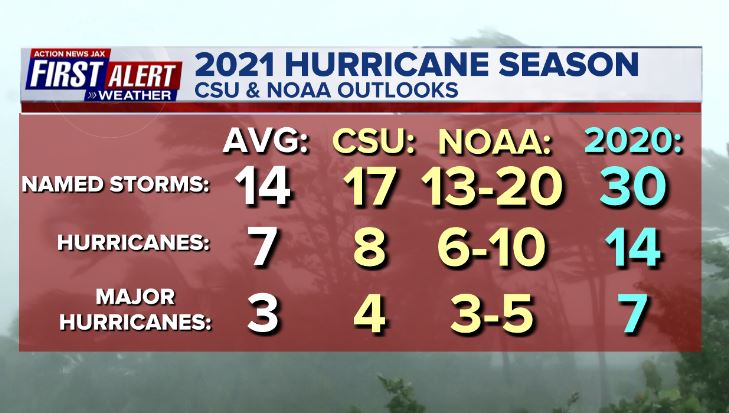 "Ana" briefly became a tropical storm over the N. Central Atlantic in mid May.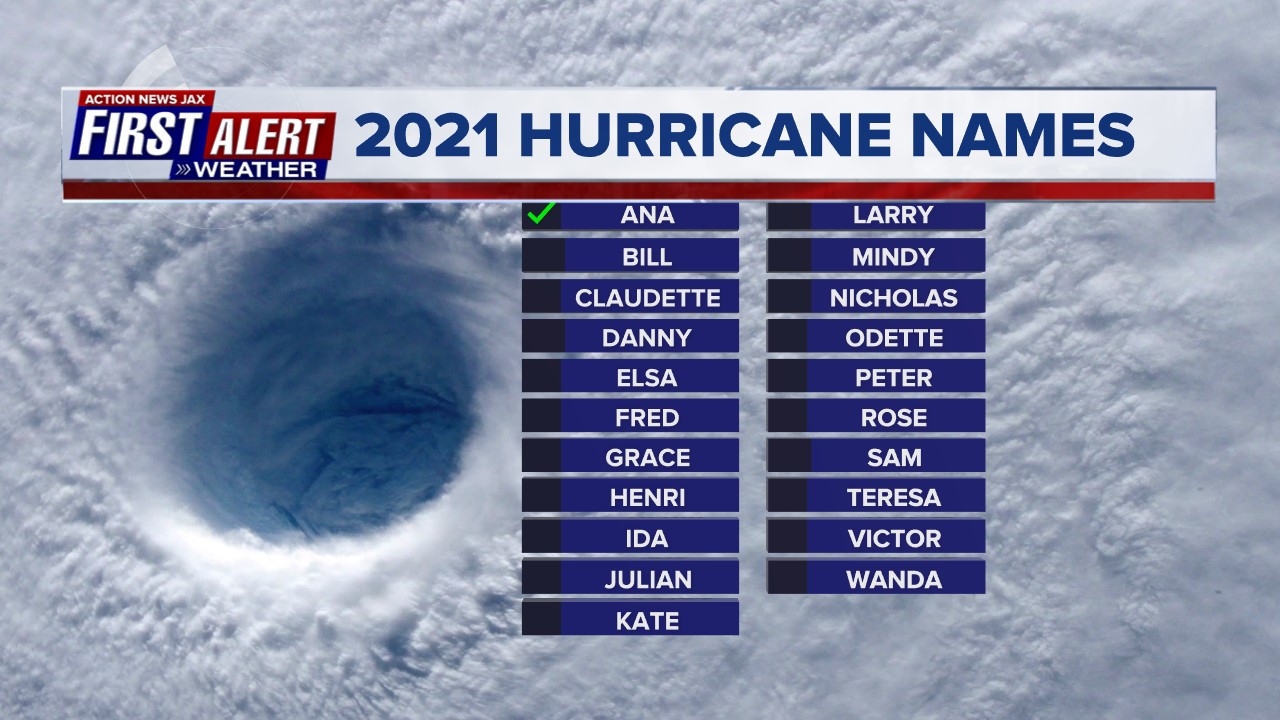 Only about every other June has a named Atlantic storm with numbers picking up dramatically in Aug./Sept./Oct.: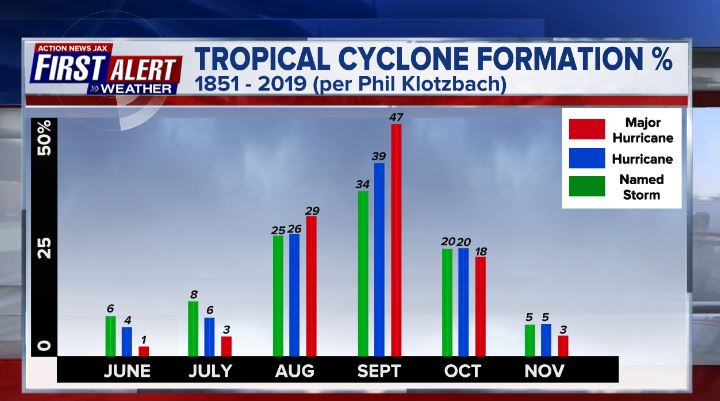 As we head into the hurricane season, the Salvation Army is seeking disaster assistance volunteers:
There are 6 steps to be fully credentialed
Disaster worker profile current and up to date at www.disaster.salvationarmyusa.org
Completion of Intro to EDS training (available in person or online)
Safe From Harm training
Required Releases signed
Photo Uploaded to profile (photo taken in front of a solid color background with a focus on the face)
Background Check recorded on profile
We're coming off a nice, "cool" May - the 11th coolest on record but also a dry month - the 4th driest May on record in Jacksonville going back to 1871. April & May are only 1 of 3 back to back months with below avg. temps. in the last 5 years.
The spring as a whole - March/April/May will go down as the coolest since 2013 at 67.2 degrees/-1.3 degrees & the 30th coolest for Jacksonville since 1871. The 8.79″ of rain was 0.85″ below avg.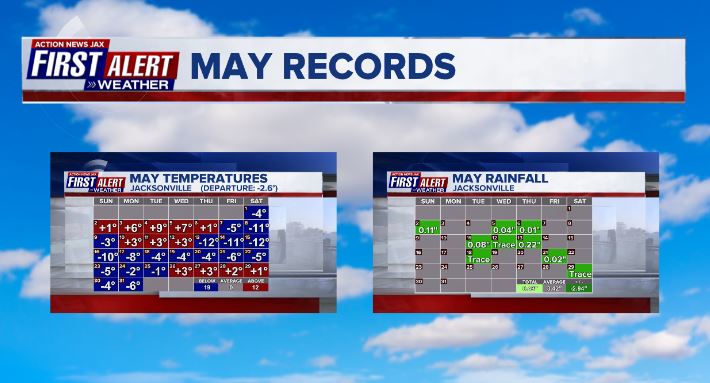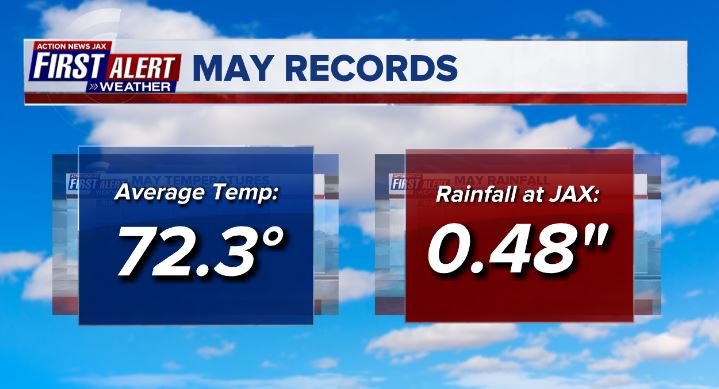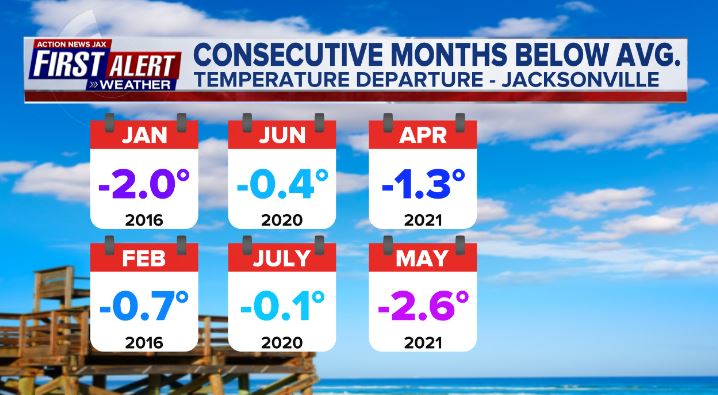 Our June averages at JIA: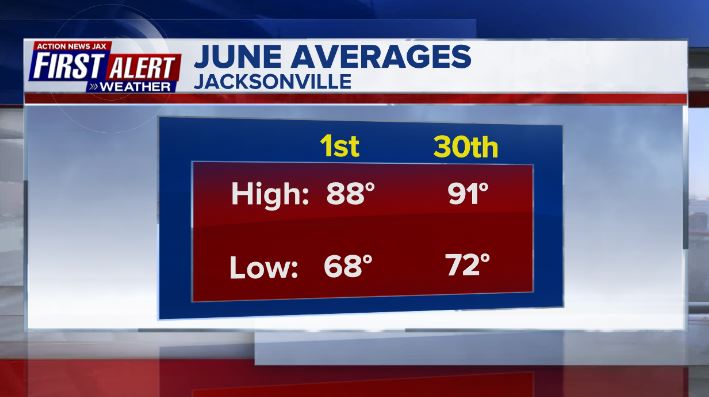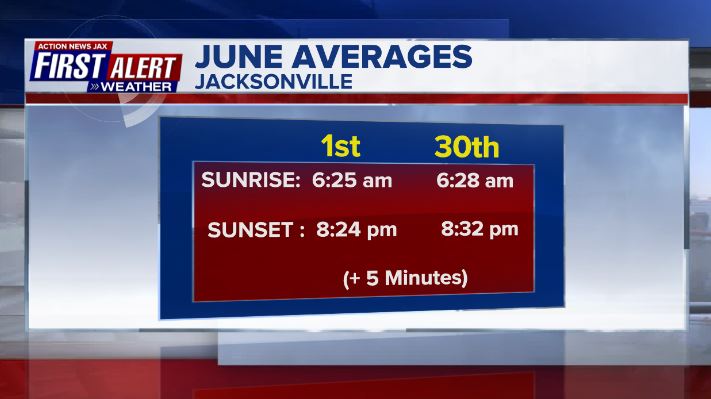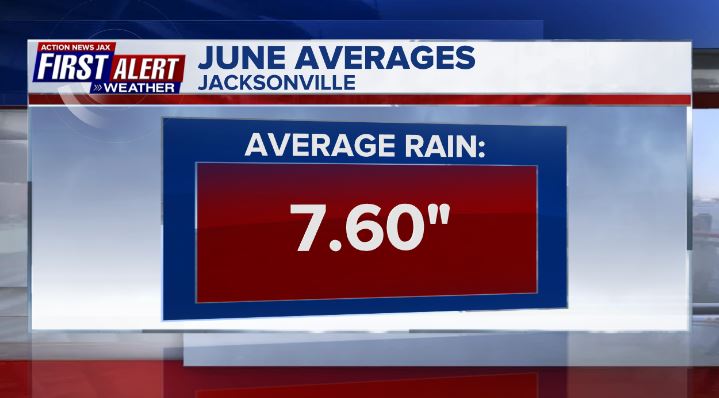 June night skies from Sky & Telescope:
June 10 (dawn): An annular solar eclipse occurs along a track that stretches from Ontario, northern Canada, North Pole, and Siberia. The Northeast U.S. will see a deep partial eclipse that peaks at or just after dawn. (not visible from Jacksonville/NE Fl./SE Ga. Pic below by Kevin Baird on May 20, 2012: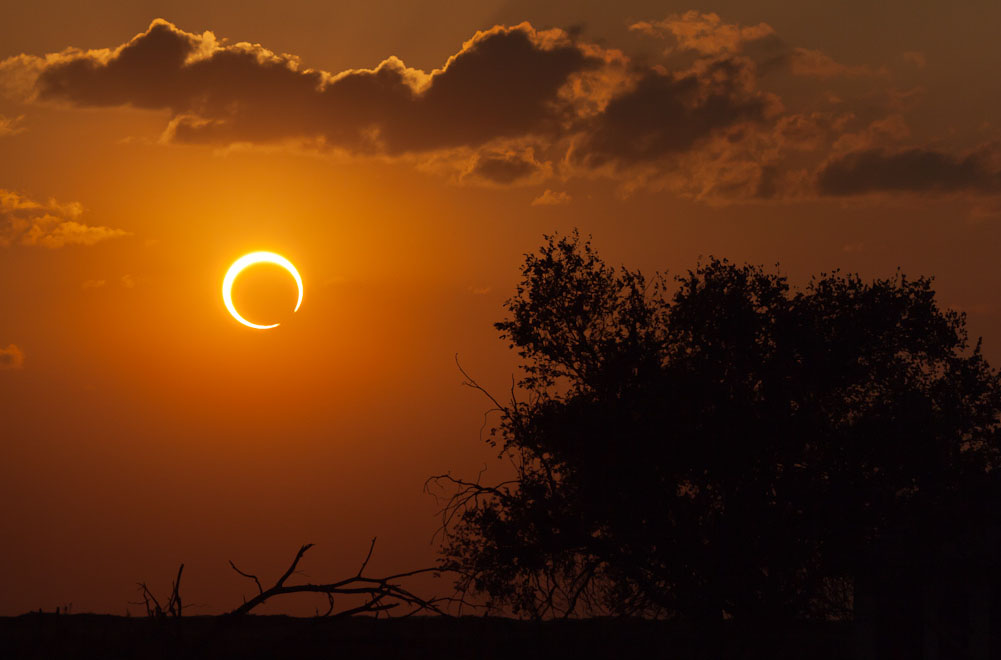 June 13 (dusk): Thin lunar crescent is 3° from Mars, with the Beehive Cluster (M44) 4° left of the Moon.
June 15 (dusk): Waxing lunar crescent and the bright star Regulus (in Leo) sit some 4° apart.
June 19 (evening): Waxing gibbous Moon gleams almost 5° from bright star Spica (in Virgo).
June 20: Solstice, at 11:32 p.m. EDT. Summer begins, longest daylight of the year in the Northern Hemisphere.
June 21 (dusk): Very low on the west-northwestern horizon Venus blazes 5° from Pollux (in Gemini).
June 22 (evening): The Moon, two days from full, is 3½° from Antares (in Scorpius).
June 23 (dusk): Mars is in the midst of the Beehive Star Cluster (use binoculars); crossing lasts from 22nd to 24th.
June 27 (dawn): Waning gibbous Moon is 5° below Saturn in the south. Jupiter is left of the pair.
June 28 (dawn): The Moon is parked between Jupiter and Saturn, and the trio forms an eye-catching triangle.
June 30 (dawn): The Moon, Jupiter, and Saturn adorn the southern horizon in a graceful arc.
July 2 (dusk): Look very low over northwestern horizon to see Venus in Cancer near the Beehive Star Cluster.
July 5: Earth is at aphelion, farthest from the Sun for the year (3.4% farther than at perihelion in January).
Moon Phases
Last Quarter – June 2, 3:24 a.m. EDT
New Moon – June 10, 6:53 a.m. EDT
(annular solar eclipse; partial in Northeast at/after sunrise)
First Quarter – June 17, 11:54 p.m. EDT
Full Moon – June 26, 2:40 p.m. EDT
(Full Strawberry Moon)
©2021 Cox Media Group