Jacksonville, FL — We completed April with below avg. temps. (-1.3 degrees) - the first month below avg. since Dec., 2020. The month was wetter than avg. (+2.85″) - a true blessing during what is normally the peak of the wildfire season. The pattern continues to look at least relatively wet toward mid May. April rainfall across the area from the Jacksonville N.W.S.:
FL JASPER 4.21
FL BEAUCLERC 3.81
FL JACKSONVILLE BEACH 3.73
FL LAKE CITY 2 E 2.63
FL GLEN ST MARY 1 W 4.49
FL GAINESVILLE RGNL AP 4.11
FL HASTINGS 4NE 5.84
FL OCALA 5.92
FL JACKSONVILLE CRAIG MUNI AP 3.90
FL JACKSONVILLE INTL AP 5.49
FL BUNNELL EOC 6.93
FL PALM COAST 6NE 6.78
FL NORTHWEST PALM COAST 8.60
FL SOUTHWEST PALM COAST 8.00
FL WEST PALM COAST 7.66
FL FLAGLER BEACH 7.46
GA PRIDGEN 8.95
GA ALMA BACON CO AP 7.99
GA NAHUNTA 6 NE 2.80
GA BRUNSWICK 3.29
GA BRUNSWICK MALCOLM MCKINNON AP 3.20
GA WOODBINE 4.22
Patty Scott says this is "Safe Drinking Water Week" & has some great info. to pass along:
Celebrate #DrinkingWaterWeek by learning where your drinking water comes from and what you can do to protect it.
Did you know? More than 90 percent of people in northeast and east-central Florida use groundwater, which comes from an aquifer, as their water supply. These aquifers are under increasing stress due to Florida's growing population. By conserving water, you can help meet the state's future water supply needs. Half of all the water taken from the public supply ends up watering private lawns and gardens!
Learn more:
Visit #WaterLessFlorida for water conservation tips:
Consumer Confidence Reports -Understanding the Quality of your Drinking Water
https://www.cdc.gov/healthywater/drinking/public/understanding_ccr.html
Aquifer Facts
https://www.sjrwmd.com/water-supply/aquifer/
"The Floridan aquifer: Why one of our rainiest states is worried about water"
Some interesting "new" averages when it comes to temps. & rainfall. NOAA & the N.W.S. update the 'averages' every decade. So what's considered 'normal' is subject to change which is now the case based on the period of 1991-2020. For Jacksonville, the avg. temp. is 0.8 degrees higher... the avg. high is 0.4 degrees higher... the avg. low 1.1 degrees higher. Rainfall is 1.01″ higher with an annual avg. of 53.40″.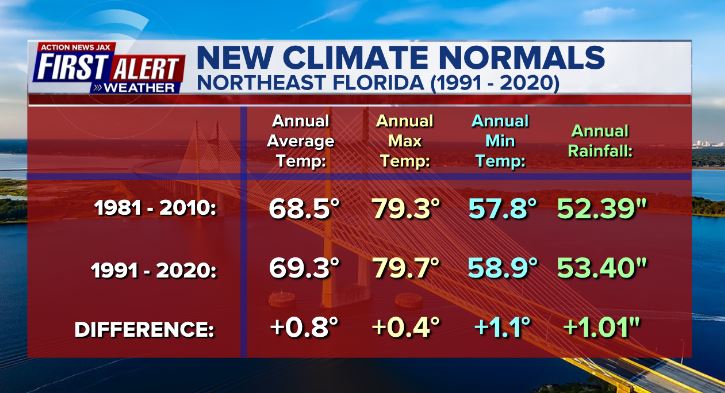 The wet season from June - Sept. has an interesting "adjustment" with June averaging the wettest, slightly higher than Sept. May has trended a little wetter (implying an earlier start to the wet season) while Nov. remains the driest month on avg. but with an even lower avg. vs. the previous 30 years.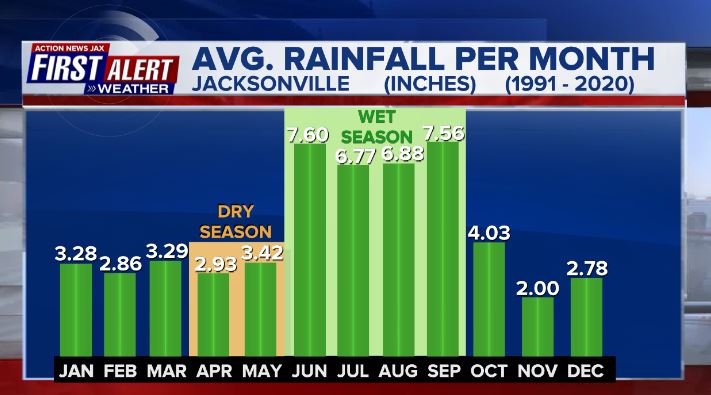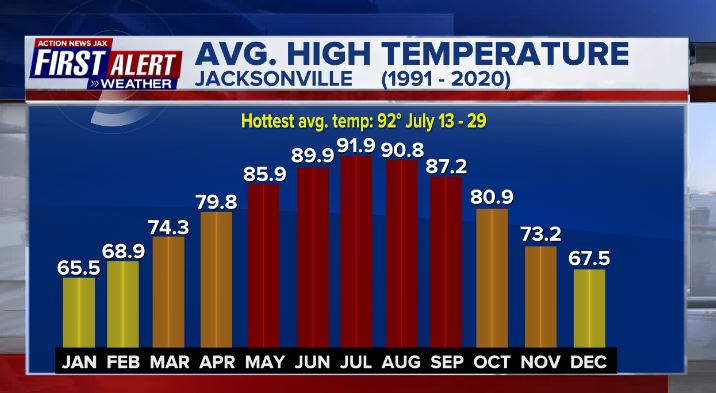 Jacksonville trends since 1901 (solidly warmer since 1991):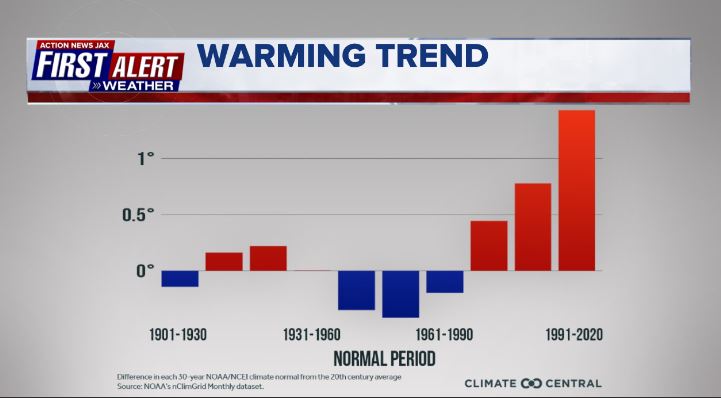 National trends are certainly warmer over the last 100+ years: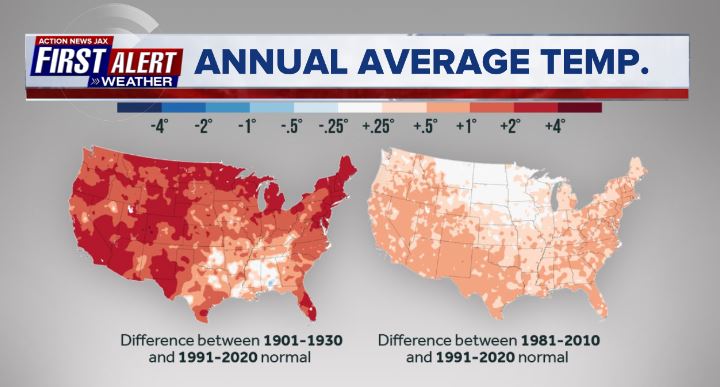 May 9th-15th is "Hurricane Preparedness Week". *Now* is the time to prepare.
Always more info. & help with preparing for the hurricane season at Action News Jax * here *. "Talking the Tropics With Mike" will begin June 1st (unless there's a preseason threat).
Night skies for May into early June courtesy Sky and Telescope including a full lunar eclipse late in May!:
May 6 (morning): Peak of the Eta Aquariid meteor shower, featuring "shooting stars" shed by Halley's Comet.
May 12 (dusk): Scan the horizon over the sunset point to spot a thin sliver of lunar crescent less than 1° from Venus.
May 13 (dusk): A more conspicuous lunar crescent now sits some 3° from Mercury low in the west-northwest.
May 15 (dusk): Higher in the west, the Moon and Mars hang about 3° apart in Gemini.
May 17 (dusk): The Moon visits Cancer and is positioned around 2° from the Beehive Cluster (M44).
May 19 (dusk): High in the southwest, the first-quarter Moon is 5° from Regulus, the alpha star in Leo.
May 25 (evening): Moon reaches its closest perigee of 2021, just 221,961 miles from Earth (center-to-center).
May 26 (dawn): A total lunar eclipse (first one in 2½ years) is visible west of the Rockies centered at 4:19 a.m. PDT.
May 27 (dusk): In the west after sunset, Mars and Pollux are within 6° of each other (through early June).
June 1 (dawn): Look to the south-southeast to see the Moon about 5° below Jupiter. Saturn is 18° to their right.
June 2 (dawn): The last-quarter Moon, Jupiter, and Saturn form a shallow arc.
June 10 (dawn): An annular solar eclipse occurs along a track that stretches from Ontario, Canada, North Pole, and Siberia. The Northeast U.S. will see a deep partial eclipse that peaks at or just after dawn.
Moon Phases
Last Quarter – May 3, 3:50 pm. EDT
New Moon – May 11, 3:00 p.m. EDT
First Quarter – May 19, 3:13 p.m. EDT
Full Moon – May 26, 7:14 p.m. EDT
(Full Flower Moon, total lunar eclipse)
Cox Media Group