Jacksonville, Fl. — The 2021 hurricane season is in the rear view mirror! A full recap * here *. Video recap below.... & a cool NOAA satellite review below...
And November is behind us too. The month was well below avg. - the 7th coolest on record for Jacksonville (going back to 1871) - & was about 1.2″ above avg. for rainfall largely due to a major nor'easter early in Nov. This marks 7 out of the last 8 months with below avg. temps. for Jacksonville (since April).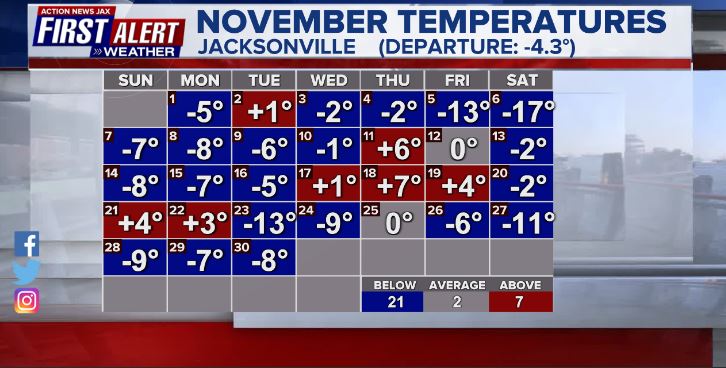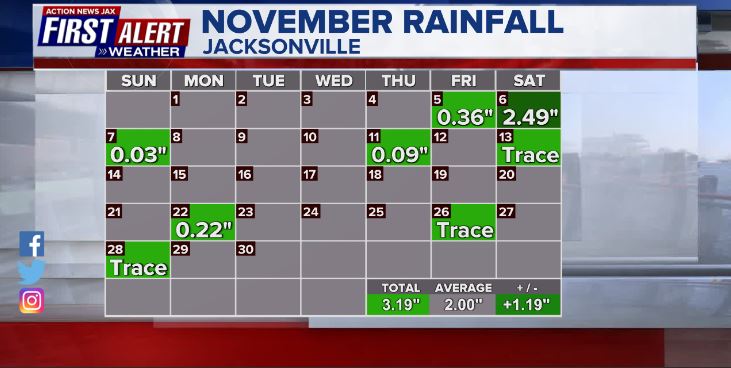 Other Nov. rainfall totals across NE Fl./SE Ga. from our Jax N.W.S.:
-- NORTHEAST FLORIDA --
FL JASPER 2.26
FL JACKSONVILLE BEACH 2.99
FL LAKE CITY 2 E 2.44 FL
GLEN ST MARY 1 W 1.20 FL
GAINESVILLE RGNL AP 3.36 FL
HASTINGS 4NE 3.53 FL
OCALA 1.30 FL
JACKSONVILLE CRAIG MUNI AP 2.90 FL
JACKSONVILLE INTL AP 3.19 FL
JACKSONVILLE NAS JAX 2.84 FL
BUNNELL EOC 5.22 FL
PALM COAST 6NE 5.23 FL
NORTHWEST PALM COAST 5.00 FL
WEST PALM COAST 5.06 FL
SOUTHWEST PALM COAST 5.08 FL
SOUTH PALM COAST 5.09 FL
FLAGLER BEACH 3.18 FL
SOUTHEAST FLAGLER BEACH 3.55 FL
FERNANDINA BCH (COCORAHS) 3.03 FL
ST AUGUSTINE (COCORAHS) 3.70 FL
ST AUGUSTINE BCH (COCORAHS) 5.49 FL
CALLAHAN (COCORAHS) 3.16 FL
LIVE OAK (COCORAHS) 3.09 FL
WHITESPRINGS (COCORAHS) 2.58 FL
FORT WHITE (COCORAHS) 2.30 FL
THE VILLAGES (COCORAHS) 2.89
-- SOUTHEAST GEORGIA --
ALMA BACON CO AP 1.14 GA
NAHUNTA 6 NE 3.20 GA
BRUNSWICK 3.01 GA
BRUNSWICK MALCOLM MCKINNON AP (SSI) 3.98 GA
WOODBINE 4.08 GA
KINGSLAND (COCORAHS) 2.97 GA
HOMERVILLE (COCORAHS) 2.30 GA
FOLKSTON (COCORAHS) 3.27 GA
DOUGLAS (COCORAHS) 1.45 GA
BAXLEY (COCORAHS) 1.33
Averages at JIA for December: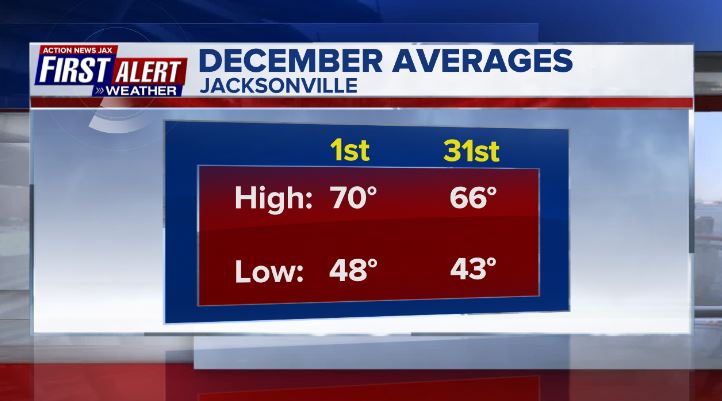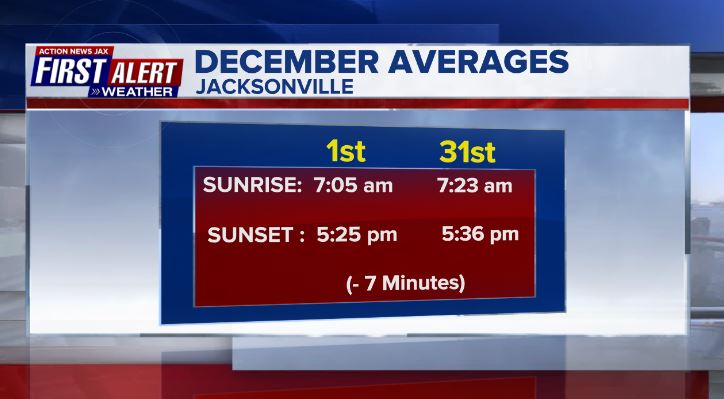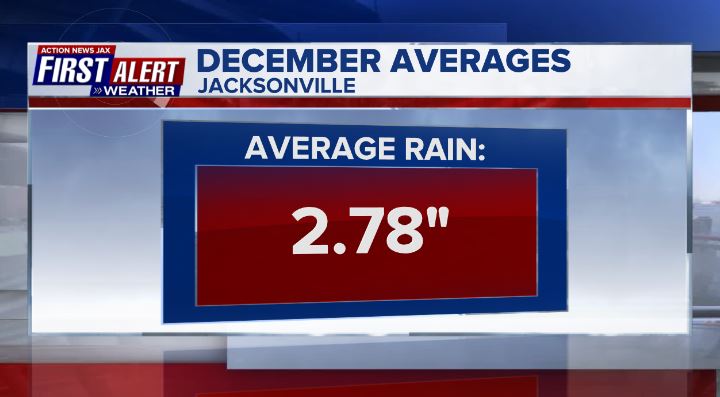 From "Climate Central" - avg. temps. for Jacksonville for the last 30 years vs. the previous 30 year averages. The biggest difference is Dec./Jan./Feb. with a positive departure of a little more than 1 degree F... a little more than 0.8 degrees F milder in March/April/May followed by a negligible difference in autumn & especially summer.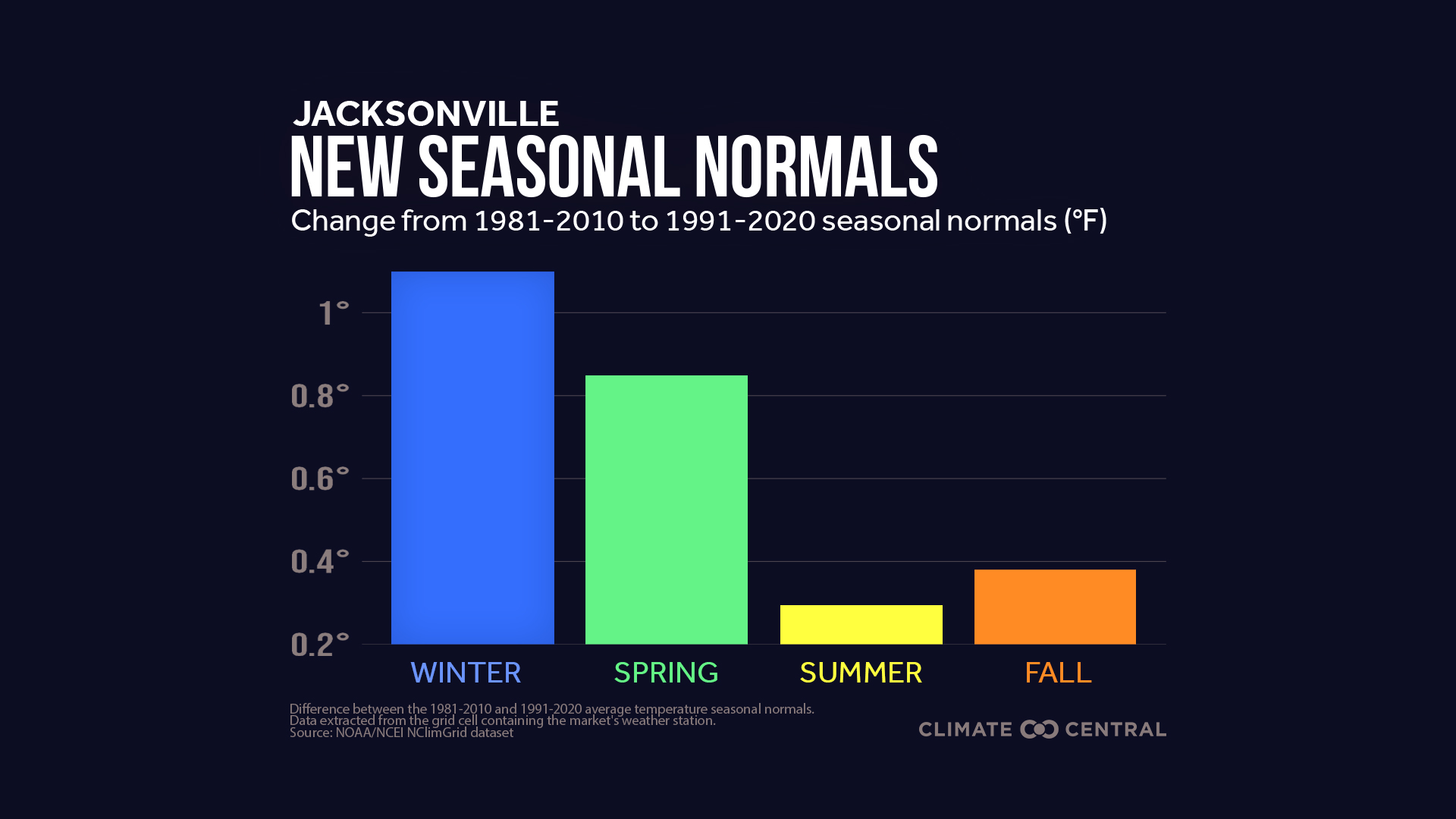 ©2021 Cox Media Group