Jacksonville, FL — The last month of the Atlantic hurricane season! "Talking the Tropics With Mike" updated every day until Nov. 30th.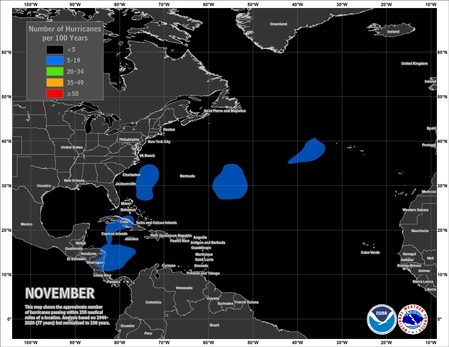 Time for the biannual changing of the clocks. In this case - Sunday, Nov. 7th - "fall back" one hour. Yes - Florida voters did vote to end the changing of the clocks in March, 2018 but Congress has to give final approval which has never happened. So tick-tock - the beat goes on.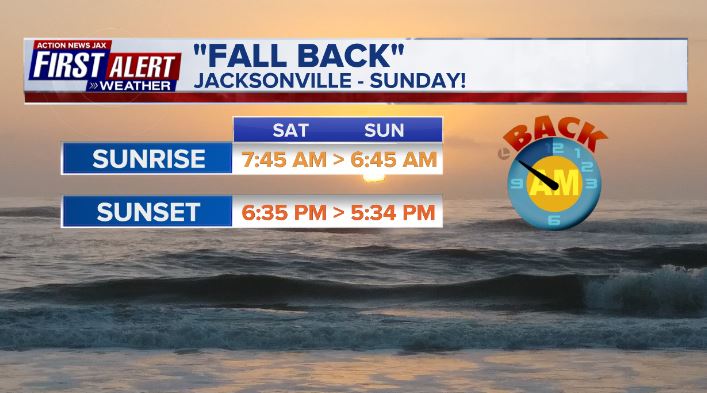 With shorter days & cooler temps., it's time to cut back on watering the lawn & landscaping.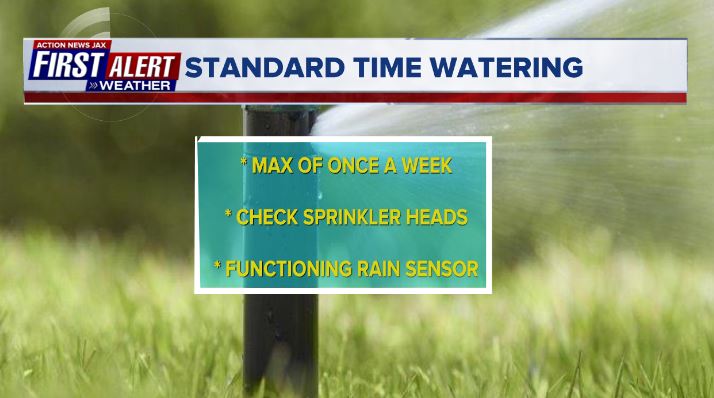 From the St. Johns River Water Management District:
Starting Sunday, Nov. 7, homeowners and businesses across the 18 counties of the St. Johns River Water Management District should reset their automatic sprinkler systems to water no more than once a week. When "falling back" — turning your clocks back an hour — it's also time to change your irrigation system timer to water your lawn only on your designated watering day.
"Research shows that, in Florida's cooler months, grass and plants don't need as much water to be healthy — you can save water and money and still have a beautiful lawn," said St. Johns River Water Management District Executive Director Mike Register. "When you turn back your clocks Saturday night, be sure to also reset your automatic timers to water only on the designated day for your address."
Public water supply is the largest category of water use in the District's 18-county region — about 565.5 million gallons of water a day. Most of this water is for residential water use, and many people don't realize that more than half of total residential water use is used outdoors if the home has an automatic irrigation system. Efficient irrigation systems that are scheduled correctly can save up to half of that outdoor water use.
Because lawns need significantly less water in Florida's winter months, watering restrictions are in place to ensure that water used for irrigation is used efficiently. During Eastern Standard Time (early November through mid-March), landscape irrigation is limited to no more than one day a week on the following schedule:
• Saturday at addresses that end in an odd number or have no address
• Sunday at addresses that end in an even number
• Tuesday at non-residential addresses
• No irrigation is allowed between 10 a.m. and 4 p.m.
The District's 2021-2022 Water Less campaign aims to raise awareness about water conservation and to communicate easy ways to integrate outdoor water conservation into Floridians' daily lives. The year-round campaign features seasonal messages, starting with "Fall Back" in November to encourage no more than once-a-week watering as temperatures begin cooling.
More information and water-saving tips can be found * here *.
Speaking of water, October rainfall courtesy our Jax N.W.S.:
JACKSONVILLE BEACH 4.92 FL
LAKE CITY 2 E 2.36 FL
GLEN ST MARY 1 W 2.31 FL
GAINESVILLE RGNL AP 1.84 FL
HASTINGS 4NE 1.79 FL
OCALA 2.83 FL
JACKSONVILLE CRAIG MUNI AP 3.24 FL
JACKSONVILLE INTL AP 4.15 FL
JACKSONVILLE NAS JAX 2.60 FL
BUNNELL EOC 2.19 FL
PALM COAST 6NE 2.70 FL
SOUTHEAST FLAGLER BEACH 3.69
PRIDGEN 5.36 GA
NAHUNTA 6 NE 6.10 GA
BRUNSWICK 3.65 GA
BRUNSWICK MALCOLM MCKINNON AP 2.90 GA
WOODBINE 4.08 GA
Jacksonville rainfall was slightly above avg. thanks to two "big" rain days - the 8th & 28th. Temps. were a bit above avg. - the first month above avg. since March(!).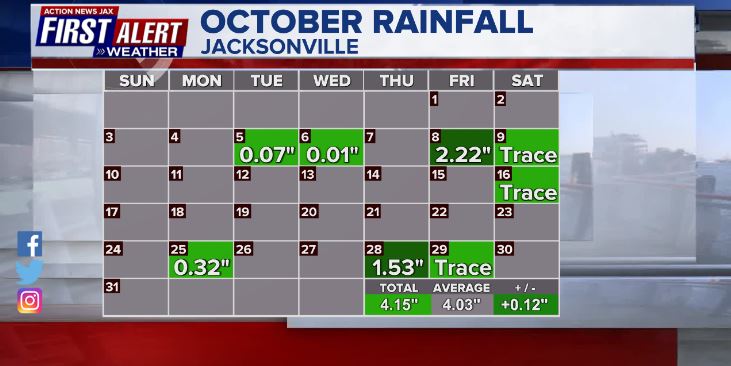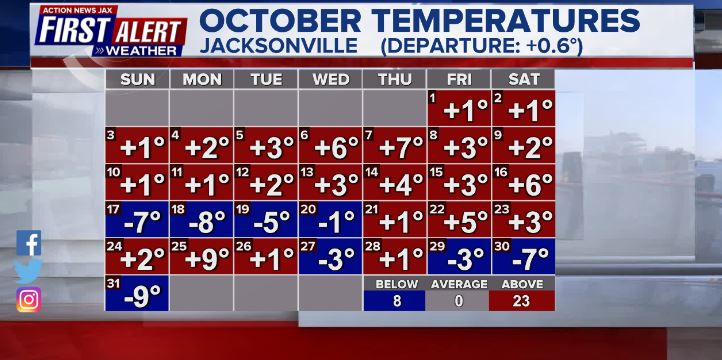 Nov. night skies (courtesy Sky And Telescope):
Nov. 7 (dusk): The young Moon and Venus are 3½° apart, left of the Teapot asterism of Sagittarius.
Nov. 9 (dusk): The waxing crescent Moon, Jupiter, and Saturn form a line approximately 25° long above the southern horizon, with Venus over in the southwest.
Nov. 10 (dawn): Mercury and much dimmer Mars are just 1° apart very low in the east. Look 30 minutes before sunrise.
Nov. 10 (dusk): Jupiter, the Moon, and Saturn form a triangle in Capricornus.
Nov. 11 (dusk): The first-quarter Moon gleams some 5° to the lower left of Jupiter.
Nov. 17 (morning): The typically weak Leonid meteor shower peaks, but light from a nearly full Moon will interfere.
Nov. 19 (dusk): The full Moon rises between by the Pleiades and Hyades star clusters.
Nov. 19 (night): A partial (nearly total) lunar eclipse is visible for almost all of North America. Mid-eclipse is 4:03 a.m. EST / 1:03 a.m. PST.
Nov. 24 (evening): The Moon hangs in Cancer nearly 3° from the Beehive Cluster (M44).
Dec. 1 (dusk): All month long, Jupiter, Saturn, and Venus form a line above the south-southwestern horizon.
Dec. 6 (dusk): Look southwest soon after sunset to see the two-day old Moon hanging some 2½° below Venus.
Dec. 7 (dusk): The waxing crescent Moon is 5½° below Saturn.
Moon Phases
New Moon – November 4, 5:15 p.m. EDT
First Quarter – November 11, 7:46 a.m. EST
Full Moon – November 19, 3:57 a.m. EST
(Beaver Moon; deep lunar eclipse)
Last Quarter – November 27, 7:28 a.m. EST
From NASA:
Two instruments launching to the International Space Station next month - scheduled for Dec. 21 - could be weather-forecasting game changers. The two novel instruments are expected to demonstrate that while they are much smaller, much lighter, and much less expensive than weather satellites orbiting today, they can collect some of the same essential data. The full story is * here *.
©2021 Cox Media Group