Jacksonville, Fl. — July has picked up where June left off - pretty wet. Of course, it's to be expected as we move through the 2nd month of the so-called wet season. June rainfall (avg. is 6.5″) from our N.W.S.:
FL LIVE OAK 10 W 19.41
FL WHITE SPRINGS 0.3 NW 17.75
FL ARCHER 5.5 E 15.74
FL INTERLACHEN 8.8 S 15.26
FL OCALA 13.16
FL JASPER 12.52
FL BEAUCLERC 10.28
FL JACKSONVILLE BEACH 11.51
FL FERNANDINA BEACH 11.09
FL LAKE CITY 2 E 12.22
FL GLEN ST MARY 1 W 11.00
FL CRESCENT CITY 4.62
FL GAINESVILLE RGNL AP 8.47
FL HASTINGS 4NE 3.98
FL WHITE SPRINGS 7N 9.26
FL JACKSONVILLE CRAIG EXEC AP 7.81
FL JACKSONVILLE INTL AP 9.86
FL BUNNELL EOC 6.74
FL PALM COAST NORTHEAST 6.31
FL PALM COAST EAST 6.98
FL PALM COAST SOUTHWEST 7.09
FL PALM COAST NORTHWEST 7.30
FL PALM COAST WEST 6.43
FL BULOW 7.87
FL FLAGLER BEACH 8.10
GA NAHUNTA 6 S 13.26
GA FARGO 17 NE 10.18
GA ALMA BACON CO AP 2.65
GA NAHUNTA 6 NE 9.80
GA BRUNSWICK 6.88
GA BRUNSWICK MALCOLM MCKINNON AP 7.15
Heading deeper into the wet season means we're also heading deeper into our hurricane season. We've raced through the first 5 names so far with 'F' - Fay - next. We reached 'E'/Edouard on July 5th this year beating the old record by a week - July 12th, 2005. '05 was an infamous hurricane season that included numerous landfalling storms including Katrina, Rita & Wilma which were powerful U.S. landfalling hurricanes. This season's storms - to 'E' - so far have had far less impact vs. '05. In '05 tropical storm Arlene hit the Fl. Panhandle... tropical storm Bret hit Mexico... Cat. 1 hurricane Cindy hit S.E. Louisiana... Cat. 4 hurricane Dennis hit the Western Fl. Panhandle & Cat. 5 hurricane Emily rolled into Mexico. Dennis was the strongest Atlantic Basin hurricane for so early in the season only to be "outdone" one week later by Emily. In fact, it was the '05 hurricane season from which "Talking the Tropics With Mike" was born - in early July. 15 years & thousands of entries later, I still update the blog every single day during the hurricane season with a focus, of course, on local impacts for Jacksonville/NE Fl./SE Ga. - click * here *.
Speaking of hurricanes.... Dr. Phil Klotzbach, Colorado St. University has updated his seasonal forecast. Not much change - did increase the number of named storms by one. Of course, always be prepared whether the season is expected to be active or not. 20 named storms would tie for 2nd most on record.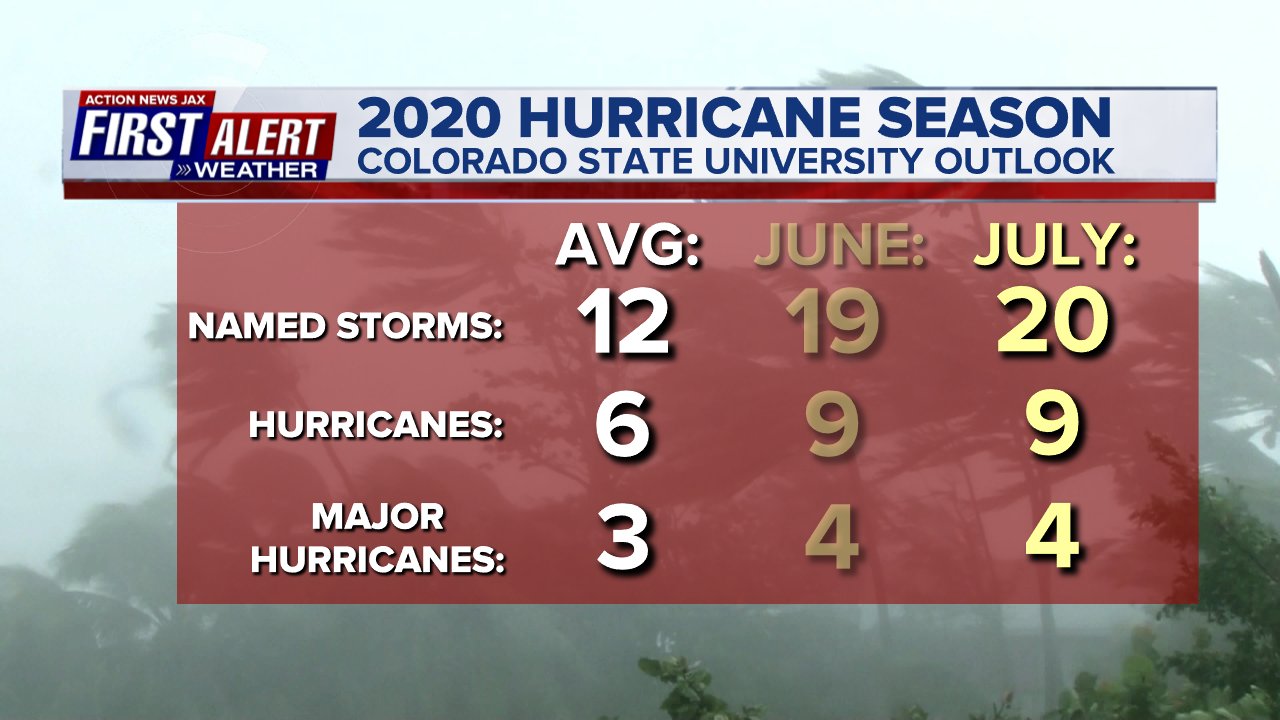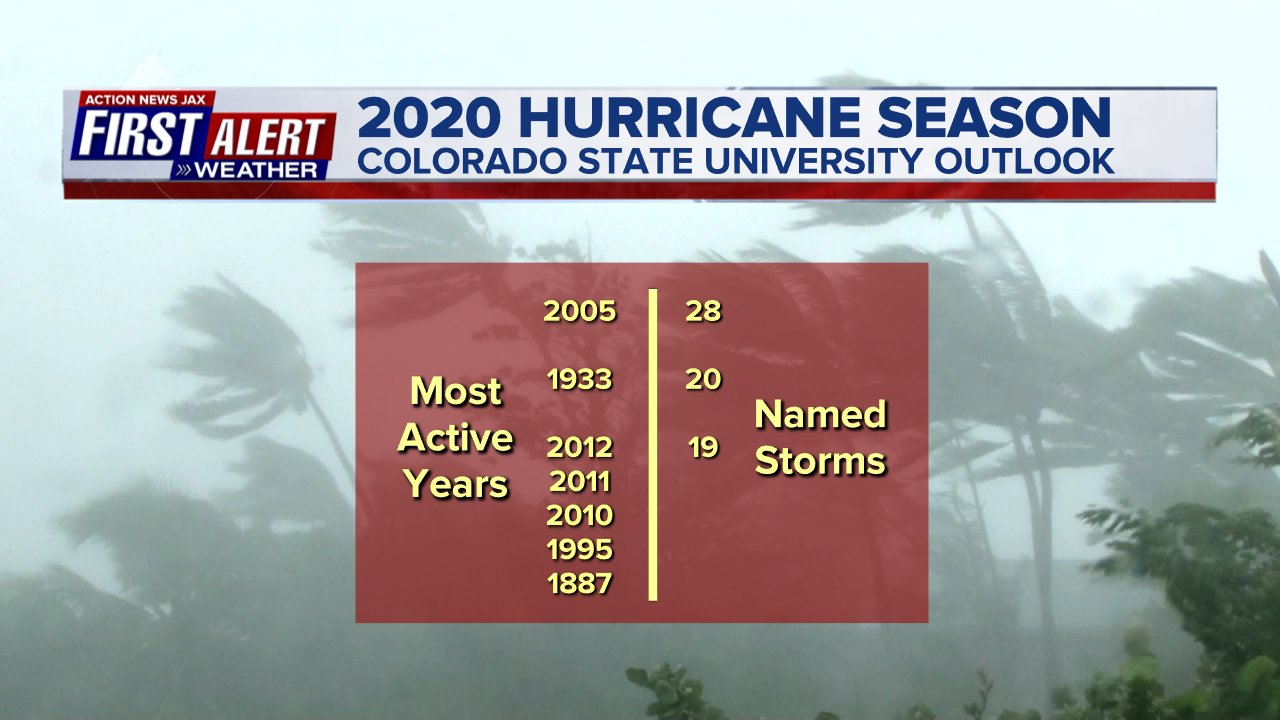 From the Timucuan Parks Foundation:
Now that the stay-at-home restrictions have eased up, there are more people than ever visiting Jacksonville's parks and preserves! Timucuan Parks Foundation and its national, state, and city park partners need your help in keeping these special outdoor spaces clean. If you are a student, here's an opportunity to give back and earn community service hours this summer.
Go on one (or more) Self-Guided Volunteer Litter Pickups to earn 2 Hours of Community Service per "Event" and…
…get a chance to win a gift card for Mayday's Handcrafted Ice Creams or a free Hydro Flask.
Self-guided litter pickups are open to students of all ages including those in home-school. See event instructions below.
These self-guided events will take place starting Wednesday, June 24 to Wednesday, August 12. Weekly drawings for prizes start July 1 and will be held Wednesdays until August 12.
Get all the info. & the sign-up site * here *.
© 2020 Cox Media Group