Jacksonville, FL — The "Buresh Blog" is going to take a week (next new post the week of Aug. 30th) for some R & R getting ready for the peak of the hurricane season. BUT "Talking the Tropics With Mike" - * here * will continue to updated every single day!
After a quiet July, the tropics awakened abruptly at mid month with yet another - the 4th - U.S. landfall this season - all tropical storms so far. Still well behind the 11 U.S. landfalls a season ago but still not yet to the half way point. With 8 named storms by Aug. 16th, 2021 is only behind the infamous seasons of 2005 & 2020 for the earliest to 'H'. The peak of the Atlantic season is Sept. 10th but with a "mini" peak Oct. 15th. Stay up to date on the First Alert Forecast & *always* be prepared. Download the *free* 2021 First Alert Hurricane Preparation Guide * here *.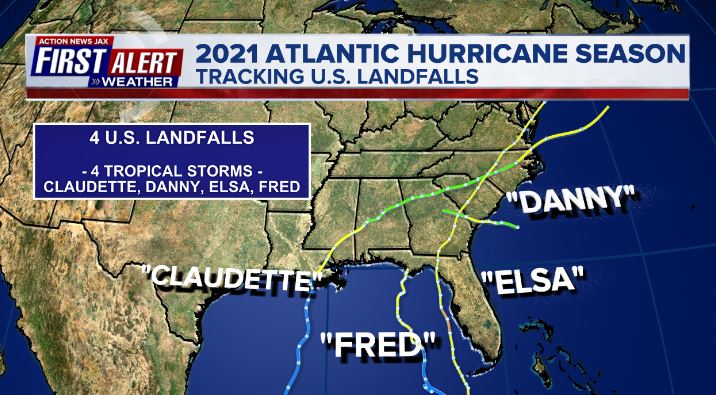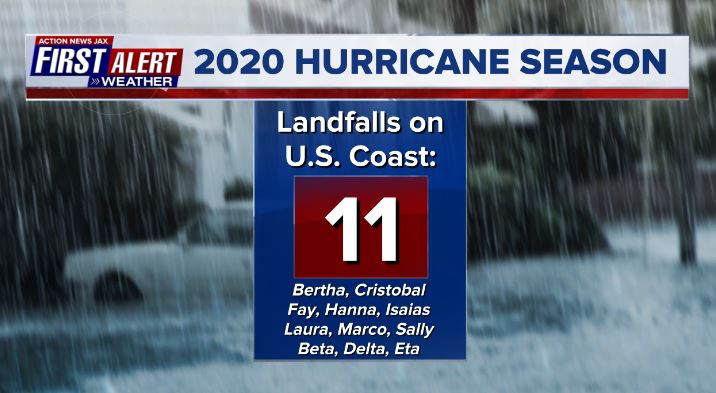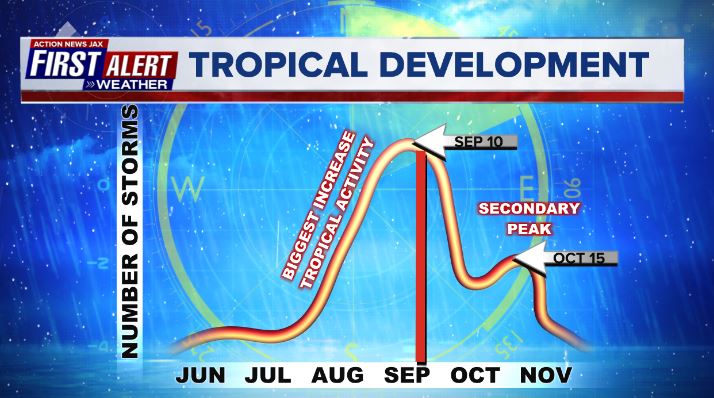 Meanwhile - through Aug. 18th - our wet season remains, well - very wet(!).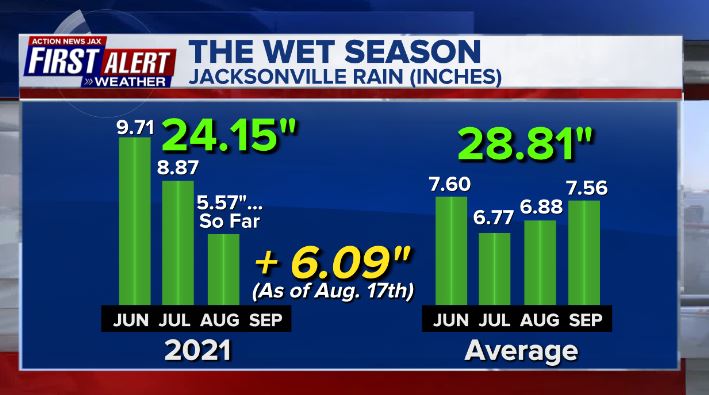 But this wet stretch has been good for Florida's aquifer system.
From the St. Johns River Management District:
July started with Tropical Storm Elsa making landfall on Florida's northern Gulf Coast, bringing rainy conditions to the St. Johns River Water Management District, and the month wrapped up with above-average rainfall across the District except for its two southernmost counties.
A full report outlining July's hydrologic conditions was presented at the District's Governing Board meeting Tuesday. Highlights include:
Rainfall
Districtwide, July rainfall averaged 7.89 inches, which is 1.05 inches above the long-term average for the month.
Counties with the highest rainfall totals are Alachua, with 10.7 inches of rain, followed by Baker, Nassau and Seminole counties, which all received between nine and 10 inches.
The county with the least rainfall in July was Indian River, with 5.4 inches. Portions of southern Brevard were also drier.
Districtwide, the cumulative rainfall total for the past 12 months is 53.65 inches, which is 2.64 inches above the long-term average.
Countywide rainfall totals for the past 12 months range from a high of 59.25 inches in Alachua County to a low of 48 inches in Osceola County.
Groundwater
· Upper Floridan aquifer conditions (groundwater levels) at the end of July were mostly in the normal range, but a large zone of high levels was recorded along the western side of the District and in southern Volusia/northern Brevard counties. In many monitoring wells used for the monthly report, water levels increased more than 10 percentile points in July.
· Groundwater levels are at the 73rd percentile Districtwide. This means that since 1980, aquifer levels have been higher than they currently are about 27 percent of the time.
Surface water flows
Surface water flow in Upper St. Johns River stations and the Econlockhatchee River station was in the average range, while flow in the Orlando area at the Wekiva River and the Middle St. Johns River station near DeLand was high.
On Aug. 1, flow in the St. Johns River's headwaters at the Melbourne station was 355 million gallons per day (mgd) (57th percentile).
Flows in the Econlockhatchee River near Chuluota were in the average range at 184 mgd (54th percentile).
Flows in the Wekiva River near Sanford were in the high range at 317 mgd (87th percentile).
Flows at the DeLand station were in the high range at 2.9 billion gallons per day (bgd) (77th percentile).
Flows in the Ocklawaha River, the largest tributary to the St. Johns River, were in the average range at 802 mgd (64th percentile).
Flows at the Satsuma station were very high range at 8 bgd (92nd percentile).
Flows in the St. Marys River near Macclenny were in the very high range at more than 1 bgd (94th percentile).
Spring flows
· The mean monthly flow at Silver Springs increased to 657 cubic feet per second (cfs), or 425 mgd, which is a 61 cfs increase from June.
· At the Blue Spring station in Volusia County, the mean monthly flow decreased to 134 cfs, or 86 mgd, briefly dropping into the very low range.
· At Rock Springs, the monthly mean flow increased 4 cfs to 62 cfs (40 mgd), which is in the high range for July.
· Mean monthly flow at Wekiwa Springs increased slightly to 66 cfs (43 mgd), which is in the normal range for the time of year.
Speaking of water.... this from "Ms. Environment", Patty Scott :) -
If you love to surf, kayak, swim, or sail, you probably care deeply about the condition of your local waterway. This month, as we celebrate #NationalWaterQuality Month, is the perfect time to learn about your watershed, what actions you can do to help protect it, and how you can get involved.
Learn about your Watershed. As a first step, you should learn more about the condition of your local watershed (e.g., the area of land that drains to a local river, stream, estuary, or lake). The Environmental Protection Agency's "How's My Waterway" app —- https://mywaterway.epa.gov — allows you to enter a zip code, address, or a specific location to learn about the health of your local waterbody. "How's My Waterway" pulls information from state-reported monitoring data so you can find out whether your water is polluted, and if so, what pollutants are causing impairment (if known). The state of Florida is required to develop cleanup plans for those waters that do not meet their intended uses. Many Florida waters are impaired (polluted) because of nutrient pollution (excess nitrogen and phosphorus). Nutrient pollution comes from many sources, including excess fertilizers from lawns and gardens, failing septic systems, and pet waste. It can fuel harmful algal blooms, which can kill fish and make people sick.
Actions You Can Do To Make A Difference
Unfortunately, many people don't realize that their everyday actions have a direct impact on the health of their local waterbodies. Polluted runoff from streets, yards, and farms is now the leading cause of water pollution. Whenever it rains, pollutants get washed into storm drains that drain directly into your nearby stream, river, beach, or lake.
Here are a few simple things you and your family can do to help protect the health of our rivers, beaches, lakes, and estuaries:
● Don't apply fertilizers during the rainy summer months
● Test your soil to determine how much, if any, fertilizer is necessary
● Landscape with native plants that require less fertilizers, pesticides, and water
● Always pick up after your pet
● If you have a septic system, be sure to inspect it regularly
● Use WaterSense and Energy Star appliances that use less water and energy
Get Involved
Volunteering to serve as a steward of your watershed is one of the best ways to help ensure that you will have healthy waters for swimming, fishing, and drinking water use.
There are several great opportunities to get involved here in Northeast Florida:
● St Johns Riverkeeper River Patrol — https://www.stjohnsriverkeeper.org/river-patrol/ — empowers individuals to get involved in monitoring the health of the St Johns River.
● The Matanzas Riverkeeper and the Litter Glitter. The Litter Glitter takes members of the community out on the water to remove trash and learn about the problem of marine debris. https://www.matanzasriverkeeper.org/litter_gitter
● For general volunteer info with the Matanzas Riverkeeper, visit: https://www.matanzasriverkeeper.org/volunteer and
● First Coast Surfrider Foundation https://firstcoast.surfrider.org/ (click on volunteer opportunities)
A huge shout out and thank you to the volunteers for all they do to look after our precious water resources.
Thanks for all that you do to keep people safe!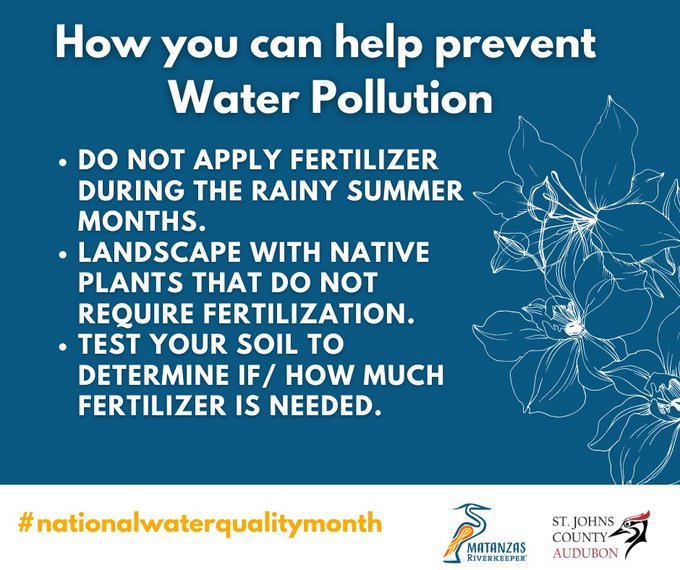 Lots of mother nature's water by mid June put a lid on Florida's wildfire season.
And the tally is in on prescribed burns so far. From the South Fl. Water Management Dist.:
The St. Johns River Water Management District achieved a new milestone in July, hitting an all-time annual high 52,289 acres of District lands receiving prescribed burns. And there is still more than a month left in the current fiscal year. The District's previous record was 51,693 acres set in fiscal year 2008.
"Prescribed fire is a critical part of maintaining many of the fire-dependent communities on District lands, not to mention reducing the risk of wildfires," said St. Johns River Water Management District Executive Director Dr. Ann Shortelle. "Prescribed fire is our most cost-effective tool for managing the lands we have purchased for water resource protection. This milestone is an impressive achievement by our Land Resources team. Thanks for a job done very well, with great care and expertise."
Prescribed fire is the use of carefully planned fire purposefully set under stringent conditions to manage the fire's effects. Before conducting any burn, District staff ensure that wind direction and speed among other environmental conditions are correct for achieving burn goals while minimizing the impacts of smoke to the public. The Florida Forest Service (FFS) reviews each proposed burn and issues the appropriate authorization.
Periodic prescribed fires on District lands enhance the land's environmental quality and protect its neighbors from destructive wildfires, but not without the possibility of temporary nuisances, such as smoke and ash. Many of Florida's ecological communities are not just fire tolerant, but fire-dependent, requiring period burns to maintain their overall health and vitality. Prescribed fires help prevent wildfires by burning off fuels that naturally build up over time, while also helping to manage the growth of woody shrubs and undesirable invasive species.
This year's prescribed burn breakdown by county is:
• Alachua — 3,789 acres
• Brevard — 23,550 acres
• Clay — 1,701 acres
• Duval — 259 acres
• Flagler — 108 acres
• Indian River — 13,394 acres
• Lake — 2,550 acres
• Marion — 1,850 acres
• Orange — 2,722 acres
• Putnam — 503 acres
• St. Johns — 795 acres
• Volusia — 1,068 acres
In fire-dependent ecosystems, fire is as nearly as important as rainfall and sunshine. The benefits of prescribed fire include restoring and maintaining natural communities, reducing chances of destructive wildfires, perpetuating native fire-adapted plants and animals, cycling nutrients, managing tree diseases and opening scenic vistas.
The District works with the FFS and local communities through the Firewise program to educate our neighbors on the many benefits of prescribed fire. Follow the District on social media to know when prescribed burns are taking place in your area. To learn more about the District's prescribed burn program, visit the District online at www.sjrwmd.com/lands/management/prescribedfire or follow the conversation at #RXburn #goodfire #sjrwmd.
©2021 Cox Media Group