Jacksonville, FL — Daily updates on the tropics: "Talking the Tropics With Mike". NOAA & Dr. Phil Klotzbach (Colorado State U) issued their seasonal updates as we head through the peak months of the hurricane season. Considering warm ocean temps. (& especially warm deep oceanic heat content), generally low shear profiles, a probably La Nina over the equatorial Pacific + strong monsoonal disturbances moving west across Africa... all indications are the season - as a whole - will have an above average number of tropical storms & hurricanes.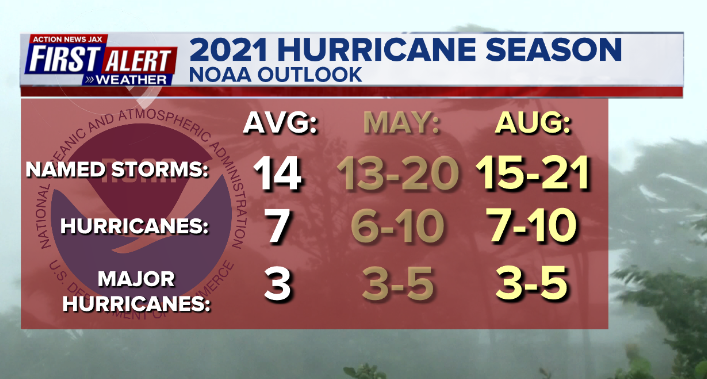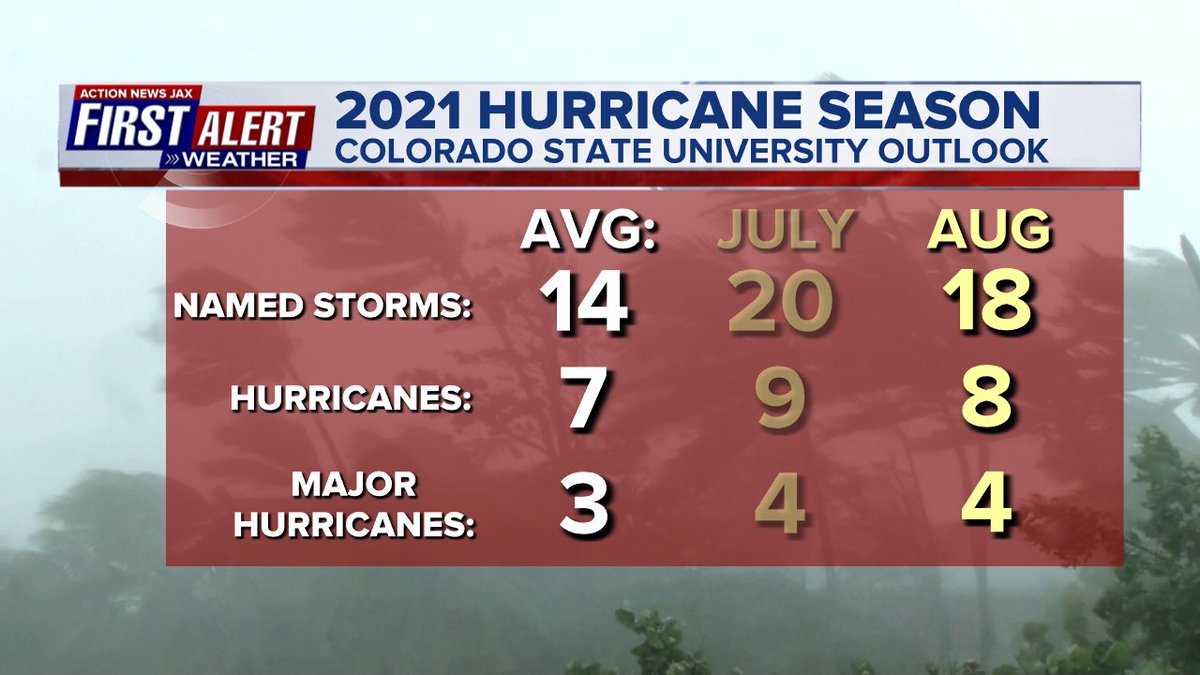 Staying on the topic of the tropics.... saildrones have been launched in the Caribbean & SW Atlantic including not far off the Jacksonville coast. Saildrones are uncrewed surface vehicles powered by wind and solar energy and remotely piloted via satellite telecommunication. They measure solar irradiance, barometric pressure, air temperature, humidity, wind, waves, water temperature, salinity, chlorophyll, dissolved oxygen and ocean current & will operate from Aug. 1 through Oct. 31. According to NOAA:
OBJECTIVES
(1) Measure near-surface atmospheric and upper-ocean parameters to calculate energy and momentum fluxes between the atmosphere and ocean outside and within hurricanes.
(2) Synchronize the deployments of saildrone and ocean gliders (see picture above) to measure the coupling between the surface atmosphere and upper ocean.
(3) Transmit data in real-time to operational weather prediction centers to improve atmosphere-ocean initial conditions in forecast models.
(4) Apply the observations to understand how air-sea interaction affects hurricane intensity and to advance hurricane prediction models.
ActionNewsJax was there when a couple of the drones were recently "launched":
While it's obviously been a hot summer, it could be (should be) hotter! July marked the 4th month in a row with below average temps. at JIA. Most stunning is that it marks the first time to have 4 straight mo. below avg. since Oct., 2010 - Jan., 2011.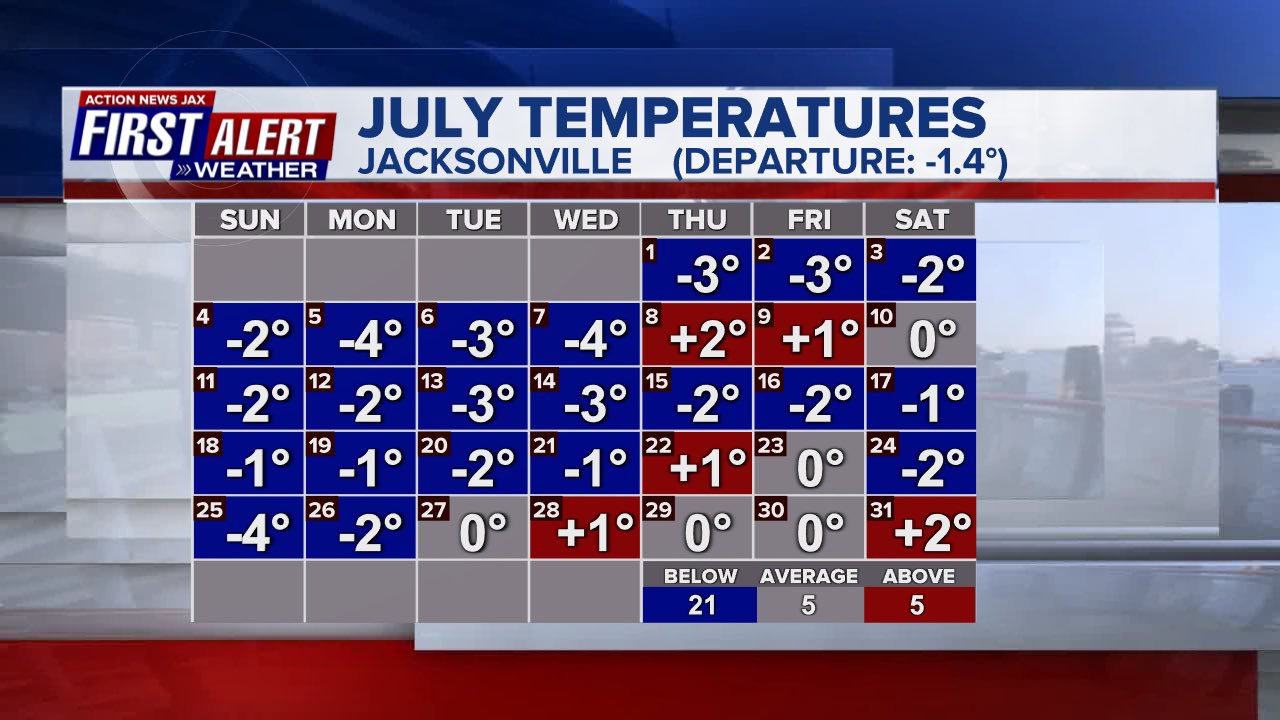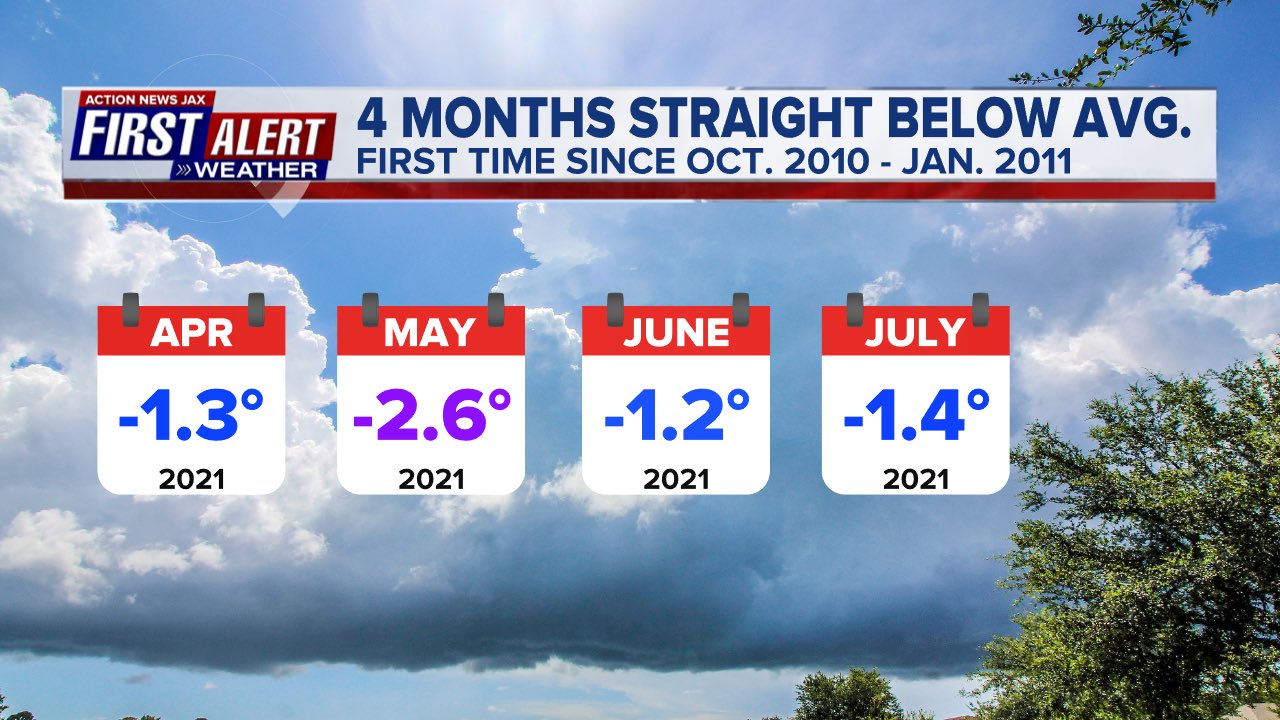 Aug. - early Sept. night skies highlighted by the annual Perseid meteor shower (summary from Sky & Telescope):
Aug. 6 (dawn): A razor-thin lunar crescent hangs 5° to the right of Pollux above the east-northeastern horizon.
Aug. 10 (dusk): Look toward the west at sunset to see the waxing crescent Moon and Venus 5½° apart.
Aug. 11–12 (all night): The Perseid meteor shower reaches maximum. The waxing crescent Moon won't interfere with viewing. Perhaps see up to 1 meteor per minute from a dark location with minimal light pollution.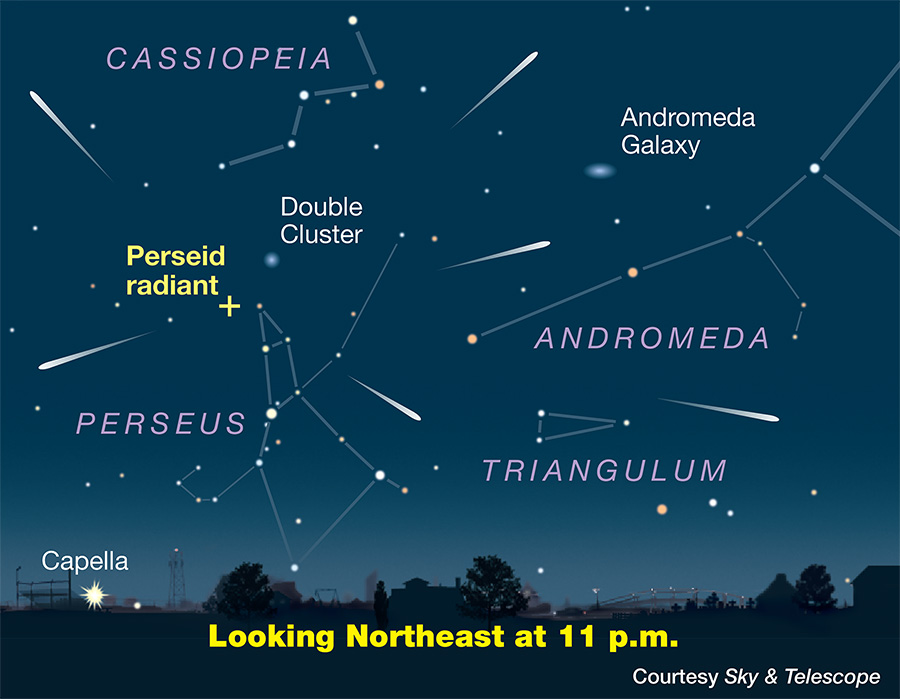 Visualization below: Ian Webster / Data: NASA / CAMS / Peter Jenniskens (SETI Institute)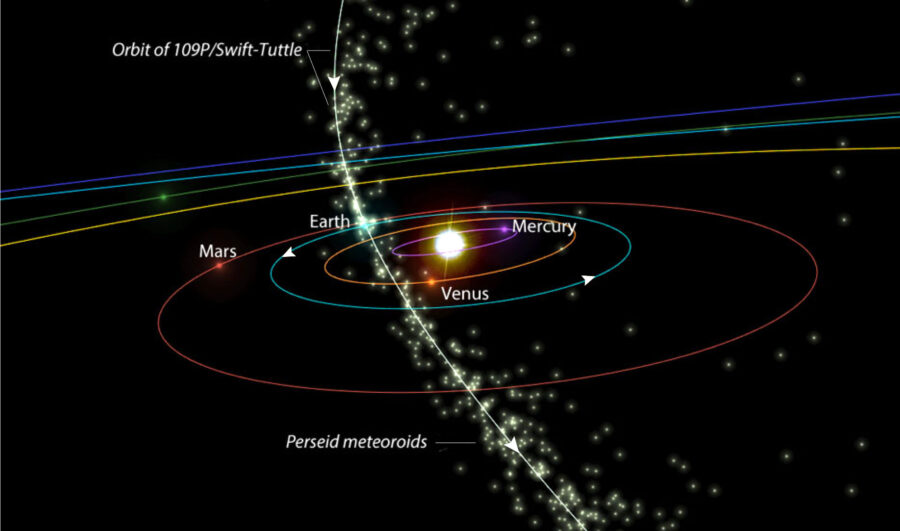 Aug. 16 (dusk): The Moon, a day past first quarter, is 4° from Antares, the red-tinged heart of Scorpius.
Aug. 19 (all night): Jupiter arrives at opposition. This gas giant anchors the eastern end of a line around 30° long with the Moon at the western end and Saturn in between.
Aug. 20 (dusk): The Moon and Saturn, only about 4½° apart, grace the southeastern horizon after sunset.
Aug. 21 (dusk): The almost-full Moon and Jupiter rise in tandem in the east-southeast, around 5° separating them.
Aug. 22 (evening): Tonight's full Moon is a "Blue Moon" according to the original definition. It represents the third full Moon in a series of four falling between June's solstice and September's equinox. (Full explanation here.)
Aug. 30 (dawn): The last-quarter Moon is some 5° from Aldebaran, with the Pleiades cluster to their upper right.
Sept. 3 (dawn): Look east to see the waning crescent Moon, Pollux, and Castor equally spaced in a tidy line.
Sept. 4 (dawn): The thinnest sliver of a Moon is about 4° from the Beehive Cluster (M44) in Cancer.
Sept. 4 (dusk): Low in the west-southwest, Venus, the Evening Star, is less than 2° from Spica, Virgo's alpha star.
Moon Phases
New Moon – August 8, 9:50 a.m. EDT
First Quarter – August 15, 11:20 a.m. EDT
Full Moon – August 22, 8:02 a.m. EDT
(Full Sturgeon Moon; traditional Blue Moon)
Last Quarter – August 30, 3:13 a.m. EDT
©2021 Cox Media Group