Jan. 11, 2017 - The ol' upper level ridge is back near Florida -- a mainstay of much of the last several months -- which adds up to a storm track (jet stream) well north & west of Jacksonville where the weather will stay active & -- at times -- very cold. For Jacksonville & surrounding areas, some "chamber of commerce" winter weather until the pattern breaks down for a while again which does not appear to be until mid to late week (Jan. 18 - 20) & beyond. The upper level chart below is for Sun., Jan. 15th when the upper high will be centered near S. Fl. Meanwhile.... the wet & stormy pattern continues for much of the rest of the U.S. A pretty cool way to track storm systems & their movement over the Lower 48 can be found at the NASA Scientific Visualization Studio -- here.... the 2nd image below is a still image (refresh).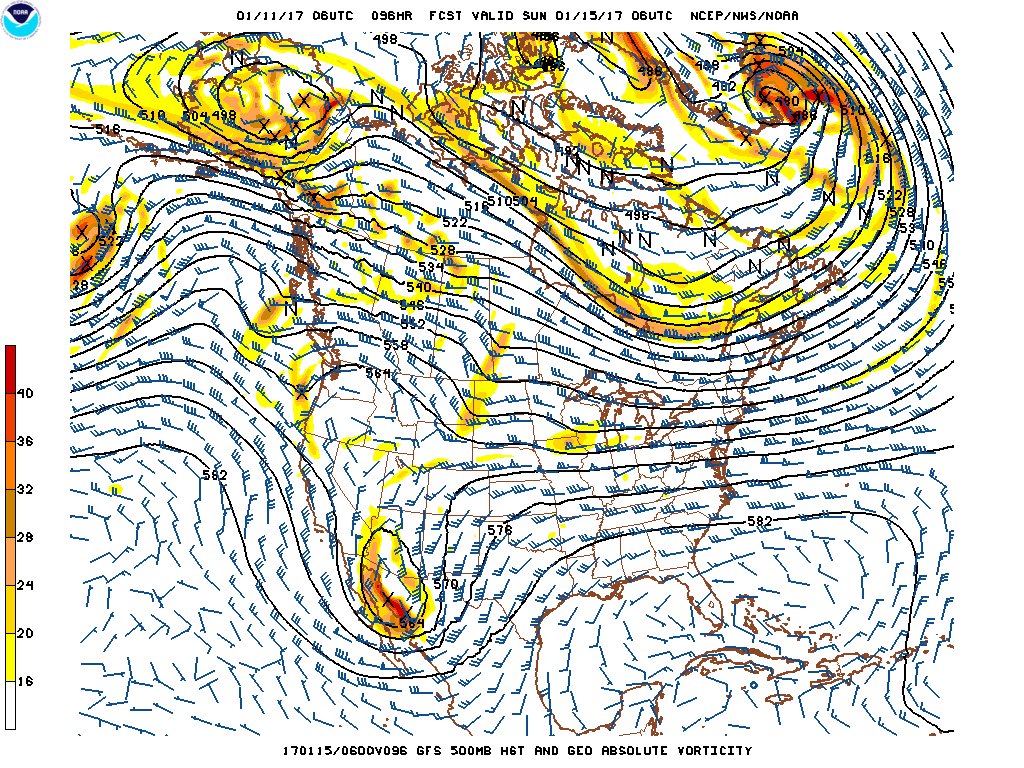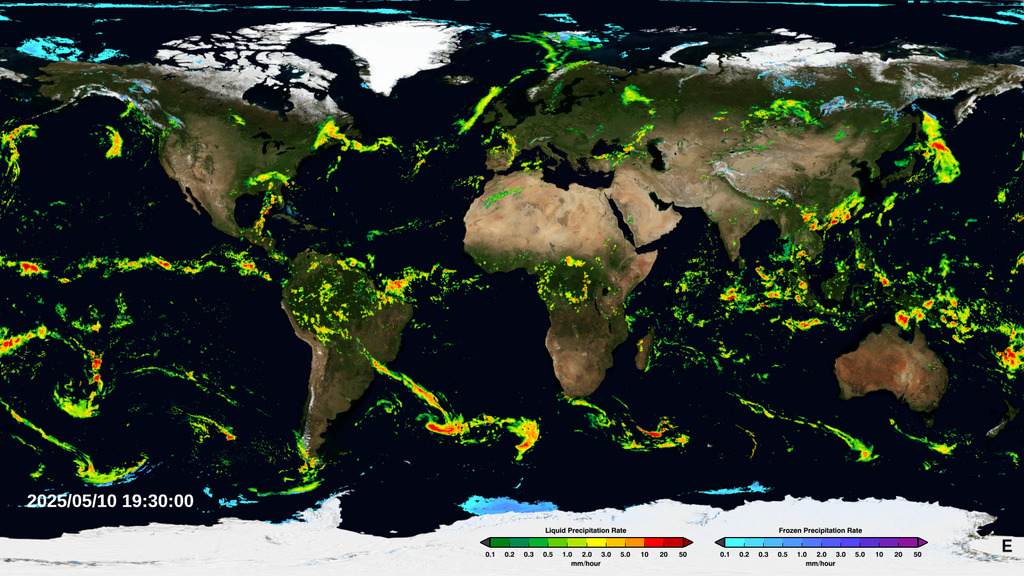 Our Jan./early Feb. night skies as provided by Sky & Telescope magazine:
Jan. 14–15 (night): The Moon, just past full, shines near Regulus, the brightest star in Leo. Watch as the dis-tance between them increases through the night.

Jan. 19 (morning): The last-quarter Moon, Jupiter, and Spica form a compact group. They're highest in the south before dawn.

Jan. 24 (dawn): The thin crescent Moon slices about 3° upper left of Saturn, gleaming in the southeast.

Jan. 25 (dawn): Binoculars may help tease out the very thin crescent Moon low in the southeast. The tiny light of Mercury sparks 5–6° below or lower left of it.

Jan. 31 (dusk): The waxing crescent Moon, Mars, and Venus form a triangle in the west-southwest in twi-light. They set around 9 p.m.

Feb. 1 (morning): Before sunrise, Jupiter and Spica are within 4° high in the south; they'll stay this close all month.

Feb. 5 (evening): As twilight deepens, the waxing gibbous Moon is just left of Aldebaran; the Moon occults (covers) this star as seen from southern Europe and northern Africa.

Feb. 10 (evening): A very deep penumbral eclipse of the Moon is visible at sunset or early evening across the U.S. Click - here - for details.... & here for more of an explainer.
Moon Phases

First Quarter Jan. 5, 2:47 p.m. EST
Full Moon Jan. 12, 6:34 a.m. EST (Wolf Moon, also Old Moon)
Last Quarter Jan. 19, 5:13 p.m. EST
New Moon Jan 27, 7:07 p.m. EST
First Quarter Feb. 3, 11:19 p.m. EST 
Speaking of the skies.... the countdown is on to the first U.S. full solar eclipse in nearly 40 years - Aug. 21st. See the NASA maps -- here. While not a total solar eclipse from Jacksonville/NE Fl./SE Ga., the view will still be potentially spectacular with a peak near 2:50pm EDT with nearly 90% of the sun obscured. Click - here - for a "calculator" that gives eclipse details for anywhere in the U.S. A LUNAR (moon) will be visible from the local area in less than a month - Feb. 10th - early in the evening as the moon is rising - should be pretty cool.
As part of an ongoing joint project between UAHuntsville, NOAA and NASA, Dr. John Christy, director of the Earth System Science Center at The University of Alabama in Huntsville, and Dr. Roy Spencer, an ESSC principal scientist, use data gathered by advanced microwave sounding units on NOAA and NASA satellites to get accurate temperature readings for almost all regions of the Earth. This includes remote desert, ocean and rain forest areas where reliable climate data are not otherwise available.
The satellite-based instruments measure the temperature of the atmosphere from the surface up to an altitude of about eight kilometers above sea level. All the info. is available online - here.
December temperatures (preliminary)

Global composite temp.: +0.24 C (about 0.43 degrees Fahrenheit) above 30-year average for December.

Northern Hemisphere: +0.19 C (about 0.34 degrees Fahrenheit) above 30-year average for December.

Southern Hemisphere: +0.30 C (about 0.54 degrees Fahrenheit) above 30-year average for December.

Tropics: +0.21 C (about 0.38 degrees Fahrenheit) above 30-year average for December.

November temperatures (revised):

Global Composite: +0.45 C above 30-year average

Northern Hemisphere: +0.49 C above 30-year average

Southern Hemisphere: +0.50 C above 30-year average

Tropics: +0.37 C above 30-year average

(All temperature anomalies are based on a 30-year average (1981-2010) for the month reported.)

Notes on data released Jan. 3, 2017:

Globally, 2016 edged out 1998 by +0.02 C to become the warmest year in the 38-year satellite temperature record, according to Dr. John Christy, director of the Earth System Science Center at The University of Alabama in Huntsville. Because the margin of error is about 0.10 C, this would technically be a statistical tie, with a higher probability that 2016 was warmer than 1998. The main difference was the extra warmth in the Northern Hemisphere in 2016 compared to 1998.

Year GL NH SH TROP
2016 +0.505 +0.61 +0.40 +0.61 C
1998 +0.484 +0.51 +0.46 +0.68 C

"The question is, does 2016's record warmth mean anything scientifically?" Christy said. "I suppose the answer is, not really. Both 1998 and 2016 are anomalies, outliers, and in both cases we have an easily identifiable cause for that anomaly: A powerful El Niño Pacific Ocean warming event. While El Niños are natural climatic events, they also are transient. In the study of climate, we are more concerned with accurately identifying long-term temperature trends than we are with short-term spikes and dips, especially when those spikes and dips have easily identified natural causes.

"Some records catch our attention because we usually struggle to cope with rare events. For example, the Sept.-Nov. record heat and dryness in the southeastern U.S. (now a thing of the past) will be remembered more than the probability that 2016 edged 1998 in global temperatures. So, from the long-term perspective, 2016's record may be less noteworthy than where the month-to-month temperature settles out between warming and cooling events."

Compared to seasonal norms, the warmest average temperature anomaly on Earth in December was in south central China, near the town of Qamdo. December temperatures there averaged 3.91 C (about 7.04 degrees F) warmer than seasonal norms. Compared to seasonal norms, the coolest average temperature on Earth in December was near the town of Buffalo Narrows in west central Saskatchewan. December temperatures there averaged 4.13 C (about 7.43 degrees F) cooler than seasonal norms.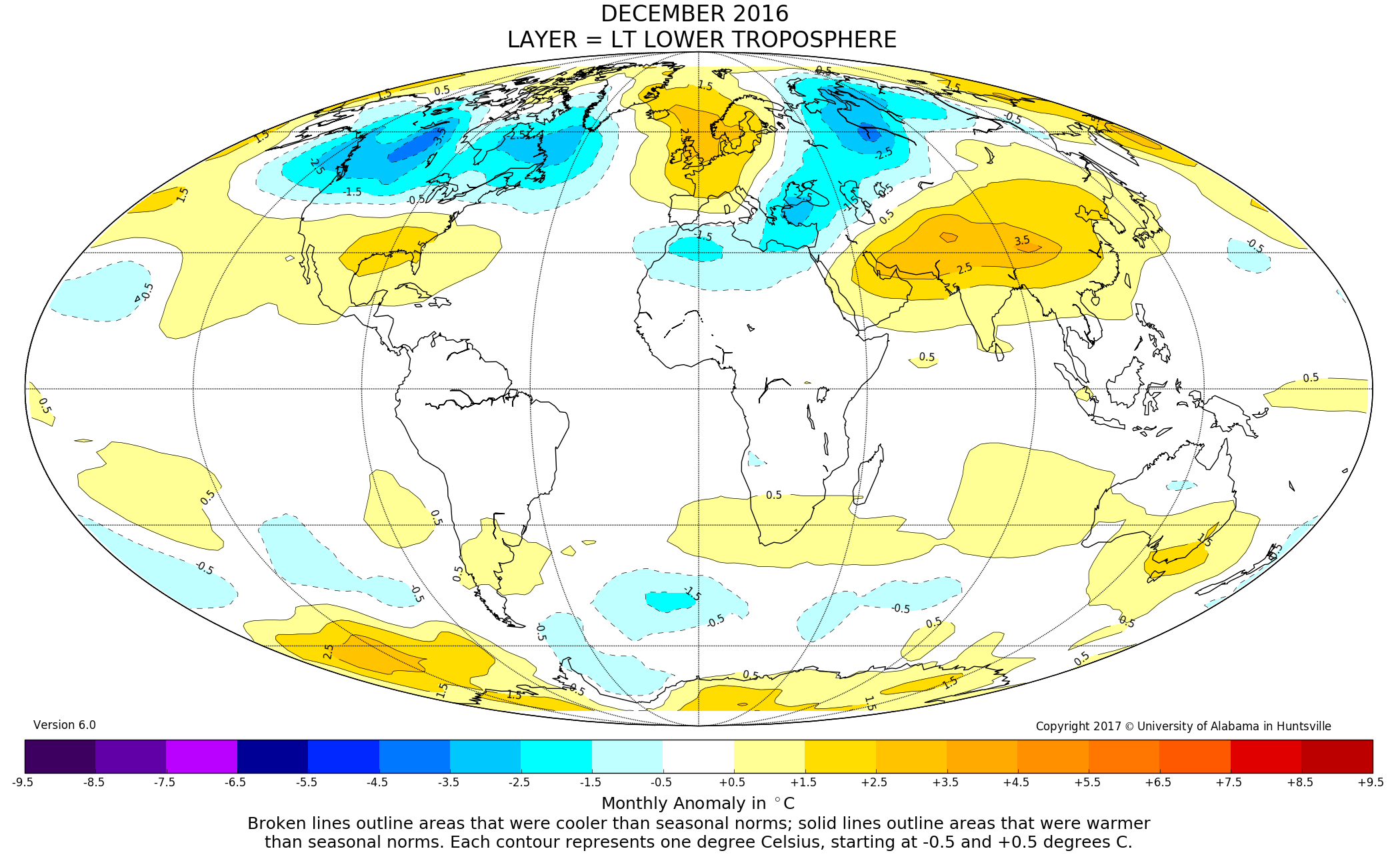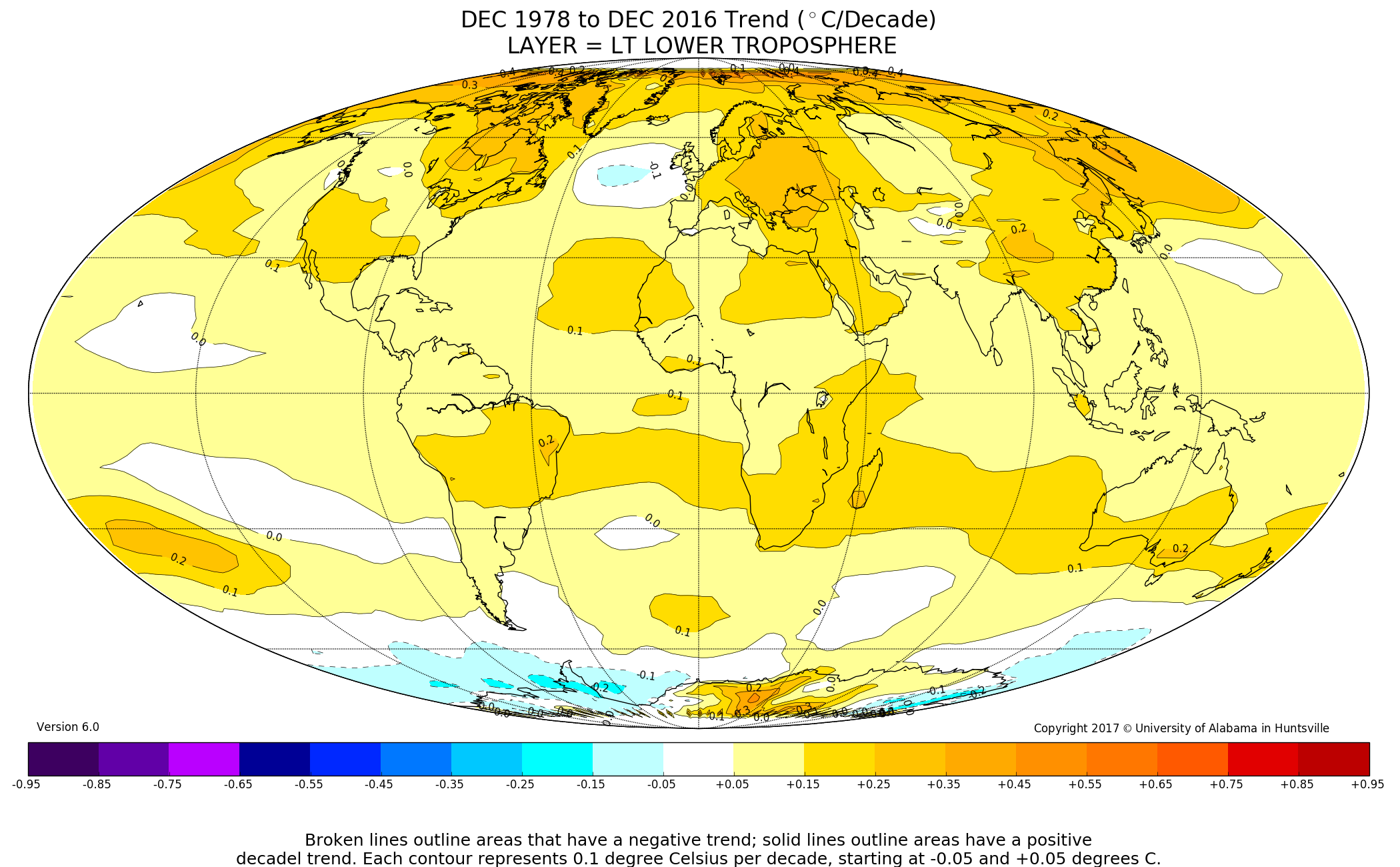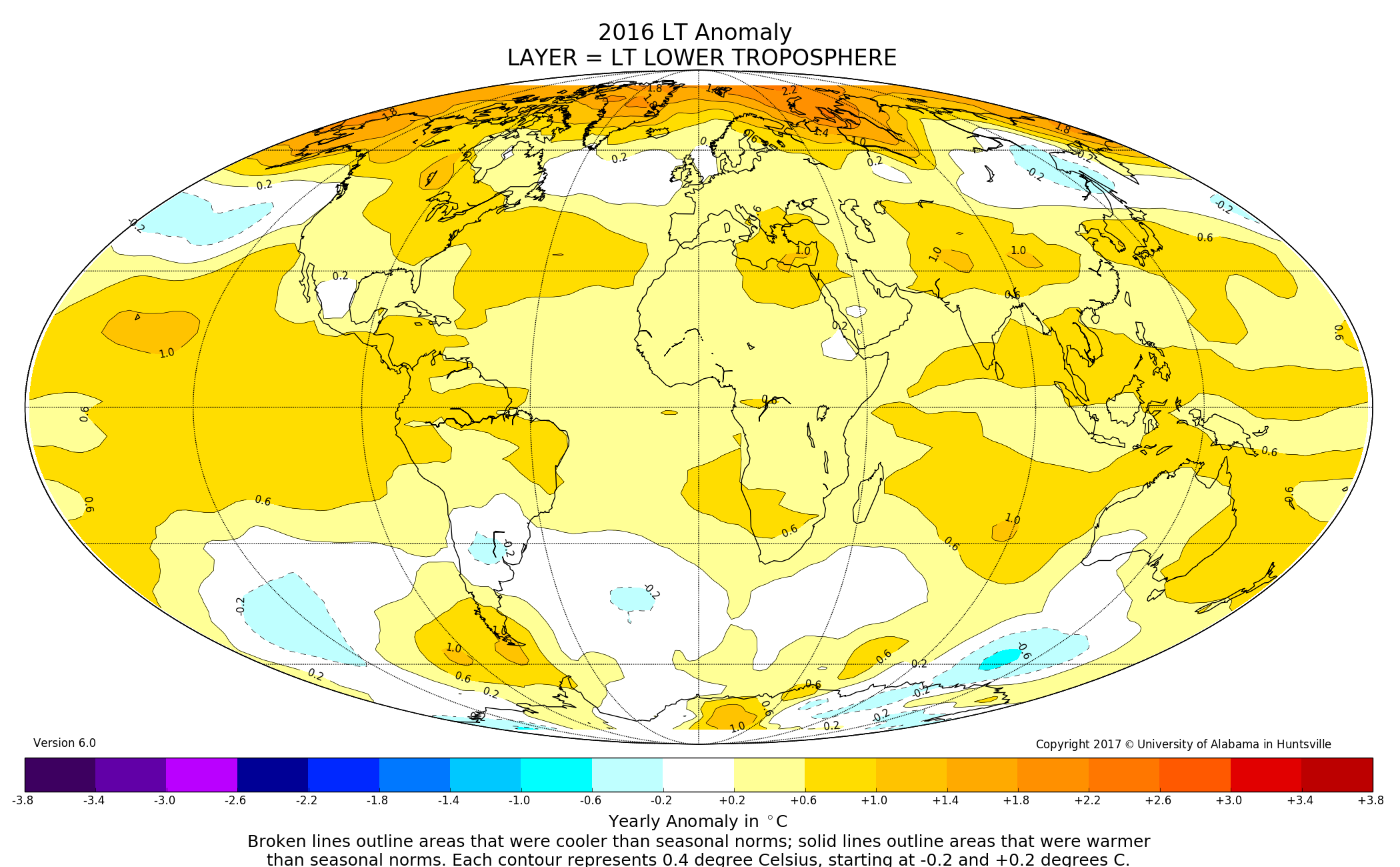 EARTH GAUGE (NEEF):
Five federal land management agencies announced fee-free days for 2017, including National Public Lands Day (NPLD) on September 30. A fee-free day is when federally-managed forests, parks, refuges, and rangelands offer free entry or waive the standard amenity fee for visitors.
Along with NPLD, Martin Luther King, Jr. Day and Veterans Day are free entrance days at Bureau of Land Management, National Park Service, US Fish & Wildlife Service, and US Forest Service lands. There are also additional fee-free days specific to agencies. The National Park Service will provide free entry the weekends of April 15 and April 22 to celebrate National Park Week Weekends and US Fish and Wildlife Service will provide free entry on October 8 to mark the first Sunday of National Wildlife Refuge Week.
2017 FEE-FREE DAYS ON FEDERALLY MANAGED LANDS
January 16: Martin Luther King, Jr. Day
February 20: Presidents Day
September 30: National Public Lands Day
November 11-12: Veterans Day Weekend
January 16: Martin Luther King, Jr. Day
February 20: Presidents Day
April 15-16 and April 22-23: The weekends of National Park Week
August 25-28: National Park Service Birthday
September 30: National Public Lands Day
November 11-12: Veterans Day Weekend
September 30: National Public Lands Day
November 11: Veterans Day (Must be a veteran, active and reserve component service member, or a family member for free admission.)
January 16: Martin Luther King, Jr. Day
February 20: Presidents Day
September 30: National Public Lands Day
October 8: First Sunday of National Wildlife Refuge Week
November 11-12: Veterans Day Weekend
January 16: Martin Luther King, Jr. Day
February 20: Presidents Day
June 10: National Get Outdoors Day
September 30: National Public Lands Day
November 11-12: Veterans Day Weekend