May 17, 2017 - Our dry spring is slowly trying to give way to a wetter pattern which is to be expected as we head toward June. An upper level ridge of high pressure has dominated the last couple of months leading to warm temps. & only sporadic rain. If & when the ridge breaks down, the sea breeze can be more active triggering afternoon showers & storms. We still can get a front down here too to help things out sometimes but the clock is ticking on cold fronts making it all the way to Jacksonville (until Sept./Oct.). The atmospheric sounding below is an illustration as warm air aloft acts as "cap" keeping cumulus clouds flat & unable to grow into showers & t'storms. Cool the air aloft & the overall atmospheric environment is more conducive to producing rain.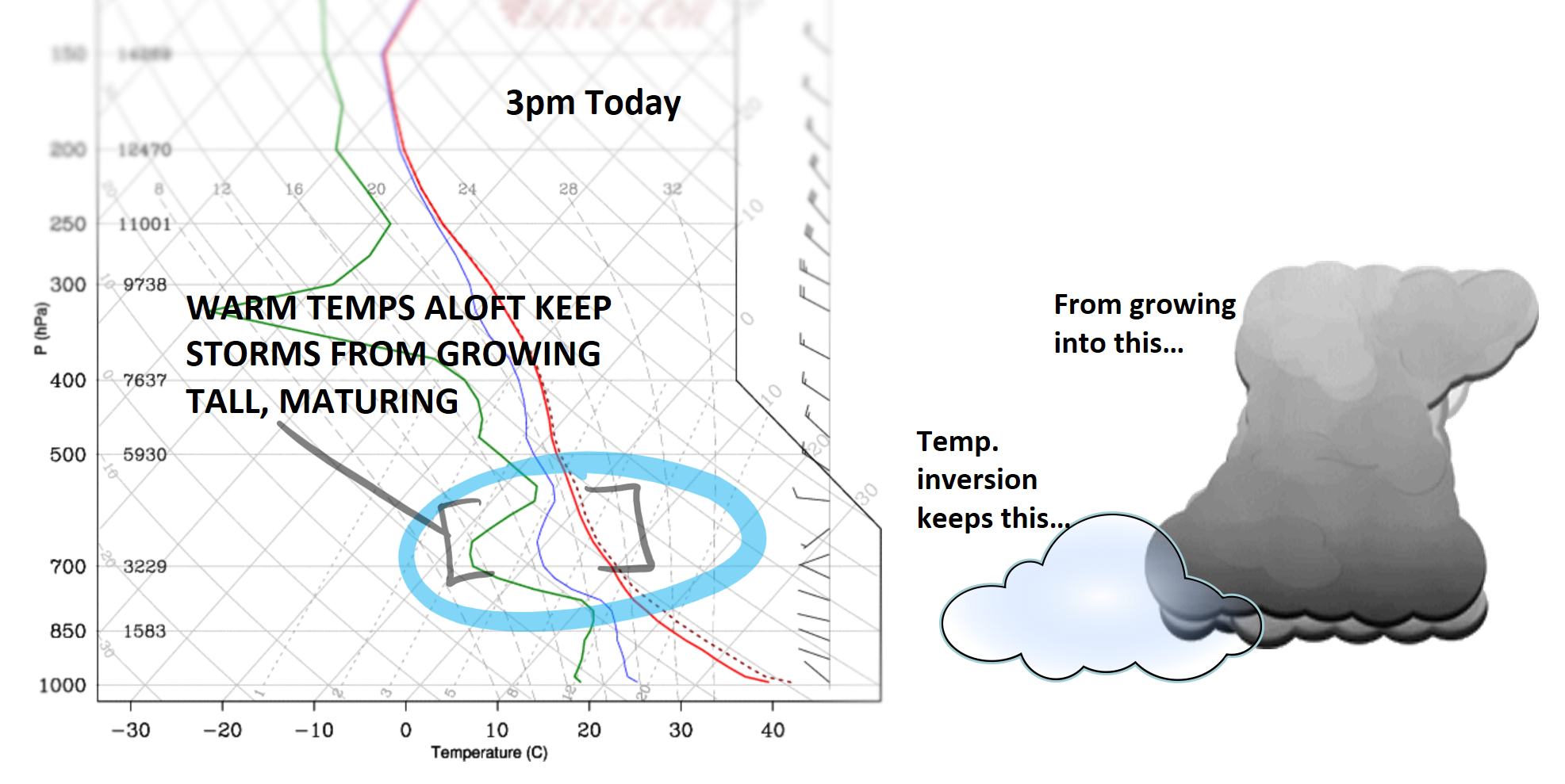 Speaking of water.... this week is Florida water reuse week as proclaimed by the Fl. EPA.
-Collect rain water in buckets during storms which can be reused for irrigating yards, cleaning driveways and toilet flushing.
-Before emptying a pet's drinking bowl, use the unfinished or old water to water plants.
-Plant a rain garden that will capture excess stormwater runoff, limit topsoil erosion, reduce flooding, and enhance yard beauty.
-Take excess water from a bath or from washing dishes and put into the toilet for flushing.
-Wash fruits and vegetables in a pan, not under a running faucet, and reuse that water for gardening.
-Use a commercial car wash that recycles water.
I found an interesting website by NOAA that documents all the billion dollar "climate disasters" for the U.S. going back to 1980. the total cost of the 208 events was more than 208 trillion dollars!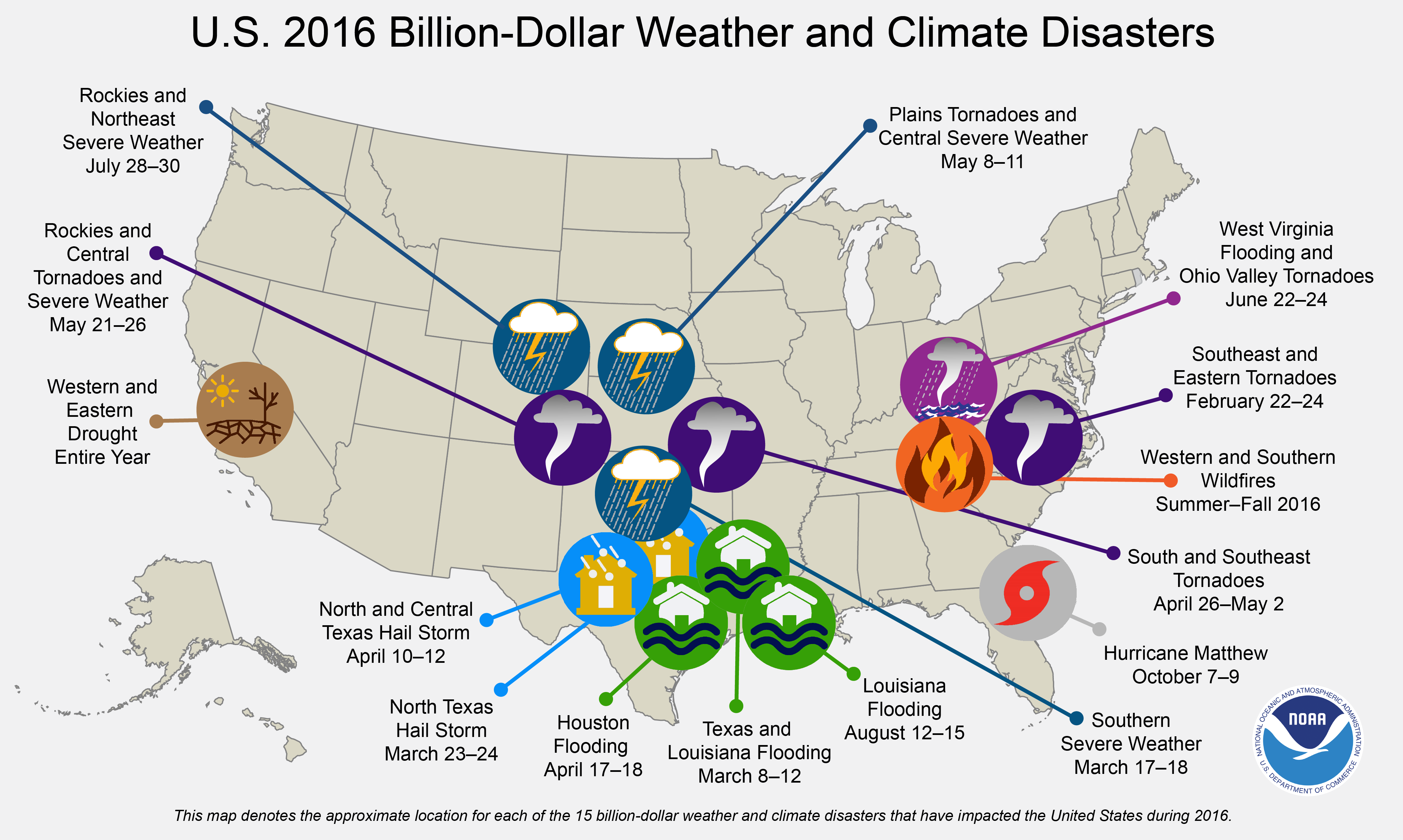 A very handy - & interactive - U.S. & state by state disaster event frequency chart can be found -- here.
The great "American Eclipse" of 2017 is a mere 3 months away. I've added appropriate music on our ActionNewJax eclipse page -- here.
EARTH GAUGE (NEEF)
How 'bout bikin'?!........
May is National Bike Month and May 15-19, 2017 is Bike to Work Week(link is external). Between 2000 and 2013, bicycle commuting rates in the United States increased by 62%. Bike commuting rates in large, bicycle-friendly communities(link is external) – including Austin, Boston, Chicago, Denver, San Francisco, St. Louis, Portland, and Washington, DC – increased by 105% over the same time period! Need convincing to hop on two wheels? Consider these facts:
Cycling benefits your health. Being active outside improves mental and physical well-being. Regular physical activity can reduce the risk for many health conditions, including high blood pressure and heart disease.
Cycling benefits the environment…and your wallet. Leaving your car behind for even one trip saves fuel and reduces air pollution. In 2015, traffic congestion in the US wasted about three billion gallons of fuel and kept drivers stuck in their vehicles for more than seven billion extra hours! The

to

tal cost of all that congestion? $160 billion or $960 per commuter.
Try cycling to work or school just one day this week. Research has shown that the length of about half of all car trips – three miles – can be covered as quickly on a bike when parking and traffic delays are taken into account. These resources will help you on your way:
Find National

Bike

Month and

Bike

to

Work

Week events in your community.
Get tips for riding safely and performing maintenance on your bike from the League of American Bicyclists.
Check the Air Quality Index (AQI) before you head out. When the AQI hits "Code Orange," sensitive groups, including people with asthma, lung disease or heart disease, may experience health effects from air pollution. When you need

to

, adjust your outdoor activities

to

reduce the amount of pollution you breathe in.
No bike? Try carpooling or walking

to

work

or school instead.
Sources: