Nov. 8, 2017 - Our above avg. temps. continue. Every month except June this year has been above avg. We felt a brief taste of fall at the end of Oct. leading up to Halloween but as you can see in the graph below still a long stretch that's been above (red) avg.: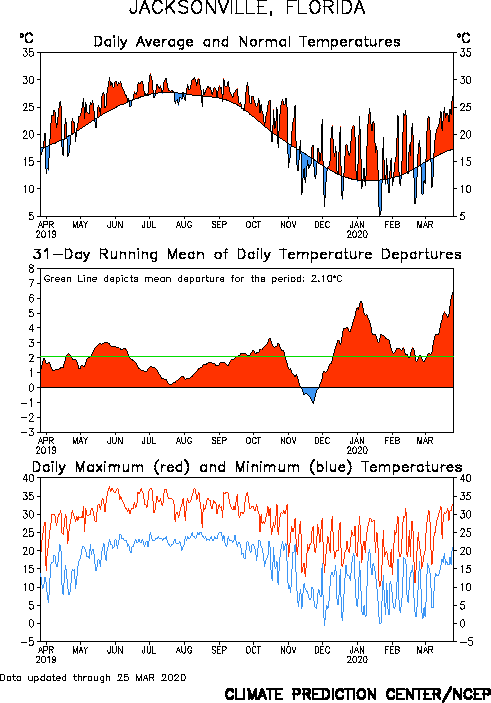 And we've started to dry out after a very wet 5 months from late May to mid Oct. The 66.8" of rain so far this year is already 14"+ above the yearly average....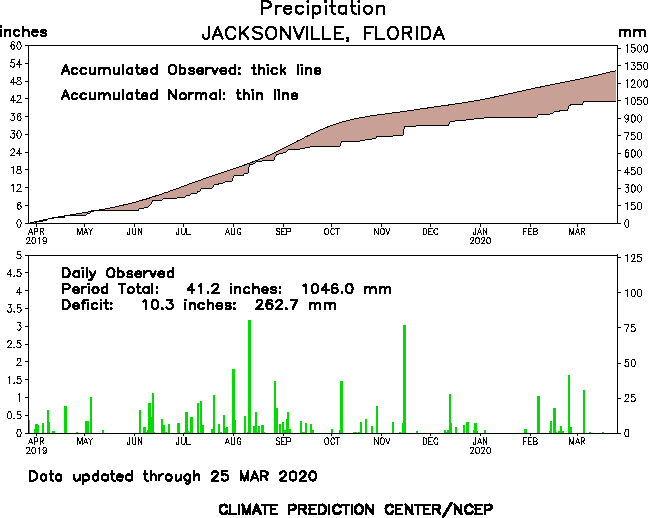 October was wet along the coast but started to dry out overall which is typical. Nov. is - on avg. - our driest month of the year. From the Jax N.W.S.:
FL JASPER 2.44
FL BEAUCLERC 4.59
FL JACKSONVILLE BEACH 4.78
FL LAKE CITY 1.87
FL LAKE CITY 2 E 1.82
FL SOUTH PONTE VEDRA BEACH SHOP 5.28
FL GUANA RIVER STATE PARK N 5.76
FL PALM COAST 6 NE 14.63
FL CRESCENT CITY 8.37
FL GAINESVILLE RGNL AP 1.57
FL HASTINGS 4NE 14.85
FL OCALA 3.43
FL JACKSONVILLE CRAIG MUNI AP 4.27
FL JACKSONVILLE INTL AP 4.01
FL JACKSONVILLE NAS 3.66
FL FEDERAL POINT 13.91
FL BIG TALBOT ISLAND BOAT RAMP 4.55
FL BIG TALBOT ISLAND BIKE TRAIL 4.45
FL L. TALBOT ISLAND PARK SHOP 5.09
FL L. TALBOT ISLAND RANGER STATION 5.37
FL L. TALBOT ISLAND SOUTH BEACH 6.16
FL BUNNELL 16.50
FL PALM COAST 14.63
FL PALM COAST 6 NE 13.18
FL FLAGLER BEACH 10.28
GA PRIDGEN 1.01
GA HOMERVILLE 5 N 3.85
GA ALMA BACON CO AP 1.66
GA NAHUNTA 6 NE 3.20
GA FARGO 17 NE 5.58
GA BRUNSWICK 5.34
GA BRUNSWICK MALCOLM MCKINNON AP 2.01
GA WOODBINE 2.56
Now that we've set our clocks back one hour, a reminder that you're to only irrigate once a week. From the St. Johns Water Management District:
The time change corresponds with the semi-annual shift in watering restrictions ensuring the efficient use of water for landscape irrigation across the St. Johns River Water Management District. The move helps protect our water resources and can save residents money.
Lawn and landscape irrigation often accounts for more than half of residential water use. Plants and grass need much less water in cooler months, which is an excellent opportunity to reduce water use outdoors.
From Nov. 5 through the first weekend in March, landscape irrigation is allowed on one designated day each week, based on your street address, and only before 10 a.m. or after 4 p.m.
· Saturday for residential landscape irrigation at addresses that end in odd numbers or have no address;
· Sunday for residential landscape irrigation at addresses that end in even numbers; and
· Tuesday for nonresidential landscape irrigation.
The restrictions apply to water withdrawn from ground or surface water, from a private well or pump, or from a public or private water utility.
As a time of dormancy for many plants and grass, winter is an appropriate time to cut back. Because grass and landscape plants only need supplemental irrigation every 10–14 days in the winter, and only if it hasn't rained, the district also asks property owners to voluntarily water only every other week, or to skip a week, during the region's coolest weather from December through February.
From SkyandTelescope.com - Nov.'s night skies:
Nov. 11 (morning): Regulus is about 3° lower left of the just-past-last-quarter Moon as seen from North America. A few hours later the Moon occults Regulus in daytime for much of North America.
Nov. 11 (dawn): Find Jupiter 2° below Venus, barely above the east-southeast horizon about 45 minutes before sunrise.
Nov. 11–12 (night): The weak Northern Taurid meteor shower peaks.
Nov. 13 (dawn): Venus and somewhat dimmer Jupiter are extremely close together, only 0.3° apart.
Nov. 16 (dawn): The very slim waning crescent Moon hangs about 6° above Jupiter. Venus is 3° lower left of Jupiter.
Nov. 16–17 (night): The modest Leonid meteor shower peaks. Expect one every few minutes from a dark, clear site.
Nov. 17 (dawn): The hairline Moon, one day from new, forms a loose trio with Jupiter and Venus, quite low in the east-southeast. Bring binoculars and sharp eyes.
Nov. 20 (dusk): The waxing crescent Moon poses nicely to the right of Saturn before they set in the southwest. Use binoculars to hunt Mercury 7° or 8° below the pair no more than 30 minutes after sunset.
Nov. 28 (dusk): Look low in the southwest with binoculars to find Mercury and Saturn just 3° apart. Watch them close in on each other for the next 9 days.
Moon Phases
Full Moon November 4, 1:23 a.m. EDT (Beaver Moon)
Last Quarter November 10, 3:36 p.m. EST
New Moon November 18, 6:42 a.m. EST
First Quarter November 26, 12:03 p.m. EST