Oct. 19, 2019 - The "Buresh Bottom Line": Always be prepared!.....First Alert Hurricane Survival Guide... City of Jacksonville Preparedness Guide... Georgia Hurricane Guide.
STAY INFORMED: Get the * FREE * First Alert Weather app
FREE NEWS UPDATES, ALERTS: Action News Jax app for Apple | For Android
WATCH "Surviving the Storm"
READ the First Alert Hurricane Center "Survival Guide"
RECAP "Hurricane Dorian: A True Tropical Beast"
** "Nestor" was upgraded over the Gulf of Mexico Fri. afternoon moving to the Fl. Panhandle Saturday then into Ga. Saturday night while becoming post tropical. Bands of heavy rain & possibly isolated tornadoes along with gusty winds & rough seas & surf from near Panama City Beach to Jacksonville Beach & much of Florida northward into Ga. & the Carolina's **
Specifically for Jacksonville/NE Fl./SE Ga.:
* on - & - off heavy rain bands & a few t'storms Saturday
* heavy rain at times with amounts averaging 0.5 - 2", isolated spots 3"+
* isolated tornadoes Saturday... remember WATCH: conditions favorable for severe weather; WARNING: severe weather imminent (covers a short period of time)
* gusty winds on the order of 15-30 mph sustained but gusts of 40+ mph
* rough seas & surf - a high rip current risk at area beaches
* rapidly improving weather Sat. night into Sunday
In itself, this will not be a storm that causes widespread damage but isolated tornadoes & isolated strong wind gusts will potentially cause localized damage over small areas (such as a Fri. night tornado in Polk Co. between Tampa & Orlando).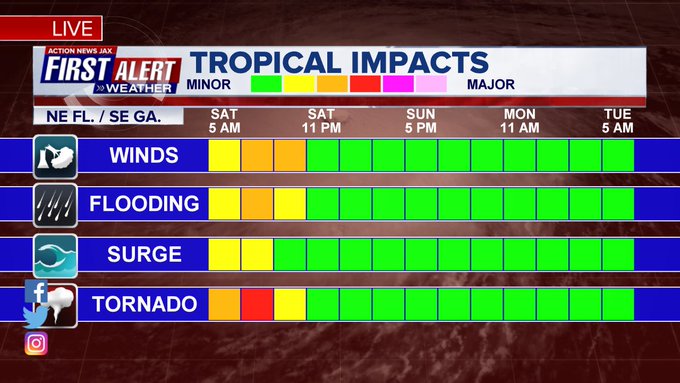 South Fl. Water Management District:
Nestor is moving swiftly northeast making landfall Sat. over the Central Fl. Panhandle not too far from Panama City then moving inland through Georgia into Sat. night. This will be a fast mover which will keep rainfall amounts lower - but still locally heavy. Virtually all of the heavy rain & wind (convection) remains over the northern & especially eastern portion of the circulation. The system will continue to be hampered by strong shear out of the west/southwest at more than 30-40 mph maintaining all the "weather" over the eastern part of the circulation.
Whether purely tropical vs. subtropical or post tropical, the impacts will be the same & very typical of landfalling tropical cyclones. Damage &/or power outages do not look to be significant or widespread for any affected areas as heavy rain, wind & any storm surge (Big Bend) will be short-lived as a weakening Nestor speeds to the east/northeast.
Dry air is wrapping in from the west which will allow for rapid clearing as the center of Nestor marches steadily northeast then east/northeast.
Anyone living in - or traveling through - Florida.... the I-10 corridor from Pensacola to Jacksonville north through Ga. through Saturday & as far north as parts of the Carolina's into Sunday morning should expect impacts from "Nestor".
A narrow cone means a high confidence track forecast:
A storm surge WARNING is in effect for the Big Bend of Fl. (as much as 3-5+ feet of surge + wave action) to as far south as just north of Tampa in addition to a tropical storm WARNING....
Water vapor image shows dry air invading from the west. Sure
Rainfall forecast: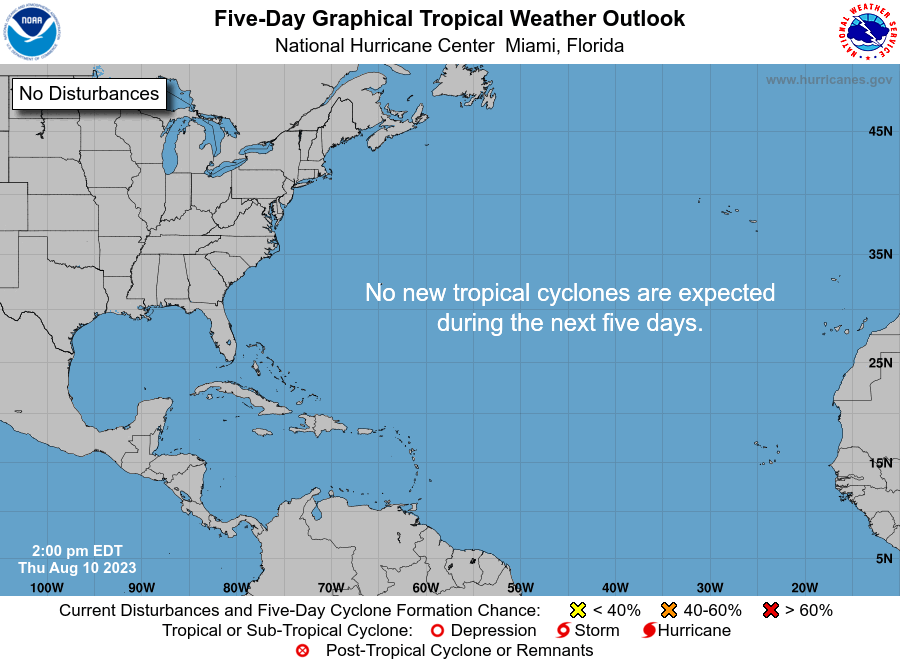 Atlantic dust:
2019 names..... "Olga" is next on the Atlantic list (names are picked at random... repeat every 6 years... historic storms are retired (Florence & Michael last year) & Dorian is almost certain to be next:
East Atlantic:
Mid & upper level wind shear (enemy of tropical cyclones) analysis (CIMMS). The red lines indicate strong shear of which there is plenty across the Atlantic at the moment:
The Atlantic Basin:
Water vapor imagery (dark blue indicates dry air):
Deep oceanic heat content is extreme over the NW Caribbean:
Sea surface temp. anomalies show a warm Gulf of Mexico, Central & Northwest Atlantic while the "Main Development Region" (MDR) remain cooler than avg. A pocket of cool water temps. has expanded over the SW Atlantic including the Bahamas:
While parts of the Atlantic are cooler than avg., it's important to realize the water is still warm enough to support tropical systems....
SE U.S. surface map: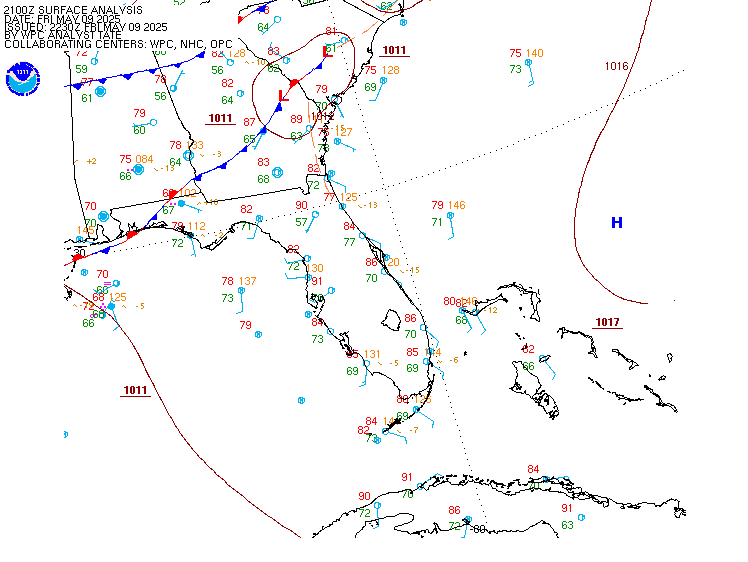 Surface analysis centered on the tropical Atlantic: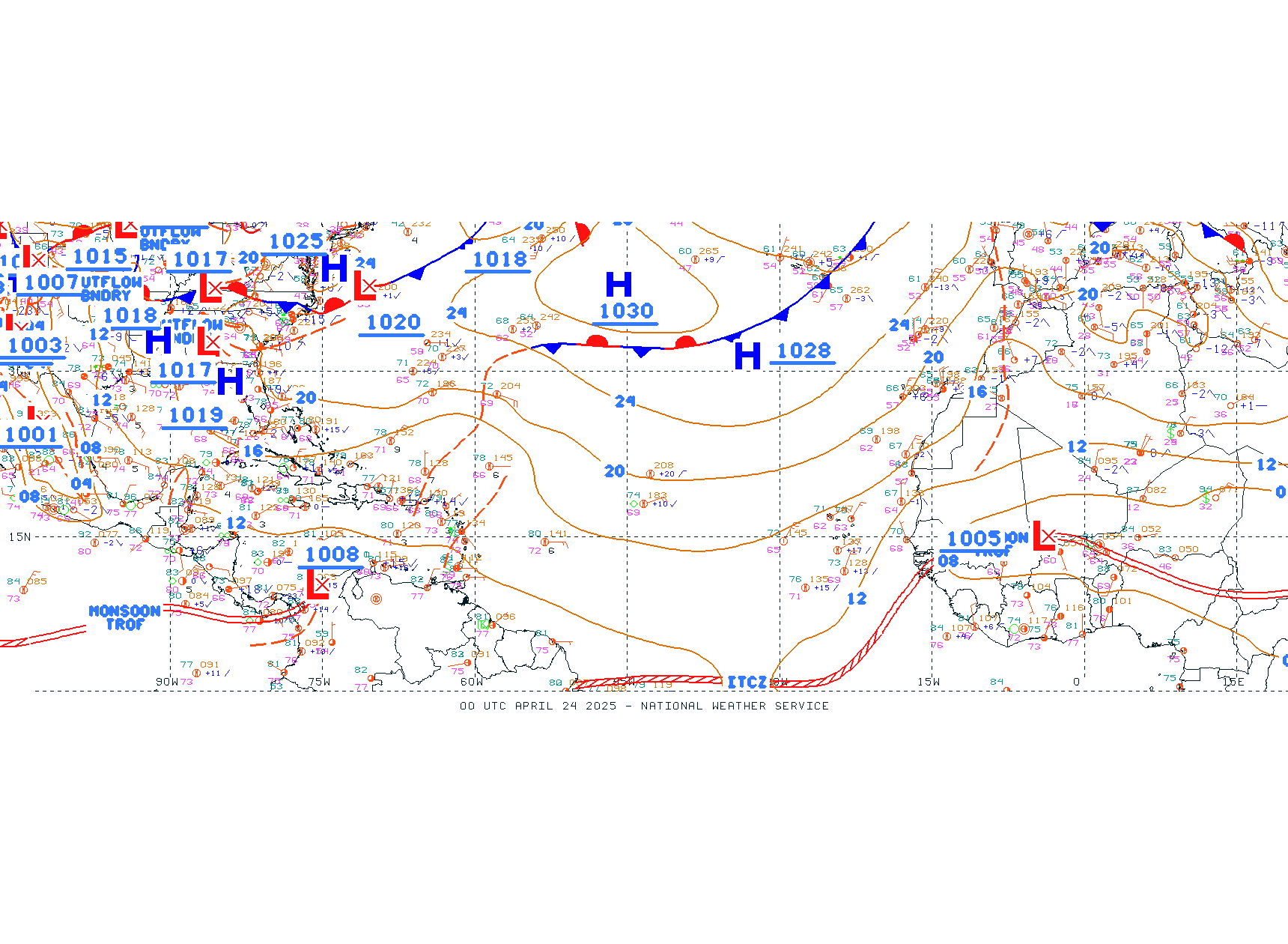 Surface analysis of the Gulf: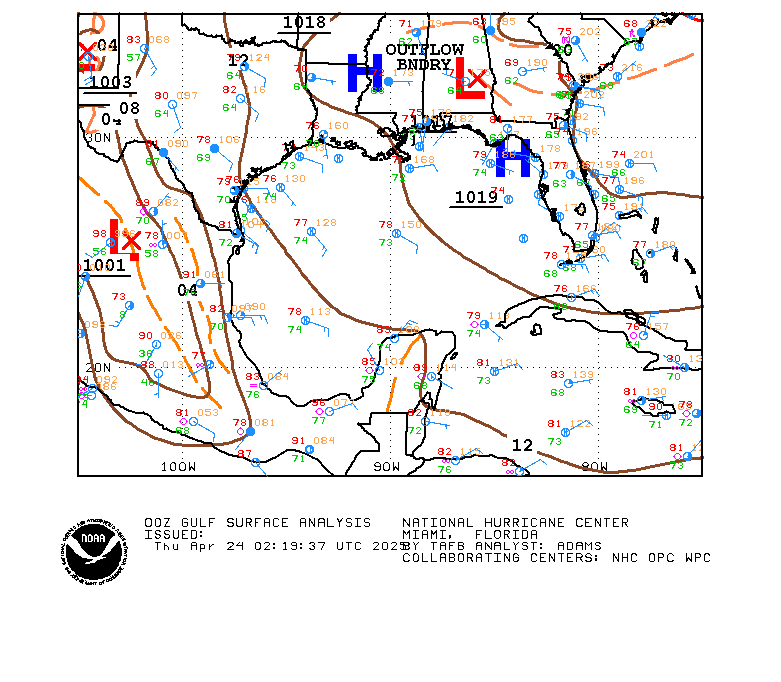 Caribbean: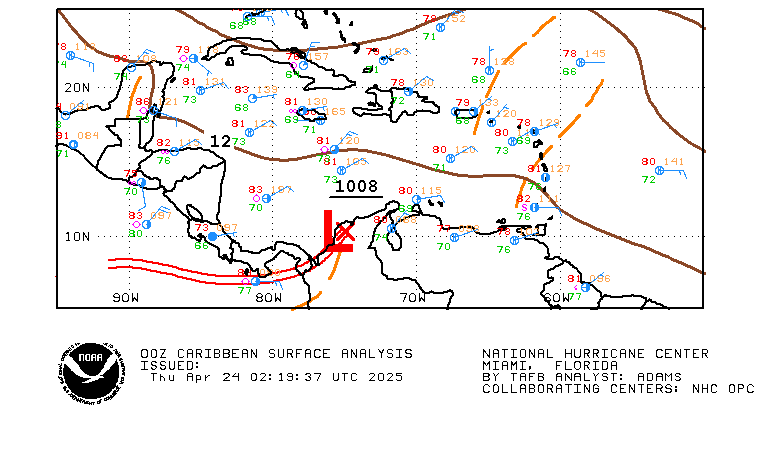 Global tropical activity: