Oct. 4, 2017 - Photos: Must-see photos of Irma damage in Jacksonville area .... hurricane Irma recap
T.D. #16 forms over far Western Caribbean & is likely to become "Nate" - stay up to date on the latest forecasts if traveling west on I-10 along the Gulf Coast.... or if traveling to Central America where tropical storm WARNINGS are in effect......
The "Buresh Bottom Line": Always be prepared!..... City of Jacksonville Preparedness Guide... Georgia Hurricane Guide.
The Gulf of Mexico & Caribbean will be - as I've hit on often recently - the place to watch this week into the weekend....
The broad area of low pressure evolving over parts of the Western Caribbean & Central America has been upgraded to tropical depression #16. Initial land interaction with Central America & the Yucatan Peninsula could limit overall strengthening in the short term though t.d. #16 may still manage to become tropical storm "Nate" while it flirts with land areas.
Forecast models are not of much help on solving the details for right now though have converged on the idea of a tropical system moving over the Gulf of Mexico but with large differences in track, speed of movement & intensity. The models seems to be struggling with all the low pressure that stretches - in general - across much of the southern (tropic & especially subtropic) latitudes. So we don't want to get too caught up in individual model runs at this point but realize that the pattern does favor tropical development over the SW Atlantic, Gulf of Mexico &/or Caribbean.
It would appear the GFS model is giving perhaps too much credibility (too low of pressure) to a tropical wave moving across S. Fl. into the SE Gulf of Mexico. If so, the model is too far west. The European is more east - probably due to a stronger upper level ridge (common all hurricane season long).... while the UKMET is a decent compromise between the two..... at least for now.
STAY TUNED! - especially along the Gulf Coast as what could become "Nate" may be pulled north rather quickly which would place the tropical system anywhere from Louisiana to the Fl. Big Bend this weekend.
LOCAL IMPACTS FOR JACKSONVILLE/NE FL./SE GA:
- it would appear - for now - that the local area will be quite a ways east of the center. However, it's still early.
- at the moment it looks like some heavy rain & t'storms with the potential for heavy rainfall with the more significant impacts of what should become Nate to the west of the local area.
- there will be a strong surge of tropical moisture northward up the Fl. Peninsula into Ga. so localized flooding will be possible even if the tropical cyclone stays well to the west.... especially given the wet ground & high water already in place.
Meanwhile... the "local nor'easter" continues & is being enhanced somewhat again by a tropical wave moving westward from the Bahamas & the strong slow moving high well to the north of Jacksonville. Breezy inland winds will be downright windy closer to the the beaches/intracoastal & along/near the St. Johns River. Higher than average tides resulting in occasional flooding - especially at high tide will also occur along the coast, St. Johns Rivers & tributaries. The full moon will be Thu. adding an astronomical boost. Tidal forecasts - here.
Radar imagery courtesy S. Fl. Water Management District: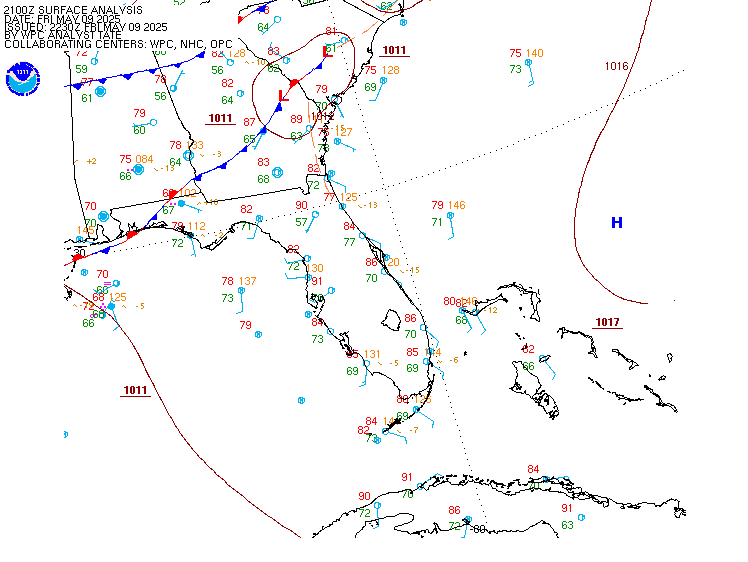 Surface map below shows the strong high pressure from the Great Lakes to the Northeast U.S. High pressure will be a mainstay north of Jacksonville for the next week.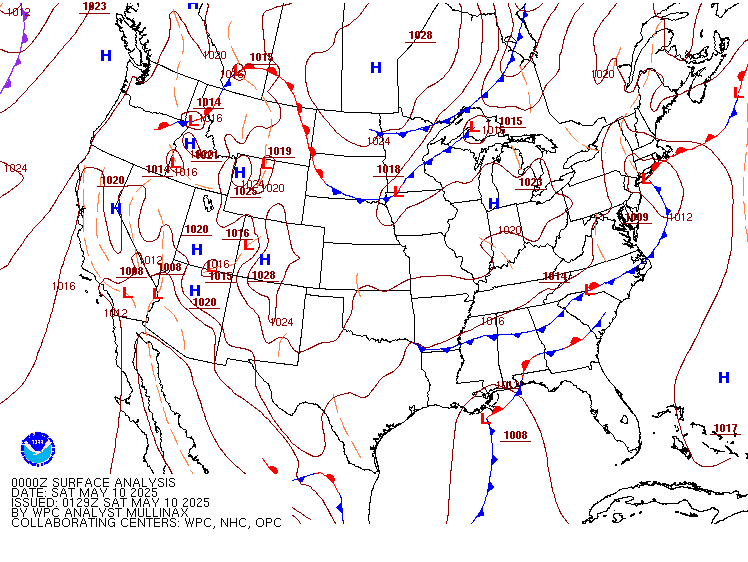 48 hour wave & wind direction forecast:
Average wave heights: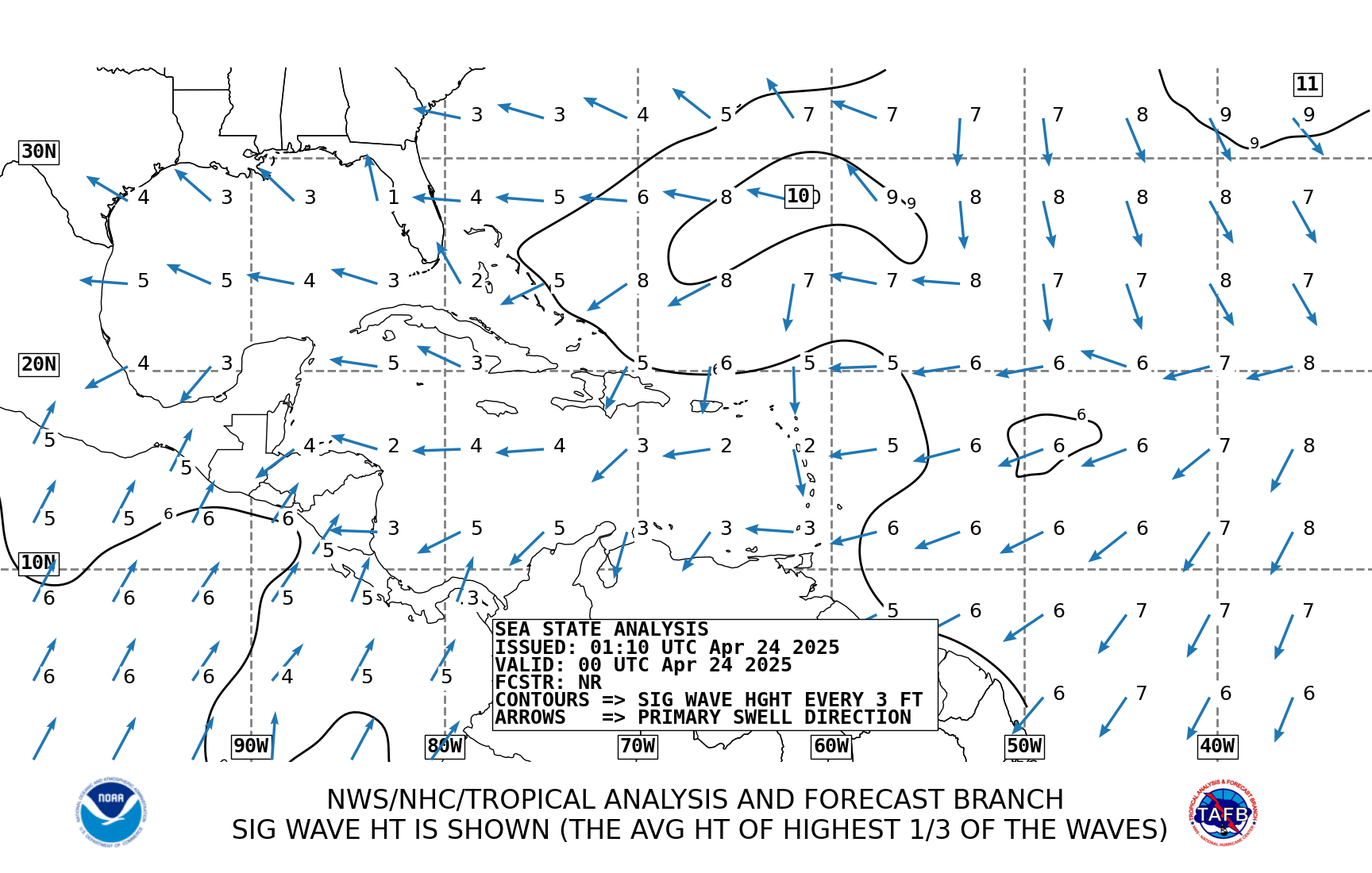 Elsewhere.... A tropical wave is moving west across S. Florida & is producing heavy rain on its eastern side (typical of tropical waves). The widespread heavy rain with this feature stays south of Jacksonville across Central & especially South Fl. but little surface development is expected at this time as westerly shear is fairly stout, but this wave bears watching.... & may play a role on t.d. #16's northward movement into the Gulf of Mexico.
A couple of tropical waves extend from the Lesser Antilles to the Central Atlantic. Forecast models show little or no development at this time. Any development from this region that might occur would likely stay out over the Central Atlantic.
Eric Blake, NHC tweeted this interesting & concerning snapshot of the Gulf & Caribbean now vs. 2005 which produced record setting hurricane Wilma in Oct., 2005. The upshot: the Caribbean is "boiling"...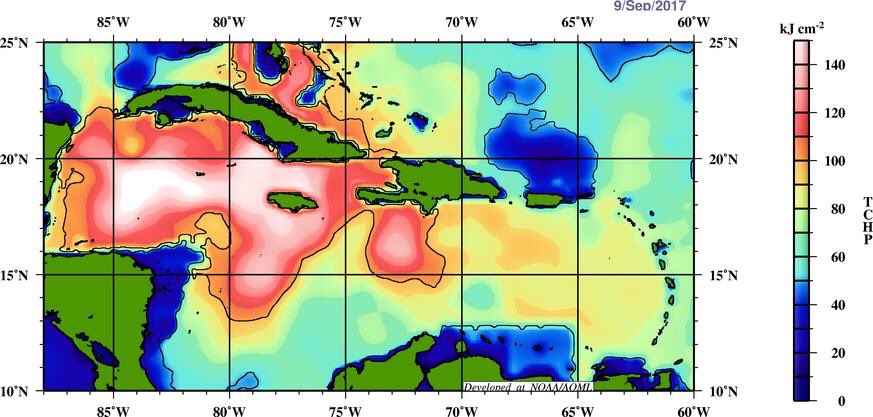 2005: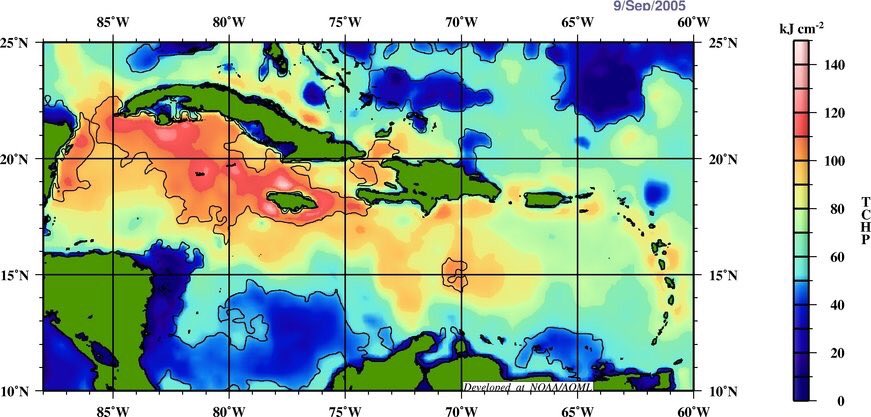 Deep oceanic heat content is still very evident - especially over the Caribbean & Gulf. We will have more tropical troubles before the season is over.
Sea surface temp. anomalies have pretty much recovered over/near the Gulf / Fl./ SW Atlantic since the passing of multiple hurricanes (Harvey, Irma, Jose, Maria) though Jose & Maria's "cool wake" is still visible.
October tropical cyclone typical development & movement: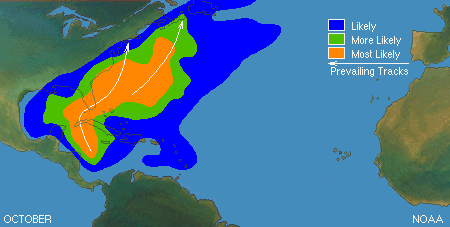 From Dr. Phil Klotzbach - tropical cyclone genesis during Oct.: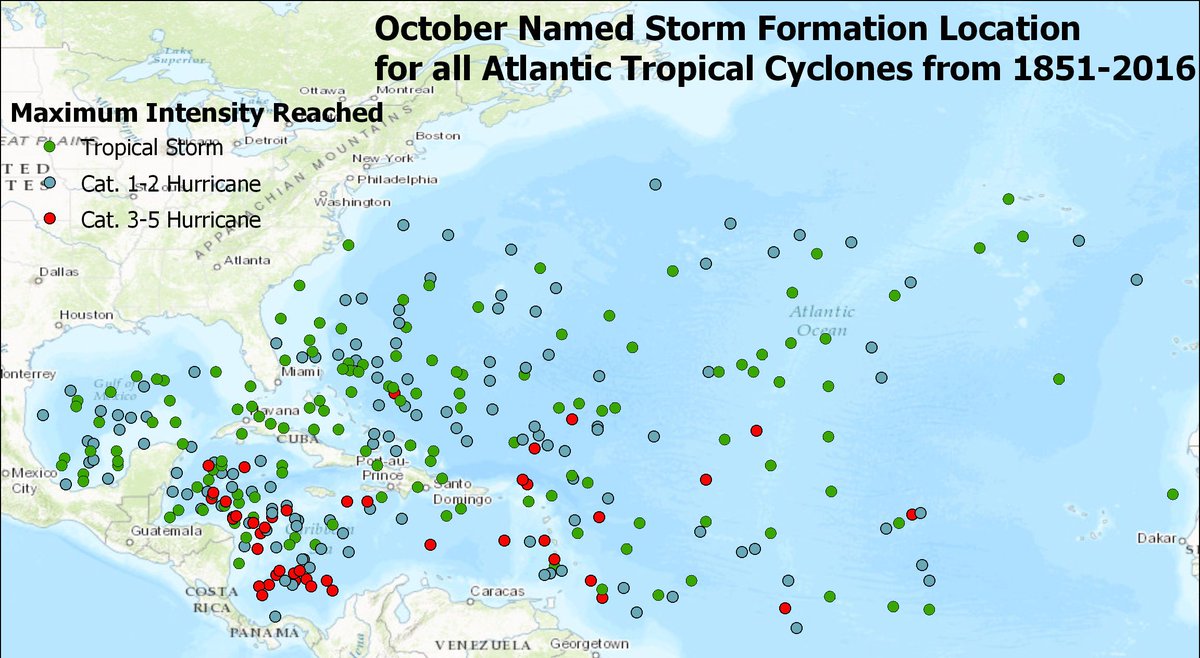 East Atlantic IR satellite (Cape Verde season winding down but waves still moving west in what has been an unseasonably long Cape Verde season):
Mid & upper level wind shear (enemy of tropical cyclones) analysis (CIMMS):
SE U.S. surface map: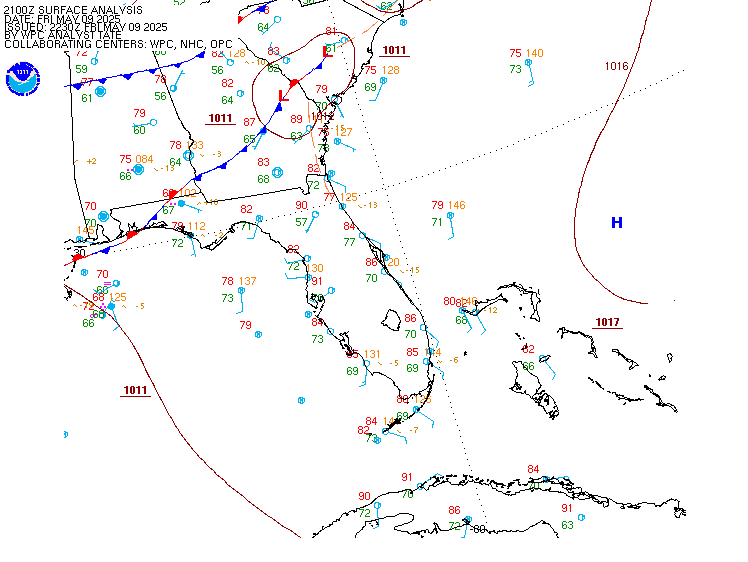 Surface analysis centered on the tropical Atlantic:
Surface analysis of the Gulf: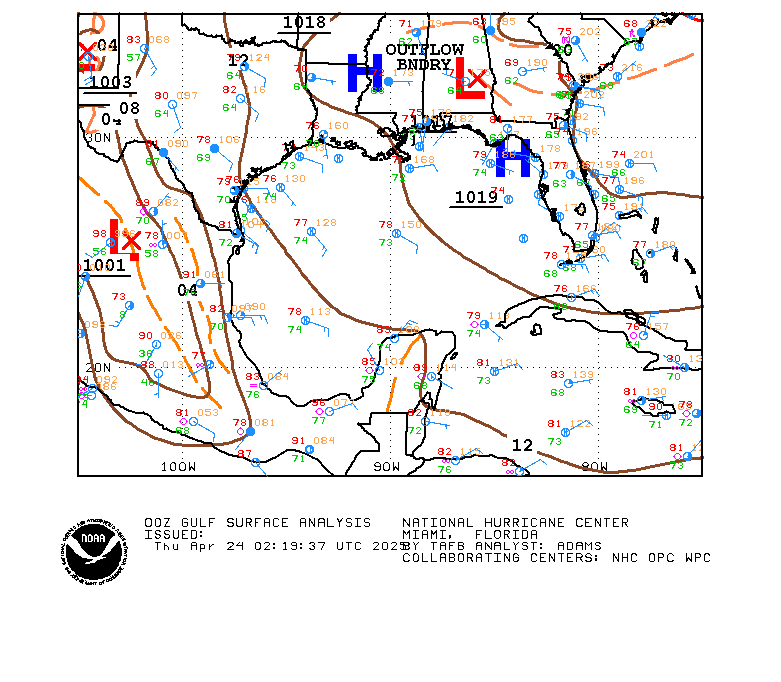 Caribbean: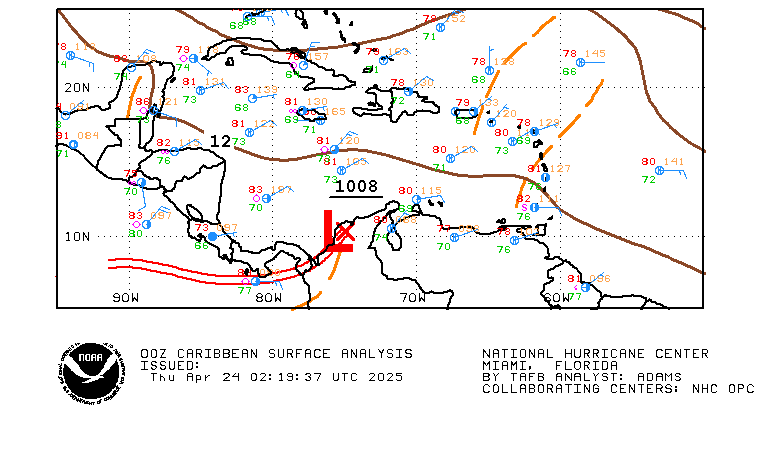 Extensive hurricane Irma recap - click here.