Sept. 29, 2017 - Photos: Must-see photos of Irma damage in Jacksonville area .... hurricane Irma recap
Eye on possible tropical development near Florida this weekend!.... Maria & Lee weakening over N. Atlantic....
The "Buresh Bottom Line": Always be prepared!..... City of Jacksonville Preparedness Guide... Georgia Hurricane Guide.
We have an area to watch for the development of low pressure near Florida through the weekend. It would appear the low will be weak, but it will likely be tropical in nature. Due to proximity to land & the short duration in which to develop, the low should not have time to become strong. With or without the low, strong onshore (out of the east) winds will quickly develop over the weekend with a very high rip current risk along with bands of heavy rain. The strong east winds will translate into the potential for more river & tributary flooding inland as well, especially at times of high tide. Any development of low pressure should then move westward into the Gulf through Monday.
LATE SAT. THROUGH MON. FOR NE FL./SE GA:
-- increasing winds off the Atlantic - averaging 10-20 + mph Sat. .... 20-30 mph sustained but gusts 40+ mph Sun. - Mon.
-- rough seas & surf as surf builds to 8+ feet with breakers at the beaches of at least 6 feet Sunday-Monday
-- beach erosion
-- flooding - especially during any prolonged heavy rain bands.... & at times of high tide which will be given an extra astronomical boost by the approaching full moon (Thu.,Oct. 5). High tides @ Mayport: SAT: 4:43am / 5:17pm.... SUN: 5:38am / 6:08pm.... MON: 6:29am / 6:54pm
-- potential for heavy rain: 1-3", locally more - especially from near I-95 to the beaches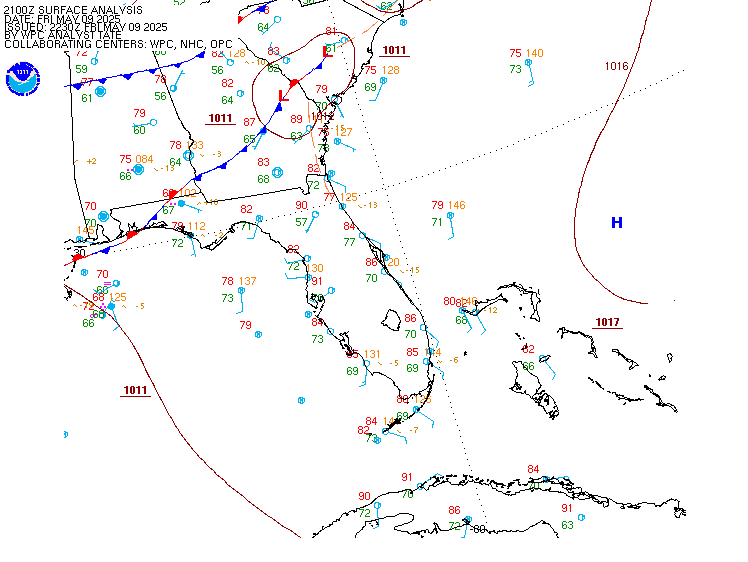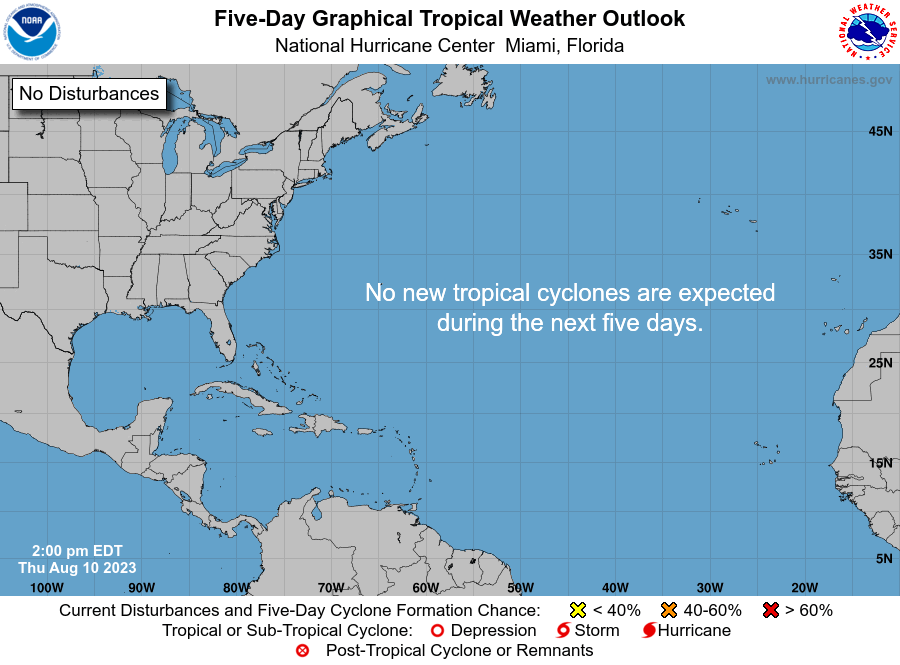 48 hour wave & wind direction forecast: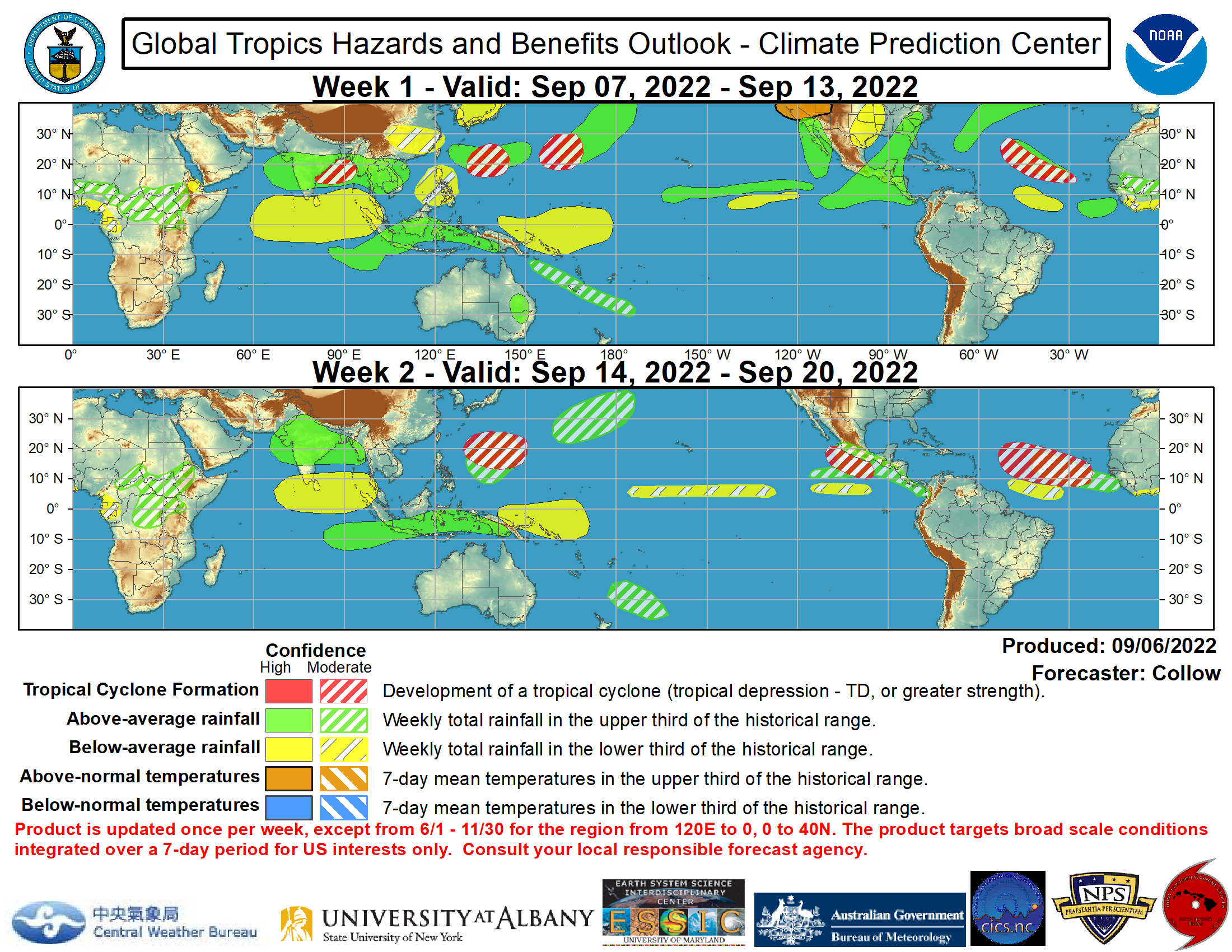 Forecast GFS surface map for early Sunday shows low pressure near Florida. Strong high pressure will be a mainstay through next week over or near the Eastern/Northeast U.S. - with low pressure across southern latitudes - keeping strong onshore flow over Florida for many days in a row.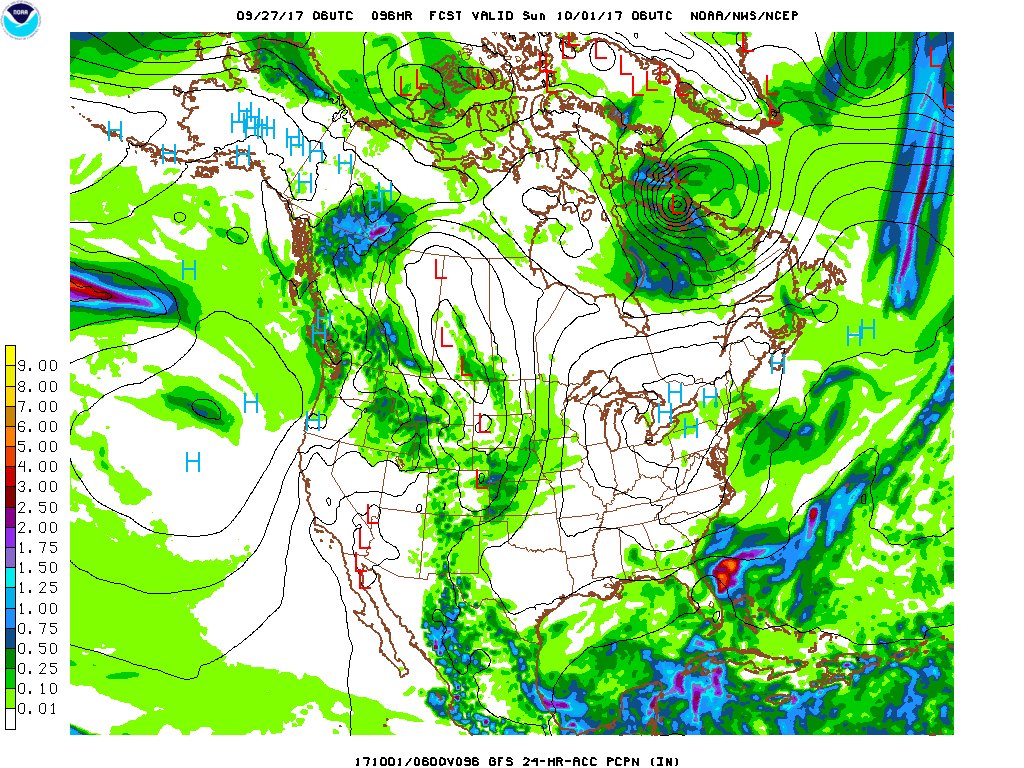 Maria:
Maria went Cat. 5 & then some with a minimum pressure of at least 909 mb Tue. evening, Sept. 19th making the hurricane among the top 10 most intense on record for any part of the Atlantic Basin. Maria was the 2nd Cat. 5 of the season over the Atlantic - the first time that's happened since 2007 (Dean & Felix). The catastrophic move over Puerto Rico caused some weakening before more intensification once over the warm water of the Southwest Atlantic. A gradual weakening since late last week will continue now as shear increases out of the west & southwest & the eye moves over cooler water.
An approaching upper level trough is picking up Maria causing a sharp right hand (east/northeast) turn through the weekend with an acceleration over open water where the storm will gradually become part of a large ocean storm over the N. Atlantic.
Spaghetti model plot for Maria:
Average wave heights: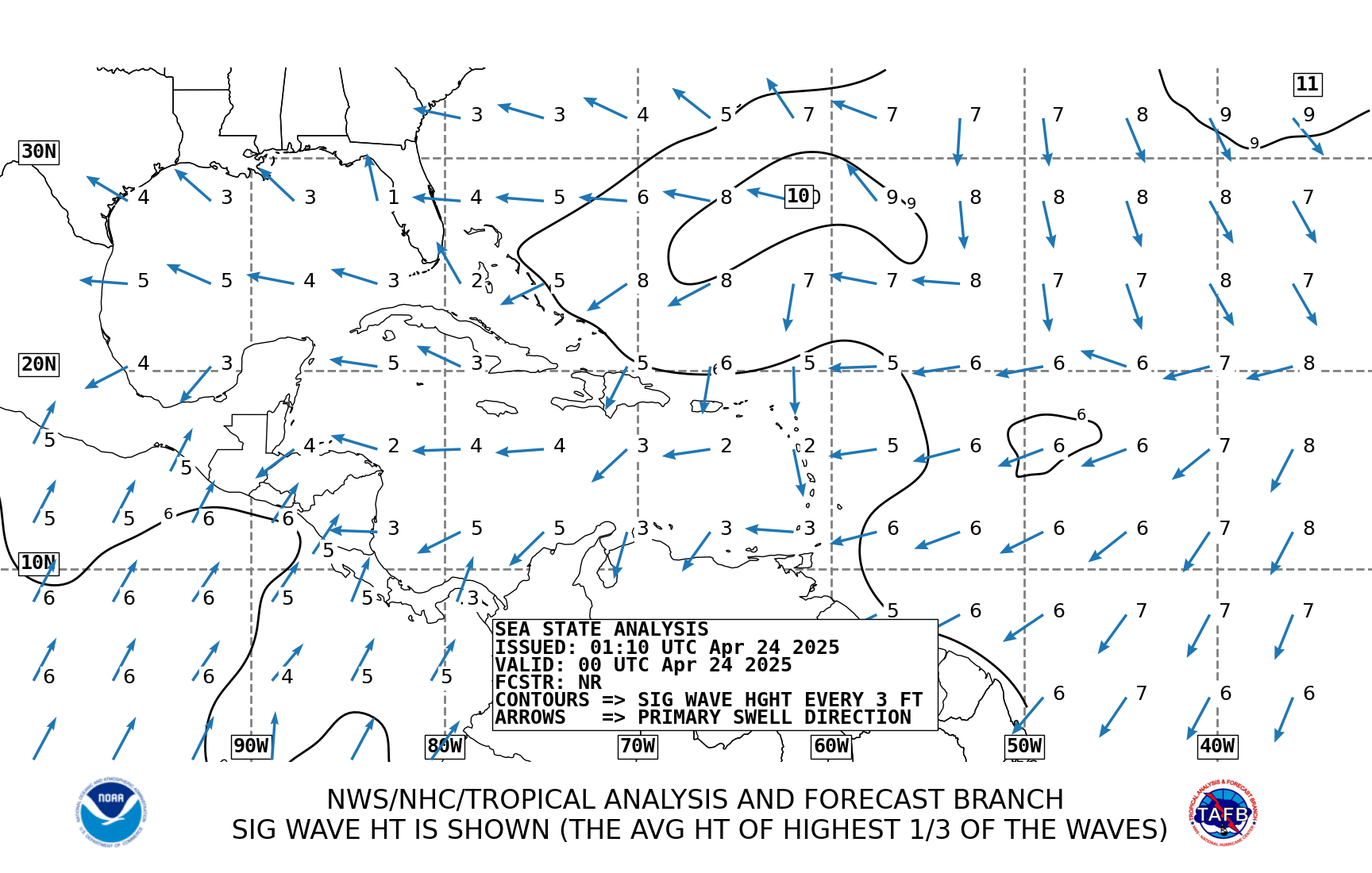 Lee:
"Lee" is also weakening over the N. Atlantic while Maria comes in from behind. No threat to any landa reas
The Gulf remains mostly quiet while the Caribbean is becoming more unsettled. There are indications of a general lowering of surface pressures across this area over the next 1 - 2 weeks which might be a hint pointing to tropical "mischief" the first week or so of Oct.
It looks like general & broad low pressure will evolve over parts of the Caribbean/Central America & Gulf of Mexico during the next week to 10 days. Depending on any land interaction, this could eventually evolve into a tropical cyclone & will need to be watched closely as this is the time of year for slow but sometimes strong tropical development over the still very warm water of the Southern Gulf &/or Caribbean.
Eric Blake, NHC tweeted this interesting & concerning snapshot of the Gulf & Caribbean now vs. 2005 which produced record setting hurricane Wilma in Oct., 2005. The upshot: the Caribbean is "boiling"...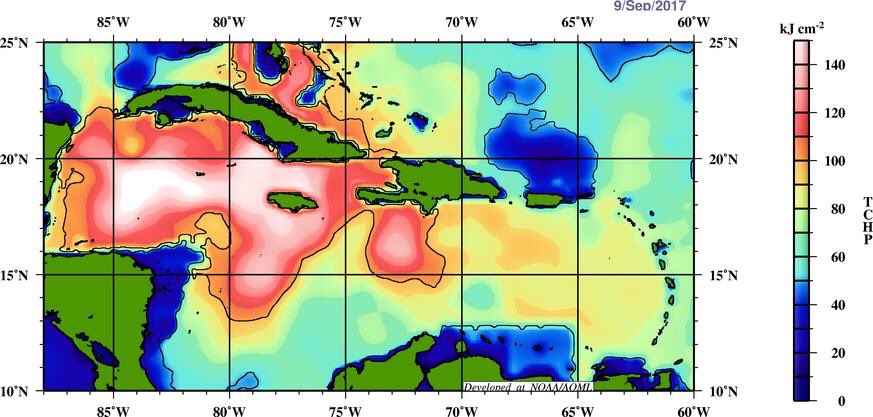 2005: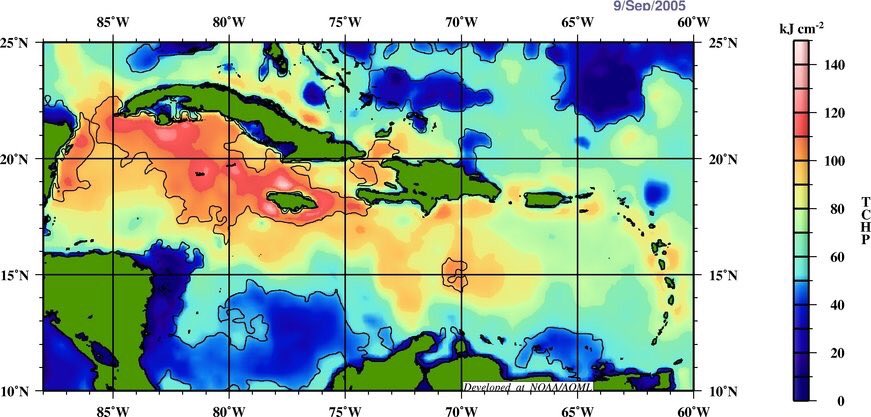 Deep oceanic heat content is still very evident - especially over the Caribbean & Gulf. We will have more tropical troubles before the season is over.
Sea surface temp. anomalies are slowly recovering over/near the Gulf / Fl./ SW Atlantic since the passing of multiple hurricanes (Harvey, Irma, Jose, Maria)....
East Atlantic IR satellite (Cape Verde season dwindling):
Mid & upper level wind shear (enemy of tropical cyclones) analysis (CIMMS):
SE U.S. surface map: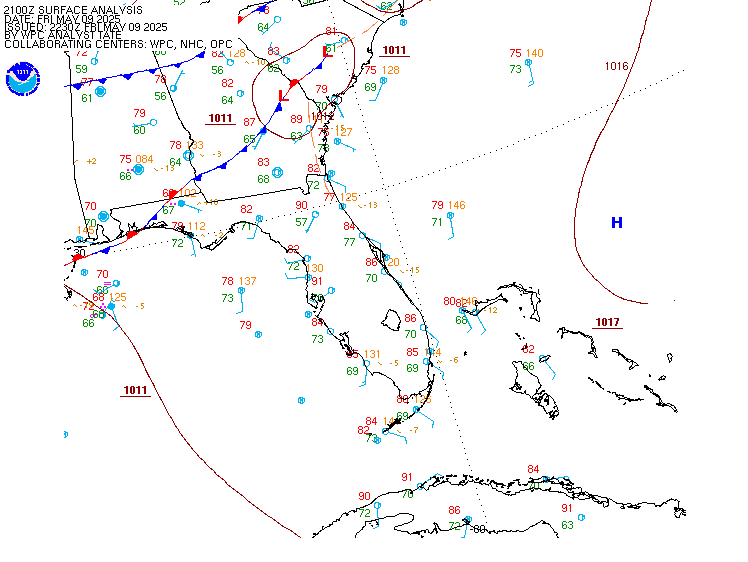 Surface analysis centered on the tropical Atlantic:
Surface analysis of the Gulf: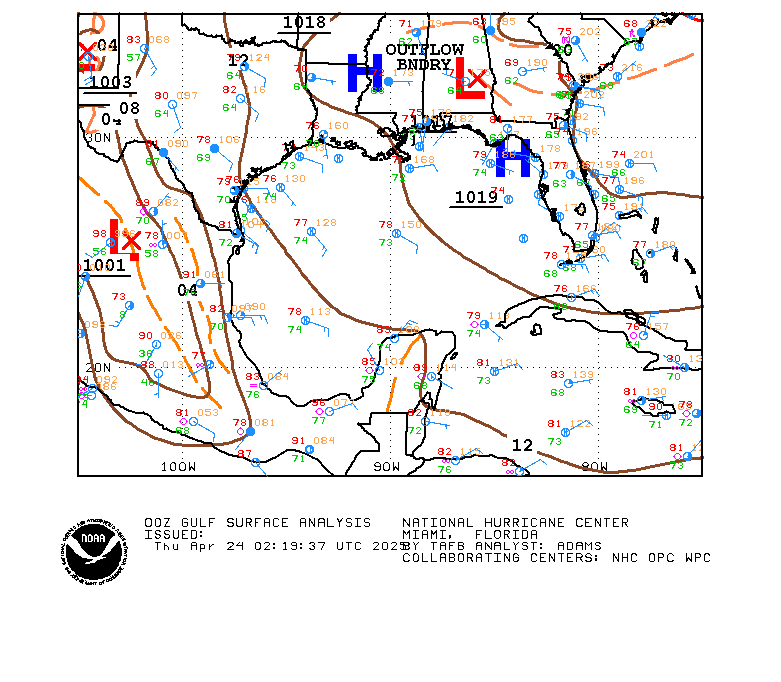 Caribbean: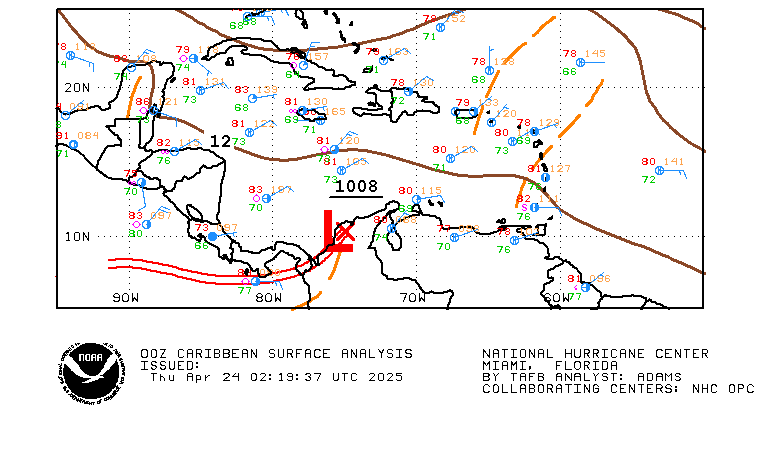 Extensive hurricane Irma recap - click here.