Jacksonville, FL — Now that we're entering a "new" decade... the N.W.S. will update the 30-year avg. temps. to the period 1991-2020 (vs. 1981-2010). This will result in an increase in the avg. temp. across much of the globe.... & about 0.30 to 0.5 degrees F for Jacksonville as shown on the map below by @brianbrettschneider.
We are at our shortest days of the year right now in the N. Hemisphere. For Jacksonville, our earliest sunset - 5:25pm - is the first week of Dec. Much of this week sunset is 5:26pm gaining about a min. every few days & gaining 11 min. by Dec. 31st with sunset at 5:36pm. Meanwhile the sunrise continues to lose time (is later). We turn the corner on daylight gaining on both "ends" beginning Jan. 15th.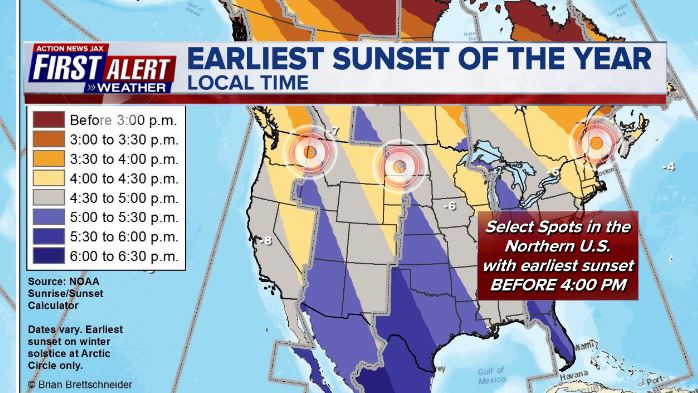 Interesting maps showing the 2020 storm warnings issued by the Jacksonville N.W.S. The only county with *no* tornado warning was Nassau Co... Duval Co. had 1 for a storm that did eventually produce a brief EF-0 tornado in St. Johns Co. at Mickler's Beach March 31st - part of the same storm that produced damaging winds in Clay Co. near Fleming Island. As would be expected, there were numerous severe t'storm warnings (2nd map below) given our frequency of sea breeze thunderstorms from June through Sept.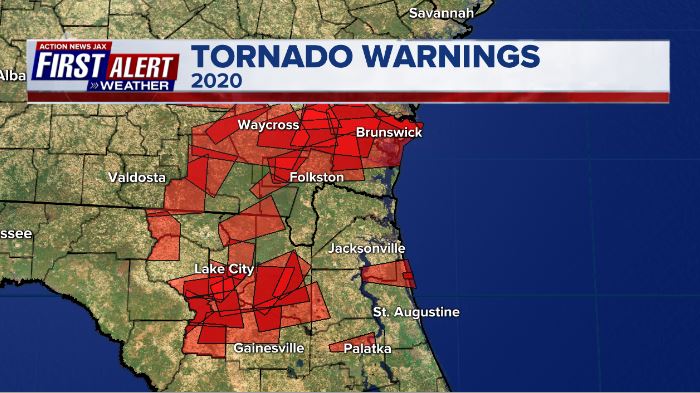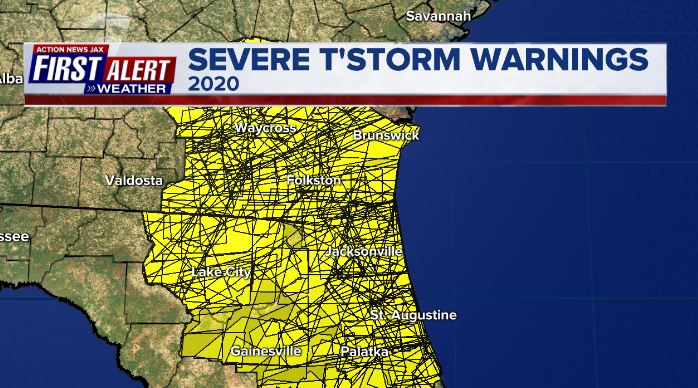 December night skies from skyandtelescope.org:
Dec. 3 (evening): Near eastern horizon, the waning gibbous Moon hangs some 4° lower right of bright star Pollux.
Dec. 10 (morning): A slender waning lunar crescent and Spica rise together less than 7° apart.
Dec. 12 (dawn): An even thinner lunar crescent pairs closely with Venus. The Moon occults (covers) the planet during late morning or early afternoon as seen from western North America, Alaska, and Hawaii — use binoculars to see it.
Dec. 12 (dusk): Jupiter and dimmer Saturn remain within 1° of each other low in southwest until Dec. 29th.
Dec. 13 (night): The Geminid meteor shower peaks tonight, with up to 1 meteor per minute seen from clear, dark locations (no interference from the Moon). Start looking as early as 8 p.m. local time. Source is asteroid 3200 Phaethon.
Dec. 14 (day): A total solar eclipse will be visible along a narrow path that crosses Chile and Argentina. Much of South America will see partial phases, though none of it is visible from North America.
Dec. 16 (dusk): Look low in the southwest for a two-day-old lunar crescent 5° below the close pairing of Jupiter and Saturn.
Dec. 21: Solstice occurs at 5:02 a.m. EST (2:02 a.m. PST), marking the astronomical start of winter in the Northern Hemisphere and summer in the Southern Hemisphere. On this day, the Sun is directly overhead at midday as seen from Earth's Tropic of Capricorn.
Dec. 21 (dusk): Jupiter and Saturn are only 1/10° apart. Look low in southwest beginning 45 minutes after sunset. Use binoculars or a small telescope to separate them. A pairing of Jupiter and Saturn this close has not occurred since 1623.
Dec. 23 (evening): The waxing gibbous Moon and Mars are 5½° apart.
Dec. 26 (evening): A fatter Moon is about halfway between the Hyades and Pleiades open star clusters.
Dec. 30 (evening): The waning gibbous Moon has come full circle since Dec. 3 and is back in Gemini, about 4° to the right of Pollux.
Jan. 1 (dusk): Jupiter and Saturn are a bit more than 1° apart low in the southwestern twilight.
Jan. 2: Earth passes through perihelion, its closest point to the Sun for 2021, 3% closer (3.1 million miles) than at its farthest on July 5th
Jan. 3 (morning): The brief Quadrantid meteor shower peaks before dawn. Bright moonlight will interfere
Moon Phases
Last Quarter – December 7, 7:37 p.m. EST
New Moon – December 15, 11:17 a.m. EST
First Quarter – December 21, 6:41 p.m. EST
Full Moon – December 29, 10:28 p.m. EST (Full Cold Moon)
Cox Media Group