Jacksonville, Fl. — The "Buresh Bottom Line": Always be prepared!.....First Alert Hurricane Survival Guide... City of Jacksonville Preparedness Guide... Georgia Hurricane Guide.
STAY INFORMED: Get the * FREE * First Alert Weather app
FREE NEWS UPDATES, ALERTS: Action News Jax app for Apple | For Android
WATCH "Talking & Tracking the Tropics: The Science Behind the Season"
WATCH "Preparing for the Storm"
READ the First Alert Hurricane Center "Survival Guide"
***** ALWAYS CHECK & RE-CHECK THE LATEST FORECAST & UPDATES! *****
*** Low pressure/tropical wave '92-L'/'Potential Cyclone Nine' was upgraded to tropical storm Isaias Wed. evening while over the Eastern Caribbean.... moved over Eastern Dominican Republic Thu. afternoon then offshore & quickly reorganized becoming the 2nd hurricane of the Atlantic season a little before midnight. Isaias quite literally fell apart Sat. afternoon while crossing Andros Island of the Bahamas & since then there have big intense bursts of convection that have not been able to sustain themselves eventually overwhelmed by the shear out of the west & southwest of 20-30 mph. Isaias is the 5th July named storm over the Atlantic which ties the record for the month set in 2005. It marks the fastest to 'I' beating the previous record set by "Irene" in - when else - 2005.
LOCAL JACKSONVILLE/NE Fl./SE Ga.:
Isaias will just about hold steady state into Sunday night & Monday while moving northwest then more northward while reaching - or hugging - the coast of Florida through Monday. Any significant foray inland will result in more weakening. The track looks to be anywhere from ~30-60+ miles east of NE Fl./SE Ga. & Jacksonville with the closest approach in the morning through midday Monday. A closer approach is possible but really does not up the ante all that much because it would almost have to be weaker (land interaction). There is a window of opportunity for Isaias to intensify Monday east of Jacksonville but is a relatively moot point for our sensible weather on the west side. On this track, impacts locally - which *do not* appear to be severe - for Jax/NE Fl./SE Ga - subject to change!:
* bands of heavy rain north & northwest of the center late Sunday & especially Sunday night into early Monday afternoon. Amounts ranging from 1-2″, locally 3-5″ near the coast/beaches to an inch or less(!) west of I-95... likely a half inch or less west of Highway 301.
* a dangerous rip current risk at area beaches with rough seas & surf. The best advice is to stay out of the ocean over the weekend/early next week... ships & boats should stay in port.
* storm surge of approximately 1-3, possibly 4 feet for St. Johns County coastal areas... lesser surge to the north but still possibly up to 3 feet in places for Duval & Nassau Co. but mostly 1-2 feet... 1-2 feet for SE Ga./Camden & Glynn Co. The highest values will be realized if the closest approach of Isaias coincides with high tide &/or very heavy rainfall. There will be a potential surge of 1-2 feet along the St. Johns River & its tributaries including inland areas of Duval, Nassau, Clay, St. Johns & Putnam Co. And there will be an astronomical boost with the full moon Monday. This surge is far less than Irma/2017 & Matthew/2016 & a good deal less than Dorian/2019. Forecast tides * here *.
* an isolated waterspout &/or tornado Sunday afternoon/Sun. night/Monday morning.
* breezy winds of 15-30 mph, gusts 40+ mph at the beaches... 10-20+ mph along I-95... much lighter inland west of I-95. Right now I am *not* forecasting sustained winds of 40+ mph which is the threshold to close area bridges.
***** Overall - as long as the forecast track & intensity remains such is it & is accurate - impacts to NE Fl./SE Ga. should be relatively minor & most significant at area beaches & along parts of the St. Johns River. Electrical & business infrastructure should stay intact & operational through & after the closest passage of Isaias & be "good to go" after the storm. However, one should always respect mother nature & its forces so take this storm & its impacts seriously without "going over the edge"(!). No such thing as "Just a" (tropical storm, etc.)
FORECAST DISCUSSION & REASONING:
Isaias remained reasonably well organized after traversing the rugged terrain of the Dominican Republic Thu. missing some of the highest mountainous peaks. Moving at more than 20 mph, Isaias did not stay over land for much more than 8-10 hours. However, Isaias struggled mightily Sat. afternoon while passing over the N. Andros Island of the Bahamas. At one point, the center was completed exposed & mostly void of convection. But then there was a big burst of t'storms near & north of the center Sat. evening which then gave way to the ongoing west/southwest shear followed by another burst Sunday morning that likewise eventually did succumb to the shear as well with what appears to be two centers on radar imagery - a low level circulation closer to the coast & a midlevel circulation to the northeast within the intense t'storm activity.. It's possible the center will "jump" around some again during bursts of t'storms but until & unless the mid & low level centers sync up, Isaias is likely to remain essentially steady as tropical storm & weaken at times when t'storms wane if correlated with any land interaction. The storm will also battle dry air intrusions, but there is very warm ocean water ahead (Gulf Stream).
So the atmospheric environment for Isaias is somewhat marginal while water conditions are rather optimal. All things considered, this would appear to be a rather compact tropical storm) near landfall on the Fl. coast followed by slow weakening while turning more north. A track more offshore could allow for strengthening but still would be east of Jacksonville. There's sort of a sweet spot east of Jacksonville up to the next landfall on the N./S. Carolina coast that might induce more significant strengthening. So that's something to keep an eye on for the Carolina's but would already be east & northeast of Jacksonville at that point.
Forecast models have generally converged on a solution that takes Isaias very near to - if not into - SE Florida close to West Palm Beach late Sat. night/early Sunday then a turn - almost like a ricochet - north/northeast to east of Jacksonville.... to very near the Carolina's Monday night/early Tue. then to near New England Tue. night/early Wed. as the storm accelerates northeast. The expectation is for environmental conditions do be favorable enough for Isaias to strengthen at least some - if the core is intact enough from effects with Fl. land interaction - thanks to warm sea surface temps., proximity to the very warm Gulf stream & possibly some upper level help from an approaching trough whether it's before interaction with Fl. &/or the 2nd landfall on the Carolina coast.
This big disagreement amongst the models has been timing & remains so though not as wide a variance as the last several days. At this point I tend to think slower is the way to go given the strength of the ridge to the north/northeast & its reluctance to shift or break down. So a "coast hugger" through Sunday night... offshore east of Jacksonville & NE Fl. through Monday then into the Carolina's by Tue.
Shear is not necessarily prohibitive now.... & by Mon./Tue. there's the influence from an approaching upper level trough. There is also some dry air (18th image below) that will likely continue to occasionally infiltrate the system + the frictional forces from interaction with land.
There continues to be an alleyway of sorts developing near the U.S. east coast/far W. Atlantic. A deeper (stronger) Isaias seems to now be sniffing out that alley lending confidence to the turn north in the long run. The approaching upper level trough moving into the Eastern U.S. should help eventually steer Isaias north then northeast. The trough may help with the upper level ventilation of the storm negating some of the effects of potential low level shear allowing for some strengthening if there's not too much interference from land. The center of Isaias looks to stay a little east of Jacksonville in the long run & if not.... the tropical cyclone will be over land for a longer period of time before reaching Jacksonville's latitude causing significant weakening & thereby not likely increasing the impacts much more than currently forecast (at the top of this blog).... given either scenario. A more west track would bring more rain to the area, but there is not a whole lot of extra water in the "system" (intracoastal, estuaries, canals, creeks, etc), so we can at least take/absorb some heavy rain. (vs. Matthew & Irma when our ground was far more saturated).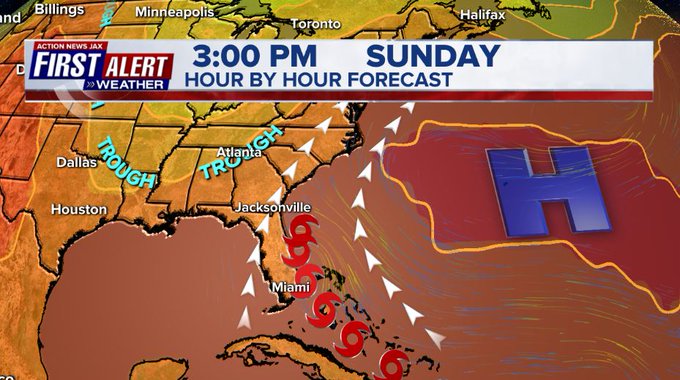 Radar imagery below with forecast track of Isaias courtesy S. Fl. Water Management District:
Now a slight eastward shift in the model spaghetti plots:
Some dry mid & upper level air north & west of Isaias:
NOAA WaveWatch III "Significant Wave Height" forecast:
Current shear:
Dry air:
As for rainfall... there is the potential for some pretty decent banding of rain north & northwest of the center as "Isaias" approaches NE Fl./SE Ga. The combination of strong onshore flow (winds out of the east), surface convergence & friction should develop enough banding to produce as much as 1-2″+ of rain close to the coast. These bands will be capable of producing wind gusts of 30+ mph as well as isolated waterspouts/tornadoes with most of the rain falling between noon Sunday & noon Monday.
Projected path of Isaias in red vs. Floyd, 1999/Matthew, 2016/Dorian, 2019. It should be noted that Floyd, Matthew & Dorian were considerably stronger & larger tropical cyclones....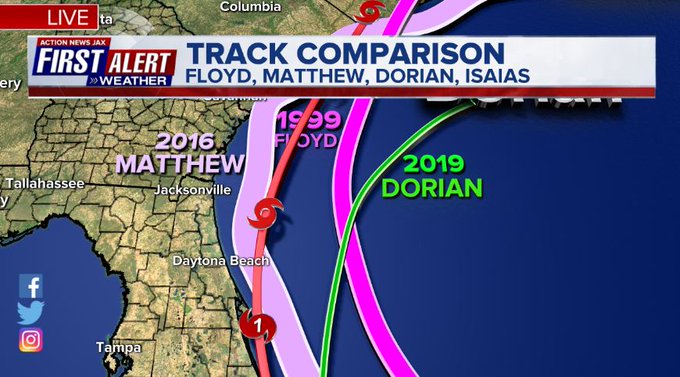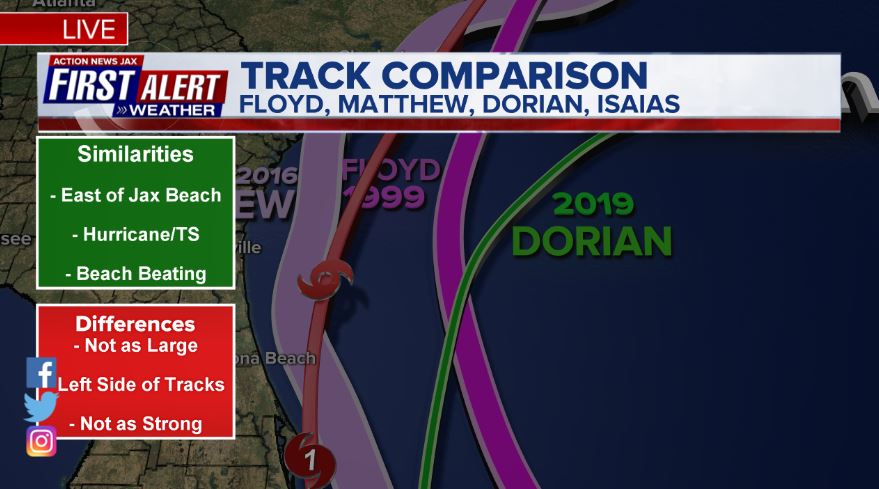 So is there is precedence for a Fl. east coast "hugger" though such a track is not real common. Hurricane David comes to mind in 1979, late August. David was much larger & stronger. Note the "hole" in the heaviest rain right over Jacksonville/NE Fl. Pretty likely we'll see a similar scenario with Isaias.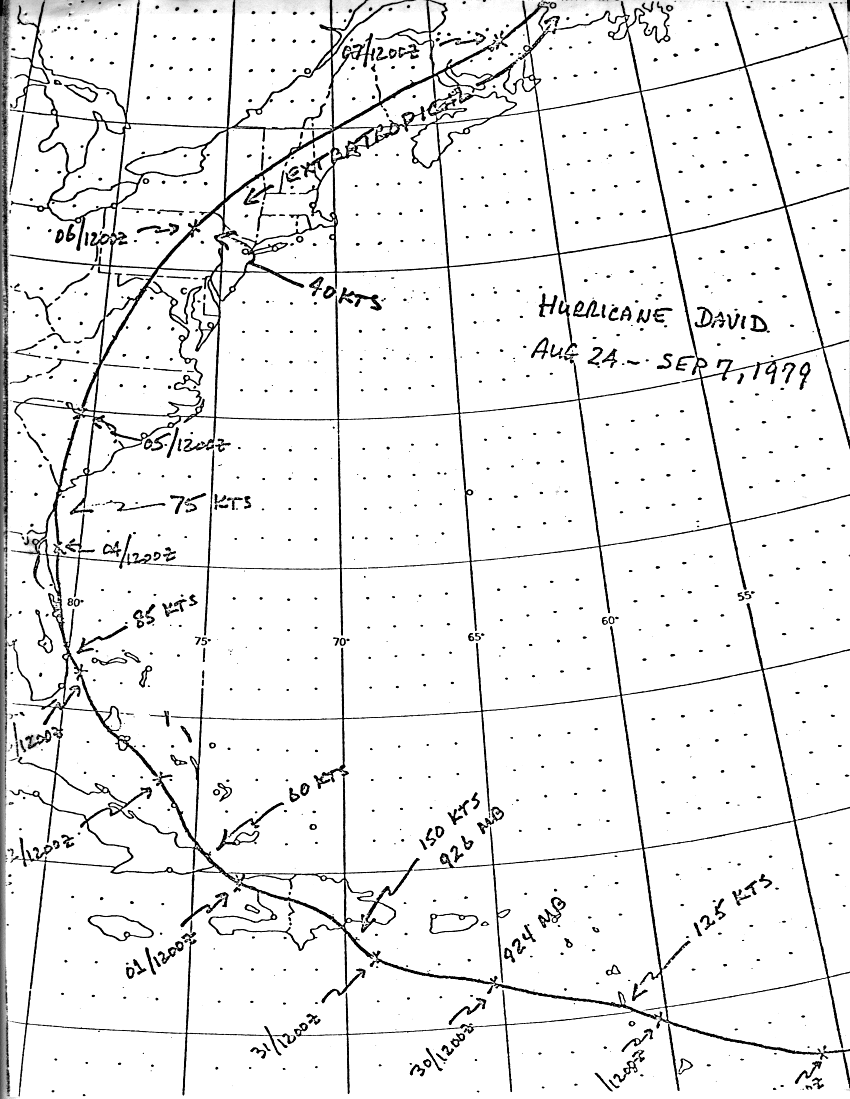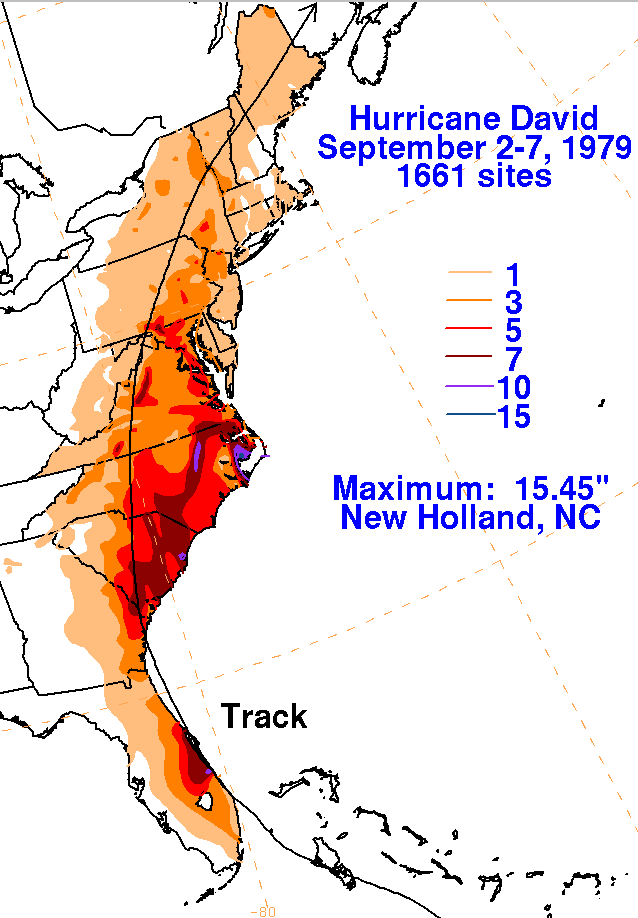 Meanwhile... a tropical wave has some potential to develop some over the Central Atlantic while moving northwest. Early indications are that this will turn more north with time staying east of the U.S. & north of the Caribbean & Greater & Lesser Antilles.
And t.d. #10 formed just off the coast of Africa Fri. over the far E. Atlantic but has dissipated.