Oct. 7, 2017 - Photos: Must-see photos of Irma damage in Jacksonville area .... hurricane Irma recap
Hurricane Nate speeding across the Gulf of Mexico - stay up to date on the latest forecasts if traveling west on I-10 along the Gulf Coast through the weekend..... Hurricane WARNING - including New Orleans - from the SE coast of La to the Al/Fl. border.... tropical storm WARNING/Hurricane WATCH for the Western Fl. Panhandle.... tropical storm WARNING Central Fl. Panhandle to Indian Pass, Fl
The "Buresh Bottom Line": Always be prepared!..... City of Jacksonville Preparedness Guide... Georgia Hurricane Guide.
LOCAL IMPACTS FROM HURRICANE "Nate" FOR JACKSONVILLE/NE FL./SE GA:
- the local area will be well east of the center (New Orleans to Pascagoula upon landfall Sat. night).
- The significant impacts from Nate will stay west of the local area of NE Fl./SE Ga.
- there will be a strong surge of tropical moisture northward up the Fl. Peninsula into Ga. so localized flooding will be possible even with Nate well to the west.... especially given the wet ground & high water already in place. Some banding of t'storms will occur Sat. afternoon & again Sun. afternoon well to the east of the center over NE Fl./SE Ga. & will produce periods of very heavy rain & gusty winds. A brief severe storm will be possible - especially Sunday - which could include damaging winds & even an isolated tornado threat.
"Nate" quickly organized Fri. afternoon followed by a rapid intensification cycle that took the tropical cyclone to hurricane strength late Fri. evening -- the 9th hurricane of the Atlantic season - the most since 2012 & the 15th most on record (Klotzbach). The center jumped around some before becoming established Fri. evening underneath a tremendous explosion of convection. Hurricane hunter aircraft has indicated much of the higher wind speeds are over the eastern portion of the circulation which will likely continue given the fast movement (20+ mph). An eye was becoming evident Sat. morning.
Forecast models are in good agreement on at least the track of Nate centering on the Central Gulf Coast near & just east of New Orleans. Then an acceleration & bend to the northeast as an upper level trough over the middle of the U.S. becomes the primary steering mechanism. An upper level high pressure ridge - a mainstay of this hurricane season - remains firm from the Central & Western Atlantic to near Florida & will act as a protector for Jacksonville. A significant storm surge is likely for the Western Fl. Panhandle west through Mobile & Biloxi to Lake Pontchartrain.
Interestingly.... few of the models have shown much strengthening but obviously have been underdone. The fast movement -- landfall Sat. night -- will probably save the Gulf Coast a hit by an even stronger hurricane. This cyclone reminds me of Opal, 1995.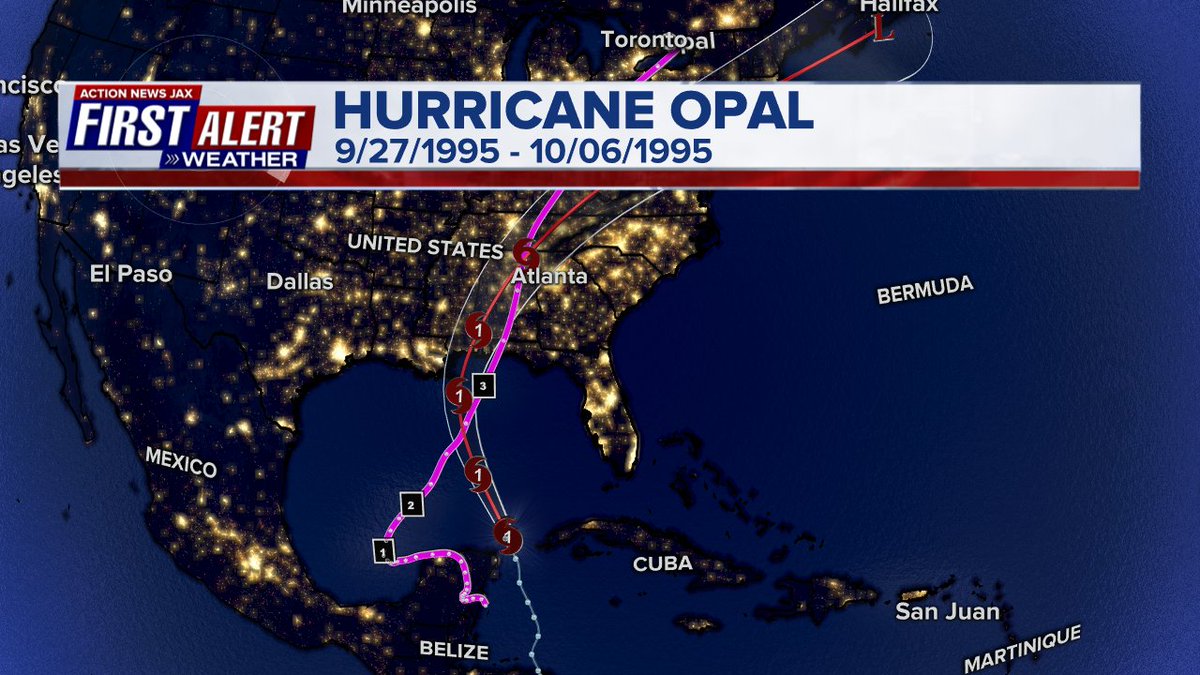 As alluded to the past several days, this is a pretty classic set-up: to see Oct. development in this region that's slow then once/if all things become equal/favorable, for the tropical cyclone to rapidly intensify (Opal - Oct., 1995 & Wilma - Oct., 2005). There will be a battle with increasing shear farther north over the Gulf but that could be offset somewhat by more favorable upper level conditions due to a trough of low pressure to the north & west helping to "ventilate" Nate. Ultimately, it's the fast movement - limited time over the Gulf - that will likely keep Nate below "major" (Cat. 3) intensity.
Spaghetti plots:
Radar imagery courtesy S. Fl. Water Management District: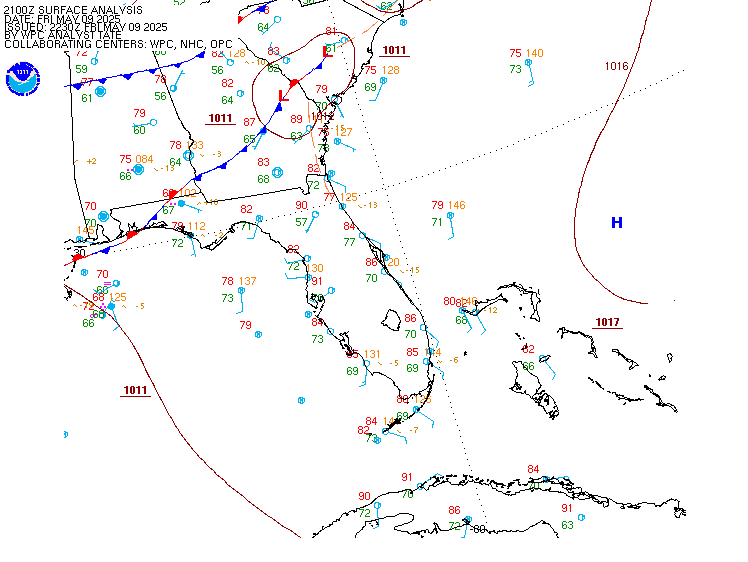 Surface map below shows the active tropical wave moving west across the Gulf.....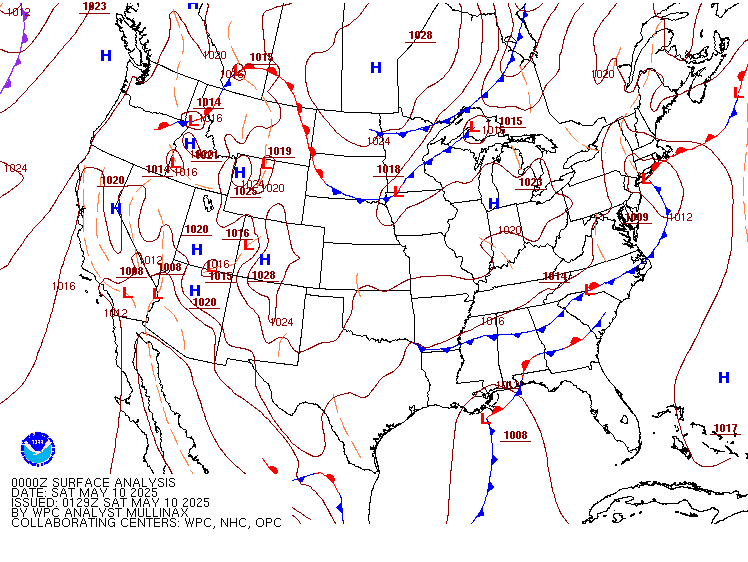 48 hour wave & wind direction forecast:
Average wave heights: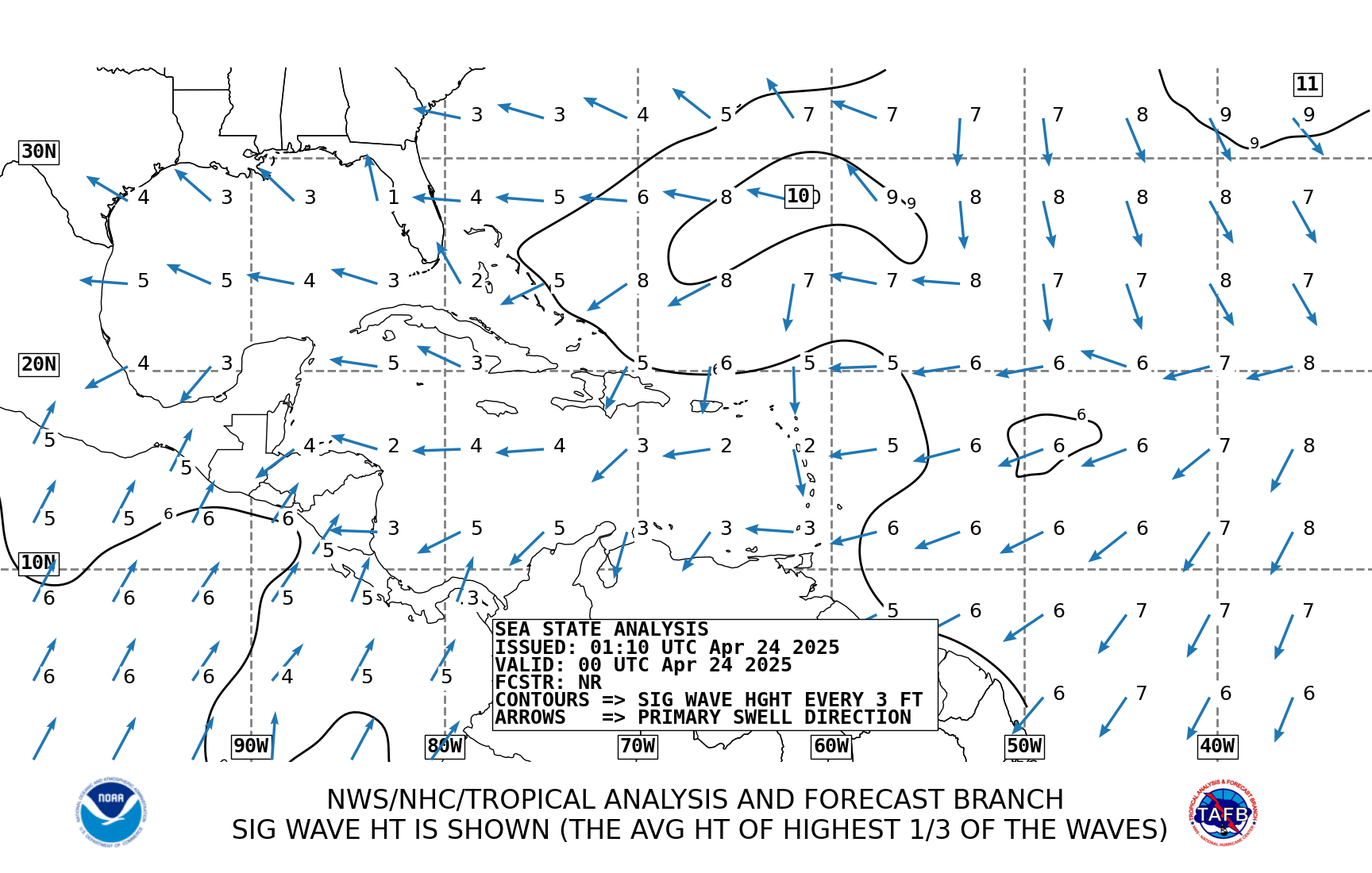 Elsewhere.... A couple of tropical waves extend from the Lesser Antilles to the Central/Eastern Atlantic. Forecast models show little or no development at this time.
Low pressure is expected to develop near/east of the Bahamas - something to keep an eye on. Note the disorganized t'storm activity now north of Puerto Rico.
Low pressure over the N. Atlantic may try to evolve into a subtropical or tropical system but will not move west across the Atlantic.
Eric Blake, NHC tweeted this interesting & concerning snapshot of the Gulf & Caribbean now vs. 2005 which produced record setting hurricane Wilma in Oct., 2005. The upshot: the Caribbean is "boiling"... the Southern Gulf is very warm - aiding in Nate's intensification.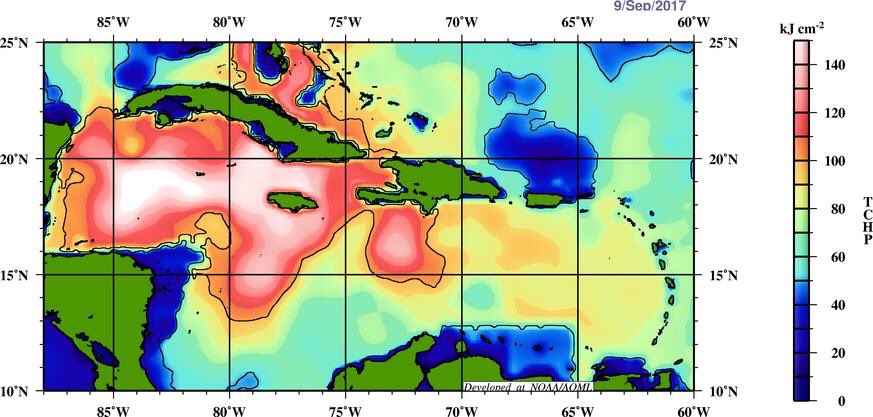 2005: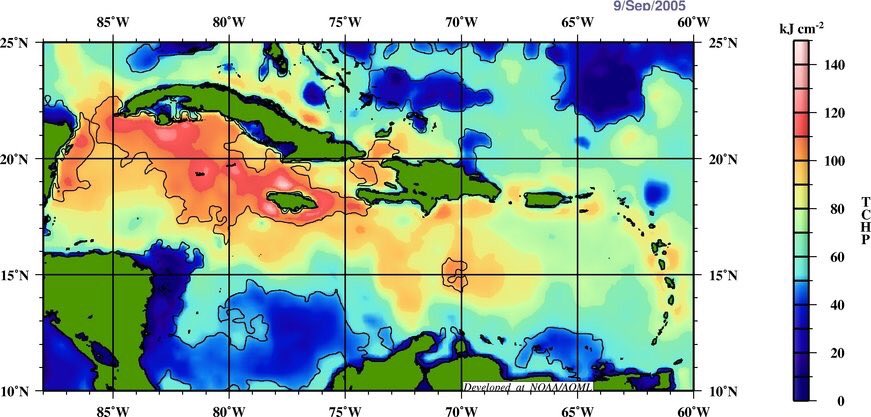 Deep oceanic heat content is still very evident - especially over the Caribbean & Gulf:
Sea surface temp. anomalies have pretty much recovered over/near the Gulf / Fl./ SW Atlantic since the passing of multiple hurricanes (Harvey, Irma, Jose, Maria) though Jose & Maria's "cool wake" is still visible from north of Puerto Rico to east of Chesapeake Bay.
East Atlantic IR satellite (Cape Verde season winding down but waves still moving west in what has been an unseasonably long Cape Verde season):
Mid & upper level wind shear (enemy of tropical cyclones) analysis (CIMMS).
SE U.S. surface map: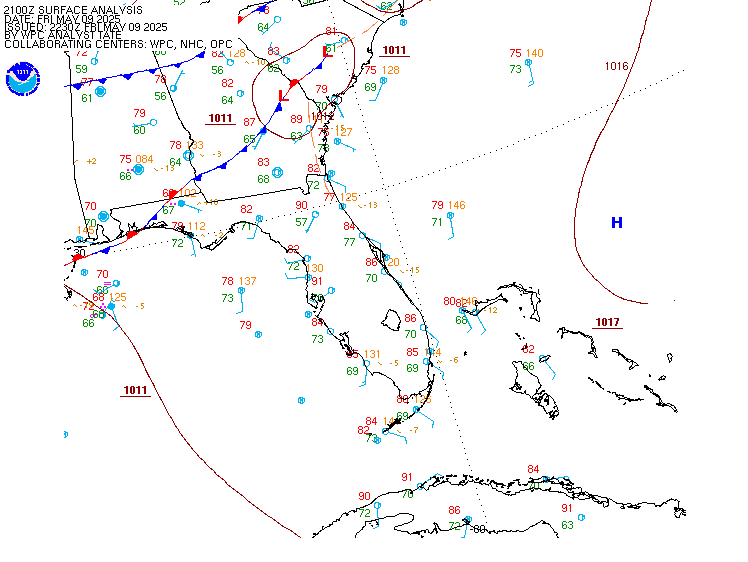 Surface analysis centered on the tropical Atlantic:
Surface analysis of the Gulf: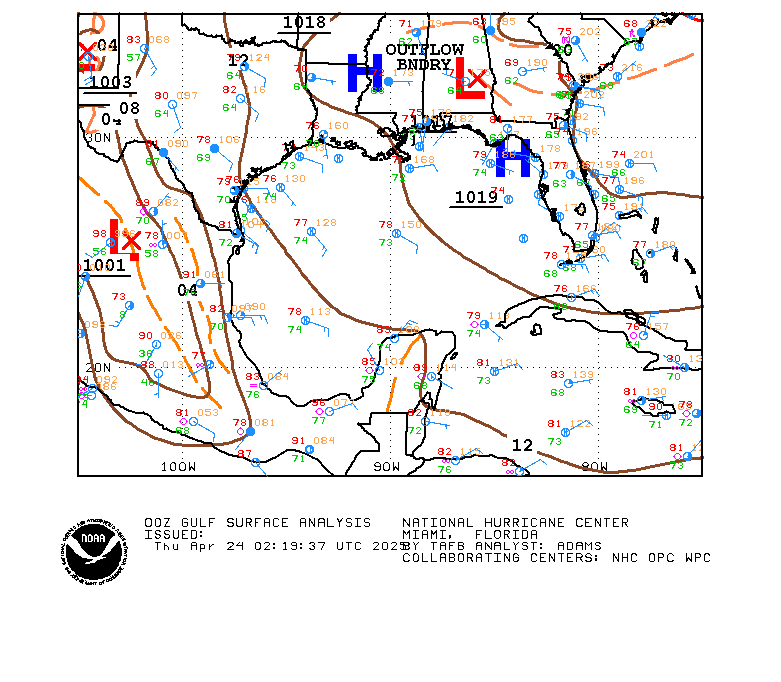 Caribbean: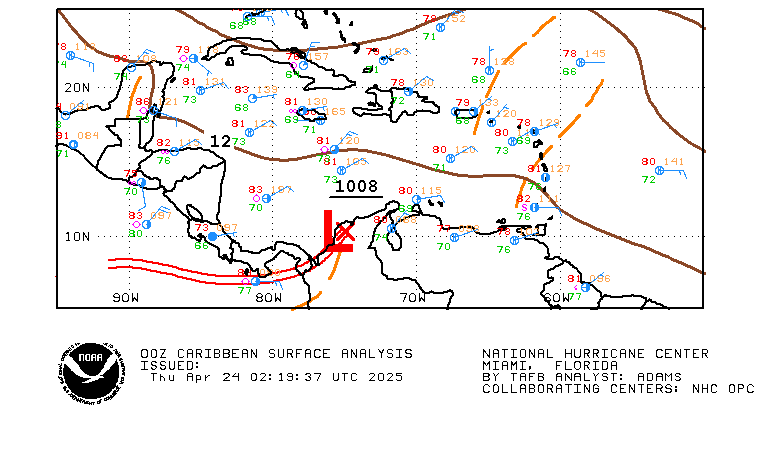 Extensive hurricane Irma recap - click here.
One year ago - Oct. 7 - hurricane Matthew made its closest approach to Jacksonville - here.