Tuesday update: A Jacksonville city worker has been placed on leave after she allegedly told a veteran his service to the United States didn't matter while giving a business a warning for flying military flags.
The finance manager spoke with Action News Jax reporter Russell Colburn Tuesday night about with the city worker was at the business because of a call about vehicles parked on the city easement.
It was after that when city employee Melinda Power cited the business for the flags.
The story quickly went viral and many people have come out in support of the veteran and Jaguar Power Sports.
Click here to read the very latest developments.
The city worker issued an apology on her Facebook page Tuesday.
There are nationwide calls for discipline for the Jacksonville city worker who allegedly told a veteran what he did for his country 'didn't matter' while serving a warning to a local business for flying military flags.
That Army veteran said he was shot three times serving overseas.  He spoke exclusively with Action News Jax, but wanted to remain anonymous.
Despite being offended by her alleged comments, he doesn't want her fired.
"I think there should be some serious reprimand to her," he said.  "She needs to apologize to the veteran community, and to every American who supports us."
Monday evening, Jacksonville Mayor Lenny Curry tweeted 'let them fly,' and that night, those flags representing various branches of the military did just that over Jaguar Power Sports.
But just hours earlier, two city workers delivered a warning to the business for the flags.
 Related: Navy veteran claims VA doctor left in November hasn't been replaced
That's when trouble was just starting to brew between an army veteran and a city employee.
"I voiced my opinion that I was a veteran and I don't appreciate it," he said.  "At that point, she turned to me and said, 'Well, your opinion doesn't really matter at this point.  I'm here to discuss this with the owner."
Surveillance video of the encounter appears to show the city worker wag her finger at the veteran, before allegedly saying something this veteran said he will never forget.
"She turned around at the door and said to me, in a very loud voice that, what I did for this country did not matter," he said.  "I was mad. I don't take a lot of things personal. I really don't, but that strikes a chord with me."
Since Monday afternoon, veterans and supporters from all across the nation are coming to this man's defense.
Jaguar Power Sports said a U.S. soldier serving in Germany called them to say he supports them flying the flags.
"It just touches home," said local Navy veteran Lenny Austin.  "I'm retired Navy, my son's retired Army.  He fought in Iraq, and we spilled a lot of blood out there for this country, and they want to talk about a flag on top of a building?"
Mayor Curry has promised the city will 'review employee procedures.'
This veteran may not want the employee fired, but he also doesn't want this to ever happen again.
"There's a lot of people on this Earth who aren't walking here anymore because they gave their life for this country," he said.
Original Story:
Watch the original video in the media gallery above.
STORY: St. Johns County homeowner told to take down Blue Lives Matter flag
A man who works for a Jacksonville business shared a video after he says the city cited the business for flying military flags.
The man, who calls himself Shaun, posted the video of himself at Jaguar Power Sports Monday and said the city of Jacksonville cited the business for flying the military flags atop the building, which is located on Blanding Boulevard.
The City of Jacksonville said the business was warned -- but not fined.
Their statement: 
"We are disturbed by some of the claims made about a City employee and are reviewing the facts. We are also reviewing the current ordinances regarding flags and signs to ensure accurate information was shared.

The business was issued a warning, and was not fined. Warnings are issued to provide property owners information about a possible violation, and corrective action.

I have contacted the dealership and provided the owner with the mayor's contact information for them to discuss directly. Mayor Curry and his administration respect and appreciate those in uniform who have served and continue to serve our community, and our country."
Shaun is the business's finance manager, according to its website. He said the business received a citation for each flag.
Here is the warning citation that was written: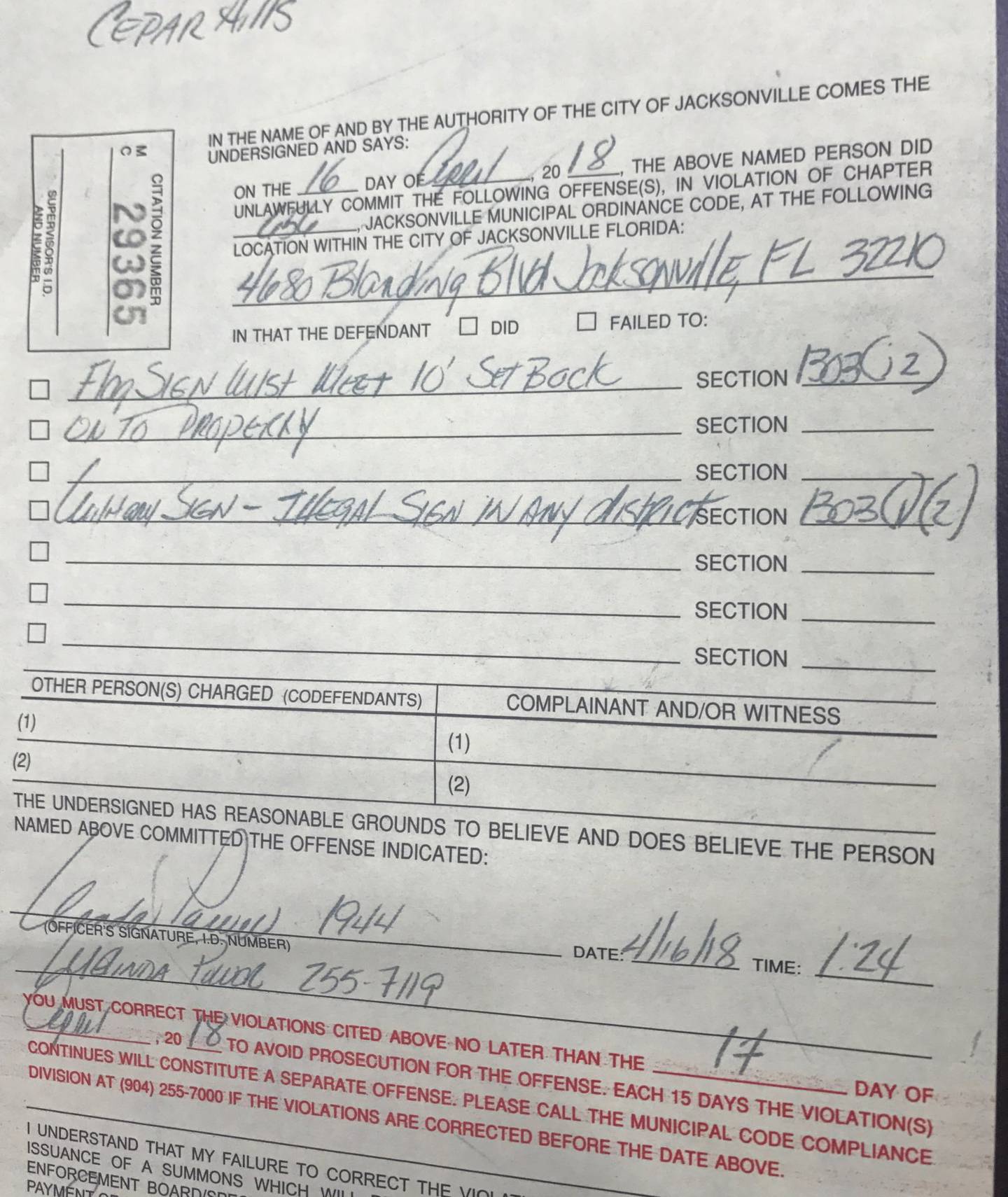 In the video, he said he hopes that the video will go viral.
TRENDING: Minnesota grandmother sought in deaths of husband, Florida 'lookalike' killed for ID
Jacksonville's mayor, Lenny Curry, tweeted about the incident Monday afternoon stating that he's told city staff to treat military flags the same as the US Flag:
Cox Media Group