JACKSONVILLE, Fla. — What a year ahead for the United States & solar eclipses. That's right - plural. Not just one but two - Oct. 14th, 2023 & April 8th, 2024 - within 6 months of each other. The more spectacular one is the next "Great American Eclipse" in April. AND REMEMBER TO NEVER VIEW THE SUN WITHOUT EYE PROTECTION. Unfortunately for the Jacksonville area, only a little more than two-thirds of the sun will be covered during the eclipse.
Some of you might recall the last "Great American Eclipse" in 2017 where the totality path was trans-American from the Pacific Northwest all the way to the coast of the Carolina's. I headed up I-95 with the First Alert Storm Tracker to South Carolina. Go * here * for the memories "My 2017 Solar Eclipse Experience".
The 2024 solar eclipse will cross a very populated portion of middle America. If you want to travel to totality - & I totally recommend it! - you must plan your trip early & make your reservations as soon as possible. If you plant to overnight in the path of totality, be prepared to pay some extra bucks! But if you do go, you will want to travel to more eclipses in the future - it is purely magical. There's a pretty cool interactive map ** here **.
The video below is from 2017 as I share my experience with former Action News Jax colleague Paige Kelton: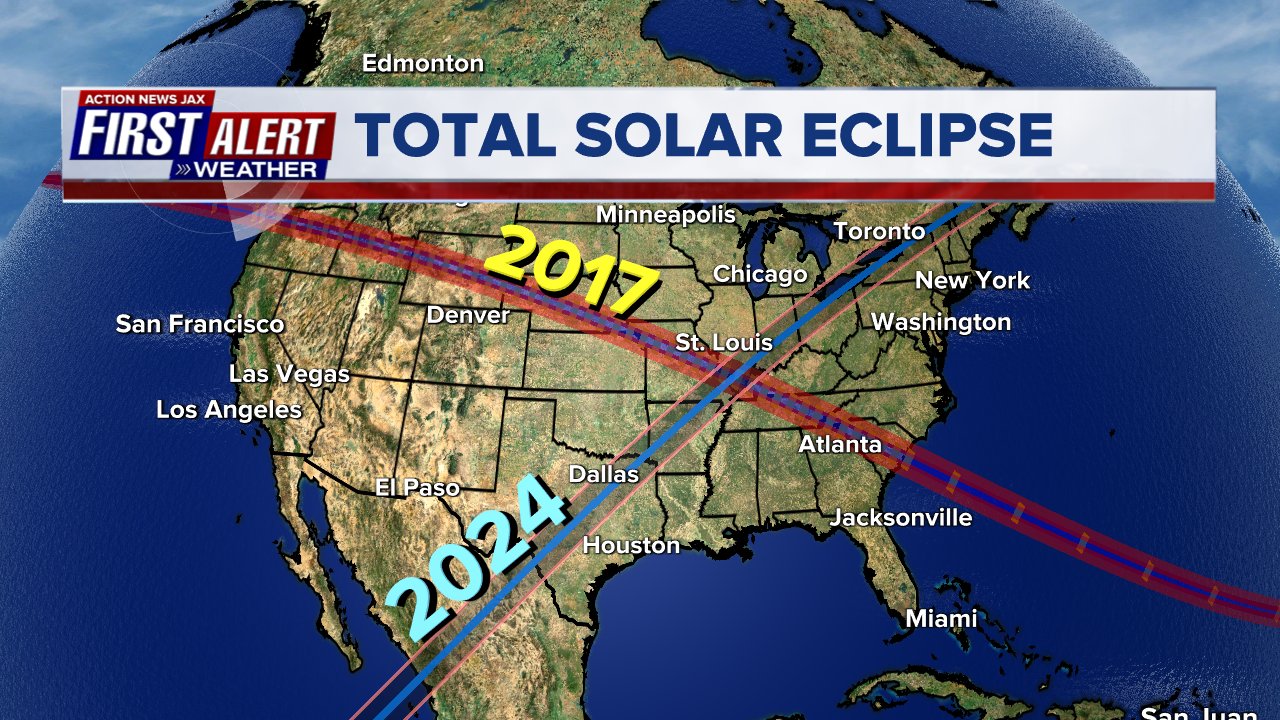 First - let's discuss exactly why a solar eclipse occurs. It's when the moon (always during the new moon phase) travels between the earth & sun becoming perfectly oriented between the two thereby blocking out the sun on a very small fraction of earth or, in other words, the moon cast a shadow on the land below. Solar eclipses occur somewhere on earth about every 18 months but at any given point only about once every 375 years! The typical circumference of the total eclipse on the ground below is only about 100 miles (but can & will vary).
The "Great American Eclipse" for Jacksonville, will begin at 1:47pm & 24 sec ... with 64% of the sun obscured at 3:04pm & 55 sec ... ending at 4:19pm & 38 sec.
What's truly great about this eclipse is the length of totality - more than 4 minutes - for parts of Texas, Arkansas & Missouri.